Bella Thorne Gushes About Her Crush on Kristen Stewart: 'She's So Hot'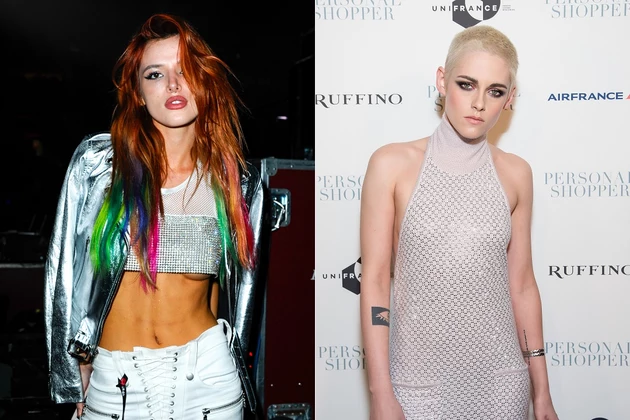 Cue the Bella dating Bella from Twilight jokes: Bella Thorne is crushing hard on Kristen Stewart.
Speaking to Harper's Bazaar, the actress, who announced she was bisexual in 2016, revealed that she'd love to date Stewart if she had the chance.
"She's so hot. She seems like the raddest chick, I'd be so down," Thorne gushed.
And the timing would be right: Currently, the Famous in Love star is not so famously in love—she's single and ready to… well, you know.
"I could not be more single. This is the longest I've been super single," she said. "There are so many unwritten rules about dating which I don't like. I'd rather be super faithful and give my all to one person. I don't like having my phone blown up by a bunch of different guys where I don't really know where I stand with any of them. It sucks."
Unfortunately, dating—as we all know—is tough and complicated, as the former Disney star admitted, adding that she often feels like she's sending mixed signals to other girls.
"I've done other stuff with girls, but I really want to actually date a girl," Thorne shared. "Maybe girls just don't like me… I can't tell if a girl is hitting on me or she just wants to be friends. And I don't want to flirt with a girl if she thinks I'm just being her friend. What if I kiss a girl and she's like 'Oh, I'm just your friend dude, I can't believe you just crossed that boundary.' I'm confused on what they want from me!"
Evolution of an It Girl: Bella Thorne, From Child Star to Today

Source:
Bella Thorne Gushes About Her Crush on Kristen Stewart: 'She's So Hot'