Drake Airs Grievances Against Kanye West Rants, Unsure What West Is Even Talking About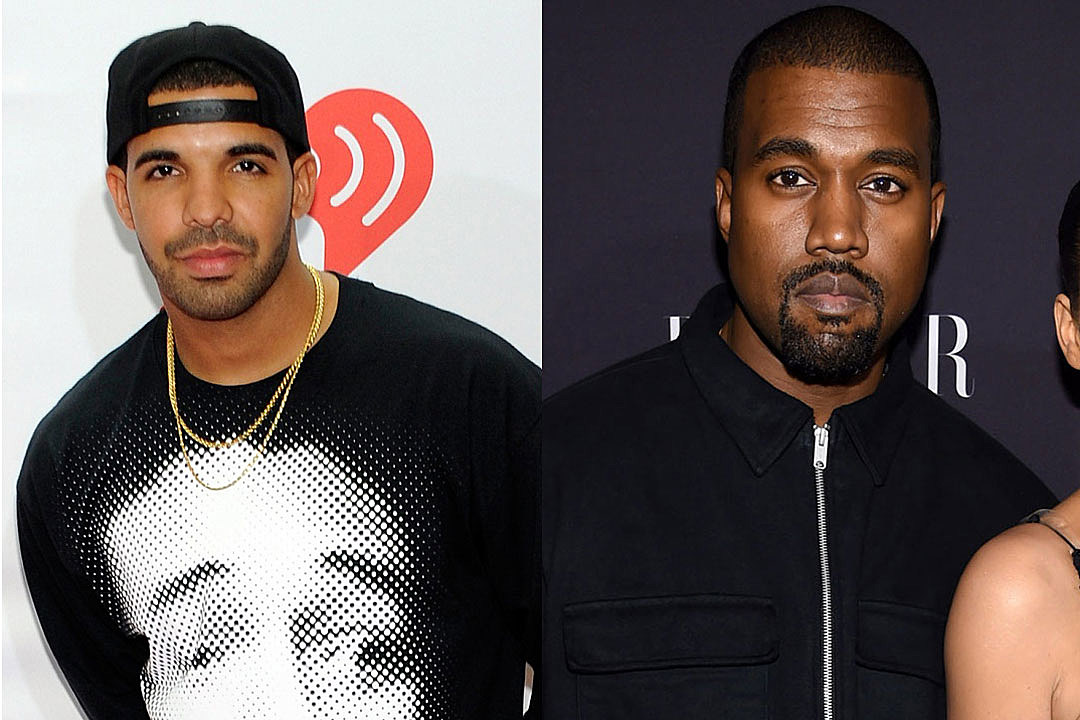 Add Drake to the list of people still scratching their heads over things Kanye West said in a series of onstage November 2016 rants preceding the cancellation of his remaining Saint Pablo tour dates and subsequent hospitalization. The "One Dance" rapper — whose career as been as buoyed by feuds as it has by raising the possibility of romances with Rihanna, Taylor Swift, Jennifer Lopez and more — says he bristled at remarks West made about him and his "For Free" collaboration with DJ Khaled. Moreover, Drake is "not really sure what [Kanye]'s referring to half the time."
In an interview with Beats 1 initially recorded on February 13, Drake first told DJ Semtex that West was "really upset" to have his feature cut from Views track "Pop Style" (Jay Z was taken off the album version as well). "I know he was really upset because at that time we were working together pretty heavy and he really wanted to be on the record but you know," Drake said.
Drake then went on to reference a segment of one Kanye rant in Sacramento, during which 'Ye seemed to lament the fact that Drake and DJ Khaled's "For Free" gets more radio play than Frank Ocean (his exact words were, "I know it's a lot of real n—s working at radio, real people, real programming directors with wives and kids that love music, that can't play what they want to play because they've been paid to play that bulls— over and over and over. And when I say that bulls—, what I'm saying is we love Drake, Drake is great. He's a great artist. But Frank Ocean is great, too").
"I don't know, I think everybody has their own little things going on, I'm not really sure what he's referring to half the time, because in the same breath, I went from being… like working on a project with him, to him sorta publicly sh—ing on me and DJ Khaled for being on the radio too much."
"But yeah I'm not really sure. Everybody's got their own thing going on," Drake continued. "Again me when I hear that, I just distance myself from it like, you know, alright if that's what it is. I don't really even understand the point you're trying to make, but whatever it is that you're going through — I accept it, I don't respect it at all. Because I feel like me and Khaled are just good people, I'm not sure why we're the target of your choice that you made that night. But again, I accept what you're going through, and I just go and continue working on my own thing."
"You know the more and more this progresses, the more and more I just feel like keeping to myself, because it's just so unpredictable, you never know which way people are gonna go," Drake mused, in what sounds like a paraphrase of his "Fake Love" lyrics.
Regarding Kanye's initial remarks, when an X17 videographer told him he agreed that "Drake's music is overplayed," the rapper-producer-designer claimed that he "never said that" in a video posted by X17 on February 20.
Listen to Drake's full Beats 1 interview below, in which he also explained why he skipped the Grammys and why he's less than respectful of the music awards institution that continues to nominate him in the rap category despite many sung hits like "Hotline Bling": "Maybe because I've rapped in the past or because I'm black, I can't figure out why… I won two awards last night—but I don't even want them, because it just feels weird for some reason."
Subscribe to 1073 Popcrush on
20 Musician Biopic Subjects, and the Actors Who Played Them

Source:
Drake Airs Grievances Against Kanye West Rants, Unsure What West Is Even Talking About