35 Years Ago: Fleetwood Mac End 'Tusk' Tour With Boiling Tensions and Breakup Rumors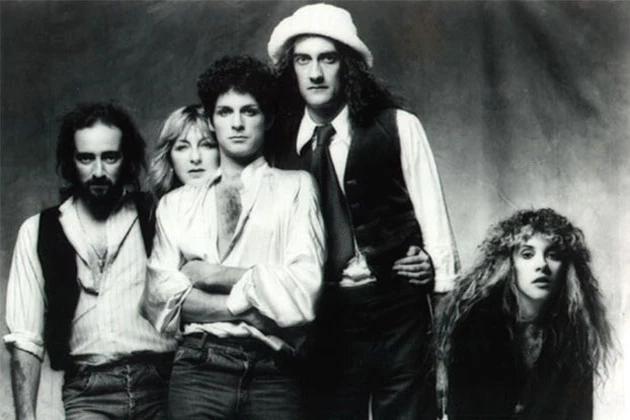 On Sept. 1, 1980, Fleetwood Mac wrapped up a grueling tour promoting their 12th LP, the double-album Tusk. When the record was released in the fall of 1979, it created much controversy due to its departure from the sound of the band's two previous hit albums, 1975's self-titled one and 1977's blockbuster Rumours. By the end of the tour, the group was on fragile ground.
Tusk came out nearly three years after Rumours. Since guitarist Lindsey Buckingham and singer Stevie Nicks joined in 1975, the band was rarely off the road. After years of touring as one of music's biggest moneymakers, not to mention the internal soap opera that fueled the group during one of its most creative periods, it was no surprise that tensions were at a boiling point.
"I suppose we're broken up now," Mick Fleetwood half-jokingly told Hit Parader in late 1980. Rumors had been circulating that Tusk, the album and tour, was the straw that had broken the band's back. "People are always going to say that we're breaking up," Fleetwood said. "God only knows there have been plenty of reasons that the band should've broken up."
The drummer ultimately called the chatter "a lot of hogwash," adding, "We are all very aware that we're lucky to be involved in something that works. And no one has any intention of destroying this." Though the band didn't call it quits at the time, they did decide to take a break from the hectic schedule it had been maintaining the past few years. "Fleetwood Mac is like a marriage of five people," explained Nicks. "And sometimes you've just got to have some room."
Though Tusk had sold a very respectable four million copies worldwide, it was considered by many as a failure for not replicating Rumours' massive success. Most of that fault was placed on Buckingham, who took over the recording sessions and moved the band in some bold new directions.
The tour played to sold-out venues all over, but by the end of it, everyone knew there had to be a break. "We need the time off, because as great as it is to play live for people and to feel the band getting stronger on the road, it's not a situation that allows you to grow, because of the repetition in it," Buckingham told BAM in early 1981. "It's not the same as being in the studio and being confronted with new challenges all the time that allow you to expand your horizons."
Despite the luxurious travel options that were now afforded thanks to Rumours' success, keyboardist Christne McVie wondered if something wasn't lost in the process. "You look back on it, and the best times are the time when you had to struggle a bit," she told Circus in early 1981. "We just had an old van. We couldn't afford a roadie then. Sometimes, if the van broke down, we had to sleep the night in the back. It's a different kind of exhilaration that we get from playing now. We no longer get the thrill of wondering how we're gonna go over."
See Fleetwood Mac and Other Rockers in the Top 100 Albums of the '70s
This Day in Rock History
Subscribe to 1073 Popcrush on
Source:
35 Years Ago: Fleetwood Mac End 'Tusk' Tour With Boiling Tensions and Breakup Rumors