Harry Potter's '19 Years Later' Tweets are a Cruciatus Curse to the Heart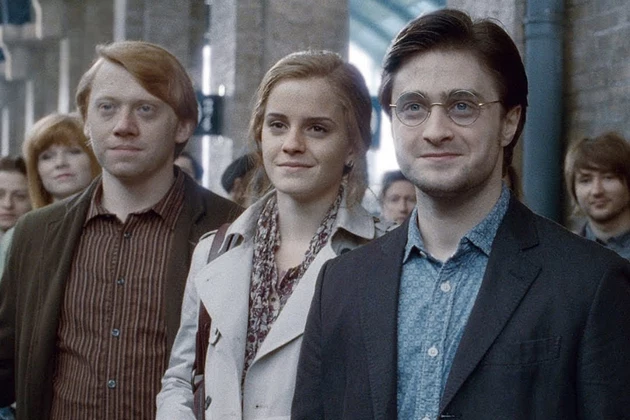 If there's one thing social media can't handle, it's anniversaries in the Harry Potter Universe. Today is a particularly special one, and Twitter is flowing with feels.
September 1 marks the tradition in which witches and wizards board the Hogwarts Express for their first day of classes in the new year. However, this September 1 is extra special as it's the exact day Harry Potter's children head off for their first day of school 19 years after the conclusion of Harry Potter and the Deathly Hallows. Early this morning, author JK Rowling reminded the world, as if they could possibly forget.
Today's the day Albus Severus Potter boards the Hogwarts Express at King's Cross for the first time #19yearslater ⚡️

— J.K. Rowling (@jk_rowling) September 1, 2017
With that announcement, Rowling opened the flood gates to an innumerable amount of replies, all of which expressed their gratitude, heartbreak, and joy over the series.
let's go home then ❤ pic.twitter.com/lEDjH5qF88

— Ferda (@Ferdacatalkayaa) September 1, 2017
— becca (@deIphini) September 1, 2017
im crying this parallel between harry and albus,, james and lily should've been at harry's side just like harry and ginny are #19yearslater pic.twitter.com/Kcb2G0hozr

— ellie (@hugvvarts) September 1, 2017
i'm not crying you are #19yearslater pic.twitter.com/u9f1mVW4Bd

— charlotte (@weasleyeuns) September 1, 2017
Today is #19yearslater and honestly… I'm a little emotional pic.twitter.com/8sFFHPgByk

— Jamie – TheLowDown (@JamieTLD) August 31, 2017
This September 1 is #19YearsLater, and we're feeling a lot of Feelings. Good luck, Albus Severus! pic.twitter.com/26PSw7mkjO

— Shortgrass (@ShortgrassNews) September 1, 2017
Hundreds of people even showed up to the real King's Cross to mark the occasion, which I'm sure made the early morning commutes for anyone completely oblivious to the anniversary extremely happy.
11am at King's Cross #19YearsLater #BackToHogwarts @HPPlayLDN @HPPlayFans pic.twitter.com/QHg9IrPvJE

— Claire Gallagher (@clairegallagher) September 1, 2017
Sorry to all the muggle users of #KingsCross who have suddenly been inundated by Potterheads.#19YearsLater pic.twitter.com/BUxde4J094

— Jennifer Creevy (@JennieCreevy) September 1, 2017
At least the transit authority had a good sense of humor about it all.
On time I see #19YearsLater pic.twitter.com/16hLXbhRcN

— Mike Pattinson (@MikePattinson) September 1, 2017
I'm sure your feed will be filled with as much joy and sadness as the rest of ours, provided you can even make sense of it through all the tears. Think there's a spell for that…
Nostalgia-Inducing TV and Movie Reunions:

Source:
Harry Potter's '19 Years Later' Tweets are a Cruciatus Curse to the Heart