'SNL' Writer Katie Rich Suspended After Tweeting Distasteful Barron Trump Joke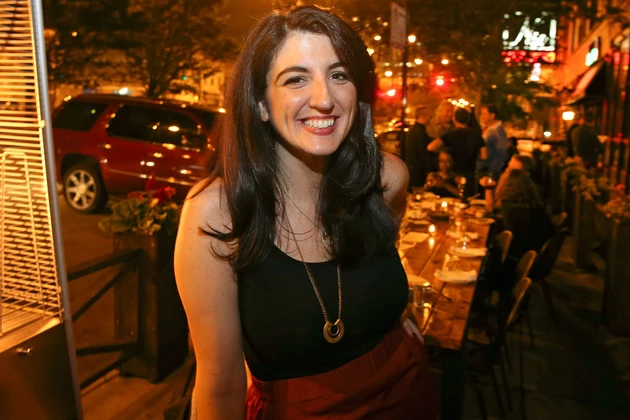 Saturday Night Live has suspended one of its writers after she tweeted a joke about Donald Trump's ten-year-old son, Barron.
Katie Rich reportedly tweeted, "Barron will be this country's first homeschool shooter," on Friday (January 20), the same day Trump was sworn in as president.
While Rich deleted her Twitter account after being bombarded with criticism for the tasteless joke, Deadline reports she was suspended from the sketch comedy show shortly after the backlash.
Rich later revived her Twitter to apologize, writing, "I sincerely apologize for the insensitive tweet. I deeply regret my actions & offensive words. It was inexcusable & I'm so sorry."
I sincerely apologize for the insensitive tweet. I deeply regret my actions & offensive words. It was inexcusable & I'm so sorry.

— Katie Rich (@katiemaryrich) January 23, 2017
While the joke was obviously in poor taste — Barron is a child who didn't ask to be a public figure, no matter who is father is — several viewers have commented on the hypocrisy of the show for suspending Rich while keeping other writers and cast members (who have also said offensive things on and off air) employed without punishment.
Back in 2014, cast member Michael Che made light of street harassment in a since-deleted Instagram post where he sarcastically apologized to women for delivering unsolicited compliments.
He wrote in a caption (via The Huffington Post):
i wanna apologize to all the women that ive harrassed with statements like "hi" or "have a nice day" or "youre beautiful". i cant imagine what that must feel like. the closest thing I've experienced is maybe when a girl recognizes me from tv and they say things like "AHHHH!! OH MY GOD!! SNL SNL SNL!! TAKE A PICTURE!! TAKE A PICTURE!! I LOVE YOU SO MUCH!! WHATS YOUR NAME AGAIN?! THANK YOU!! THANK YOU!! WAIT SAY SOMETHING FUNNY!!" but even that is nothing like the harrassment of having a complete stranger tell me to "smile."
And it's not as though SNL has specifically shied away from offensive jokes, either. Viewers most recently called out Saturday's (January 21) episode, where Che used the Women's March protests that took place around the country to deliver a tone deaf diatribe on feminism during the show's "Weekend Update" segment.
"A feminist is really just someone who believes in equal right for women, and that's easy to get behind," Che said. "That is until you see an actual feminist screaming into a cop's face wearing a homemade uterus hat and then you're like, 'Oh there are levels to this.' I just think it's weird to get a special name for just being a reasonable person, because that's all it is…believing in equality just means you're not a dick."
And yet Michael Che, who rationalizes street harassment, just keeps keeping on. https://t.co/FZjS7kc5i8

— kateyrich (@kateyrich) January 23, 2017
@nbcsnl Michael Che doesn't "get" Feminism? Followed by a sketch about how women don't date nice guys. Guess women writers were out marching

— Mary McFadden (@MMwrites) January 22, 2017
Did Michael Che just "All Lives Matter" us on feminism? Really bruh?! #SNL #WeekendUpdate #MichaelChe pic.twitter.com/aYj2kkjqO9

— Simply Debi ॐ (@SimplyDivaland) January 22, 2017
Last night's SNL had Michael Che explaining feminism and an extended segment about tired "friendzone" stereotypes.
Not a fan.

— Beth Elderkin (@BethElderkin) January 22, 2017
Michael Che: don't try to define feminism. Especially not today. And if you do, do a better fucking job. Thank you. @SNLUpdate

— zoe kazan (@zoeinthecities) January 22, 2017
And that's not the first time SNL has come under fire for an ill-conceived joke.
Che's fellow "Weekend Update" co-anchor, Colin Jost, was criticized in November 2016 for what many perceived as a transphobic joke about dating app Tinder's new gender choices, which offers users a wide range of gender identities to choose from in an attempt to be more inclusive.
"The dating app Tinder announced a new feature this week which gives users 37 different gender identity options," Jost said. "It's called, 'Why Democrats lost the election.'"
Yo @ColinJost, do you not get this kind hatred is why trump won the election? Shame. Shame shame shame. pic.twitter.com/OSsru9b92u

— pwr bttn (@PWRBTTMBAND) November 21, 2016
And then there's the fact that SNL invited Donald Trump to host the show, even after he made disparaging, racist remarks about Mexican immigrants, all for the sake of ratings.
NBC has yet to comment on Rich's suspension, which a source tells Deadline is indefinite.
25 Celebrities Who Endorsed Donald Trump for President:

Source:
'SNL' Writer Katie Rich Suspended After Tweeting Distasteful Barron Trump Joke