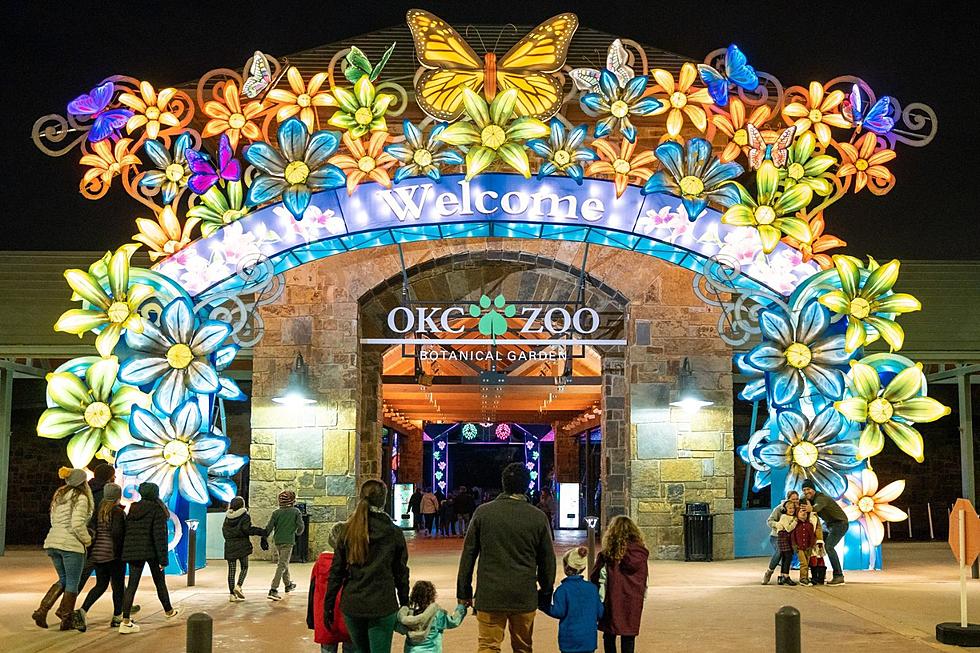 Go On a Holiday Adventure at the Oklahoma City Zoo's Safari Lights
Oklahoma City Zoo and Botanical Garden Facebook
One of the best things about the holidays in Oklahoma is all the different light displays! But probably the most unique light display in all of the Sooner State is the Oklahoma City Zoo and Botanical Garden's Safari Lights. This year the zoo's Safari Lights will light up starting Saturday, Nov. 11.
According to the Oklahoma City Zoo's website, this year's Safari Lights will have "larger-than-life displays." This year's lights will be illuminated for all to enjoy Nov. 11 through Jan. 1, 2024. Zoo visitors can explore the lighted safari from 5:30-11 p.m. daily. The Oklahoma City Zoo kicked off this year's Safari Lights with a lighting ceremony on Nov. 9.
The lighting ceremony also featured Oklahoma music legend Gayla Peevy who is best known for her song "I Want a Hippopotamus for Christmas."
What will you see at the Oklahoma City Zoo's Safari Lights?
Attendees have the opportunity to walk or drive through the Oklahoma City Zoo to view the Safari Lights! The lights will feature "never-before-seen wildlife themed light sculptures, animated light displays, festive treats, and themed photo opportunities." If you decide to walk through the lights, you'll venture down a "brand-new pathway starting in the Zoo's entry plaza, winding through the Children's Zoo and outside of the Jungle Gym Playground, the walk-thru course features a musical light show produced by the Miranda Family of Edmond, interactive light exhibits, s'mores stations, photo ops and more."
The drive thru path and walkway are separate pathways, and the Oklahoma City Zoo suggests to take the drive thru if visitors want to experience the full Safari Lights.
10 Oklahoma Hallmark holiday hometowns you can visit
Looking for someplace special to spend the holidays? The Sooner State has you covered with some of the best towns and cities to get into the Christmas spirit. If you've ever wanted to visit a place that feels like it came out of a Hallmark movie you're in luck. Check out these ten Oklahoma Hallmark holiday hometowns to experience the small-town charm and friendliness of some of Oklahoma's best-known holiday destinations. Each has its own unique traditions and holiday events that will surely get you into the spirit of the season. From amazing lights and displays to performances and festive family fun you'll find in the Sooner State.
Gallery Credit: Don "Critter" Brown
Where Should Buc-ee's Build Their First Oklahoma Location?
With Buc-ee's being back on the expansion bandwagon, Oklahomans are feeling like we're due for our first location... but where should the beaver conglomerate start in the Sooner State?
After compiling information from social media, here's a quick rundown on the locations Okies think would be a perfect fit for 24/7 hot brisket on the board.
Gallery Credit: Kelso