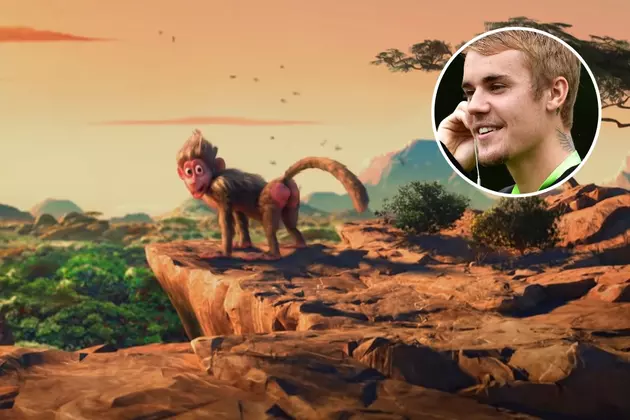 Lil Dicky's 'Earth' Lyrics Featuring Justin Bieber — Saving the Planet Has Never Been Funnier
School Boy Records via YouTube
Lil Dicky's "Earth" lyrics are seriously wild! The rapper's eco-conscious single and music video dropped at midnight on Thursday (April 18).
In the animated video, Justin Bieber plays a baboon and Ariana Grande plays a zebra, with fellow music stars Ed Sheeran, Sia, Brendon Urie and Katy Perry, to name a few, taking on the roles of other animals from across the globe.
The Benny Blanco and Cashmere Cat-produced track was released to raise awareness for climate change and environmental threats. With cooperation from Leonardo DiCaprio, proceeds from song sales will benefit environment-related causes.
Check out the full Lil Dicky "Earth" lyrics featuring Justin Bieber, Ariana Grande and more, below:
[Intro: Lil Dicky]
What up world? It's your boy, just one of the guys down here
Well, I could be more specific
Uh, I'm a human, and I just wanted to for the sake of all of earthlings out there
Just wanted to say
[Chorus]
We love the Earth, it is our planet
We love the Earth, it is our home
We love the Earth, it is our planet
We love the Earth, it is our home
[Justin Bieber]
Hi, I'm a baboon
I'm like a man, just less advanced and my anus is huge
[Ariana Grande]
Hey, I'm a zebra
No one knows what I do, but I look pretty cool
Am I white or black?
[Halsey]
I'm a lion cub, and I'm always getting licked
Meow!
[Zac Brown]
How's it going? I'm a cow. Moo!
You drink milk from my t---s
[Brendon Urie]
I'm a fat f---ing pig
[Hailee Steinfeld]
I'm a common fungus
[Wiz Khalifa]
I'm a disgruntled skunk, shoot you out my butthole
[Snoop Dogg]
I'm a marijuana plant, I can get you f---ed up
[Kevin Hart]
And I'm Kanye West
[Chorus]
We love the Earth, it is our planet
We love the Earth, it is our home
We love the Earth, it is our planet
We love the Earth, it is our home
[Adam Levine]
Ba-dum-da-dum-dum, ba-dum-da-di
We are the vultures, feed on the dead
[Shawn Mendes]
We're just some rhinos, horny as heck
[Charlie Puth]
I'm just a giraffe, wants with his neck
[Sia]
Hippity-hop, I'm a kangaroo
I hop up there, up and down for you
[Miley Cyrus]
I'm an elephant, I got junk in my trunk
[Lil Jon]
What the f---? I'm a clam!
[Rita Ora]
I'm a wolf. Howl!
[Miguel]
I'm a squirrel, lookin' for my next nut
[Katy Perry]
And I'm a pony, just a freak horse
But c'mon get on, giddee-up, let's ride
[Lil Yachty]
I'm HPV, don't let me in
[Ed Sheeran]
I'm a koala and I sleep all the time
So what? It's cute
We love you, India
We love you, Africa
We love the Chinese
We forgive you, Germany
[Chorus]
Earth, it is our planet (It's our planet)
We love the Earth (We love the Earth), it is our home
We love the Earth, it is our planet (It is our planet)
We love the Earth, it is our home
We love the Earth
[Verse: Lil Dicky]
I'm a man (Hello?)
Can you hear me? (Anyone out there? Hello?)
I've trudged the Earth for so damn long
And still don't know s--- (What's going on?)
I hope it's not a simulation
Give each other names like Ahmed and Pedro
Yeah, we like to wear clothes, girls still look beautiful
And it covers up our human d---, eat a lot of tuna fish
But these days it's like we don't know how to act
All these shootings, pollution, we under attack on ourselves
Like, let's all just chill, respect what we built
Like look at the internet! It's cracking as hell
Fellas, don't you love the c--- when you have sex?
And I heard women orgasms are better than our d---s
So what we got this land for? What we gotta stand for?
Love, and we love the Earth (The Earth)
[Ariana Grande]
Oh, yeah, baby, I love the Earth
I love this planet
[Outro]
Hey, Russia, we're cool
Hey, Asia, all of you, c'mon
Every one of you from the plains to the Sahara
Let's come together and live
We love you, we love you
C'mon everybody, I know we're not all the same
But we're living on the same Earth
[Ariana Grande]
Have you ever been to Earth?
[Lil Dicky]
Everyone who is listening has been to Earth, Ariana
We're not making music for aliens here
[Justin Bieber]
Are we gonna die?
[Lil Dicky]
You know what, Bieber? We might die
I'm not going to lie to you
I mean there's so many people out here who don't believe global warming is a real thing
You know? We gotta save this planet, we're being stupid
[Ariana Grande]
Unless we get our s--- together now...
Pop Songs With Political and Social Messages