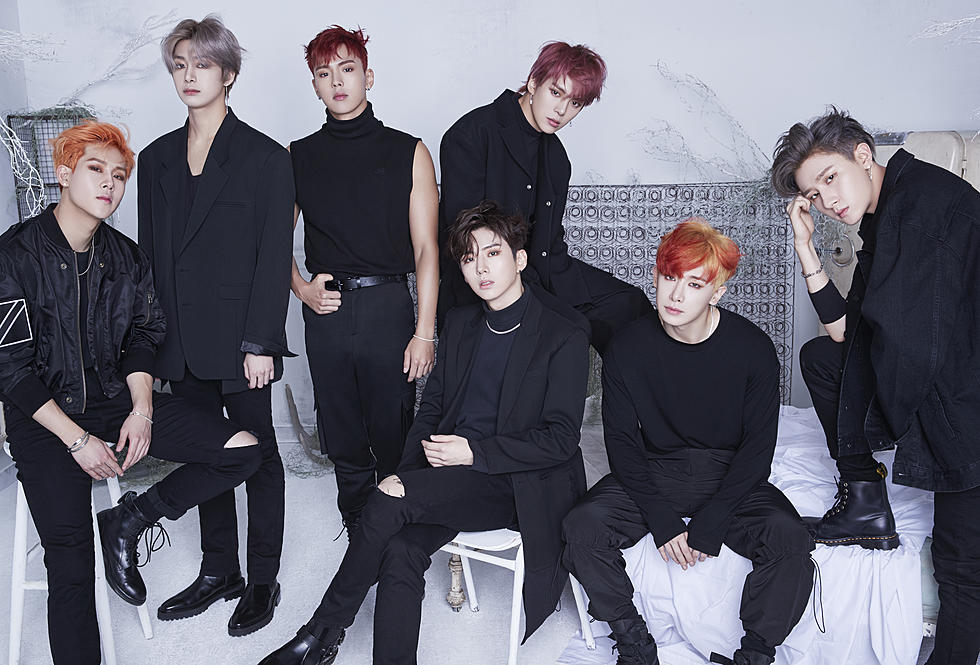 Monsta X Reflect on Their Epic 2018 During iHeartRadio Jingle Ball Tour
Credit: Starship Entertainment
Holiday season has arrived and so has the first ever K-pop group to perform on the iHeartRadio 2018 Jingle Ball stage. On Dec. 30, Jooheon, Hyungwon, Shownu, Minhyuk, Kihyun, Wonho and I.M., best known as Monsta X, kicked off their performances in Los Angeles before making four other stops and concluding in Philadelphia on Dec. 5.
Monsta X's addition to the lineup follows the group's ongoing popularity in the U.S., as well as the increased demand for K-pop in the Western market. The septet, which made their English language debut in November with "Shoot Out," continue to celebrate their 2018 resume after promoting in both Korean and Japanese markets throughout the year.
With the year coming to a close, we caught up with Monsta X in between their Jingle Ball tour run to talk about being one the most-anticipated acts of 2018, their greatest moments of the year and what's on the agenda in 2019.
How did it feel to be the first K-pop group added to the Jingle Ball lineup? Was there someone on the lineup that you were excited to meet or have met?
We were so excited and thrilled! At first, we were happy and fascinated that we could stand on the same stage as artists who are receiving great attention and love worldwide. Then, we were touched by the fact that we were the first K-pop group to participate in the Jingle Ball and also felt great responsibility. If you think about it, since we were the only K-pop group to stand on that stage, we could be seen as representatives of Korea. So, we thought that we should present the audience with the best songs and performances. We were nervous but excited at the same time.
We've previously met The Chainsmokers at the Ultra Music Festival Korea, and we were really glad to meet them again at the Jingle Ball tour. These days, we're really into Khalid's music, and we've put his songs on repeat for days, so [we wanted to] watch his performance live and actually meet in him person.
Do you guys feel any pressure as you continue to make waves in the U.S.?
Not much pressure, but definitely responsibility. Considering that each action that we take may be perceived as that of K-pop artists in general, we try to be careful and considerate of everything we do for the artists that paved this road for us to walk on and for the artists that will be following behind us on this path. Furthermore, with all the positive feedback and attention we are receiving, we are very aware of the fact that we need to continue to practice and work harder. We are working hard to be seen as Monsta X, a group that continues to grow and improve.
How was working with Gallant for your mini-doc?
New experiences are always exciting. We know that Gallant is an artist receiving great appraisal worldwide, so simply singing our song, written in Korean, with an artist like Gallant made it a very meaningful experience for us. Also, we were very surprised that Gallant was so good at singing in Korean. As fans of Gallant's voice, it was very exciting to listen to our songs being sung by him. We hope to work with him again next time, with other songs.
Hyungwon, you've collaborated with Jimmy Clash. And I.M., you mentioned you were already working on your dream collaboration with ELHAE. When can we expect these releases? Are any of the other members working on something on the side as well?
I.M. has been consistently working with foreign artists. We can't reveal anything just yet, but we are currently arranging numerous projects with various artists. There are so many collaborations that we are looking forward to, and we are currently working hard to make our hopes a reality. Recently, Shownu featured on PREP's song, which happened after Shownu mentioned his interest in an interview.
Since Monsta X is known to have such a strong concept compared to other groups, is there a concept you guys would like to try in the future?
Currently, there are no plans of changing our concept, since "strong" and "muscular" are somewhat like an identity for the group. Truthfully, our concept doesn't necessarily have to change for us to show our fans our other charms. We are currently thinking about what ideas we can add to bring the uniqueness of Monsta X in different angles. Also, our music is not always strong and intense. On our album, there are many ballads and R&B songs that have soft and bright melodies. If you listen to all of the songs on our album, you will be able to discover the diverse charming aspects of Monsta X.
What songs are on your current rotation that you'd recommend?
Khalid's "Better" and Madison Beer's "Heartless."
Now that Christmas is around the corner, do you guys have anything special planned?
This year, we'll be practicing for the year-end awards stages and preparing to meet with our fans. We are putting our greatest effort into creating the best stages possible. If we have some time to relax between our planned schedules, it would be great to have a delicious dinner with all of our members. Reflecting back on the hard work we've put into this year and looking into our plans for next year, it would be great to talk and have a good feast.
As 2018 comes to a close, what have been the most memorable moments for you?
Our most memorable moments of 2018 were when we received first place in some Korean music shows with our recent release, "Shoot Out," and when we performed on the Jingle Ball tour. The great results that "Shoot Out" brought us made our us and our fans all very happy. It was great to return the thankfulness we had for our fans with the first place title. We were so happy that we cried, and the moment we received the award is still clear in front of our eyes. We were also so proud to be the first K-pop group to participate in the Jingle Ball tour and were happy to be involved in a show that is known for its long history and great popularity.
What's next for Monsta X in 2019?
We will be return to our fans with a new album release. In fact, we are currently preparing for the new album in-between our schedules, so you will be able to hear Monsta X with new and improved music in the near future. Other than that, we also have a world tour planned. We are very thrilled to be able to present our [concert] in front of foreign fans that we have not met yet ... And last but not least: Monbebe, we love you!
K-pop Idols Who Went Solo From Their Groups