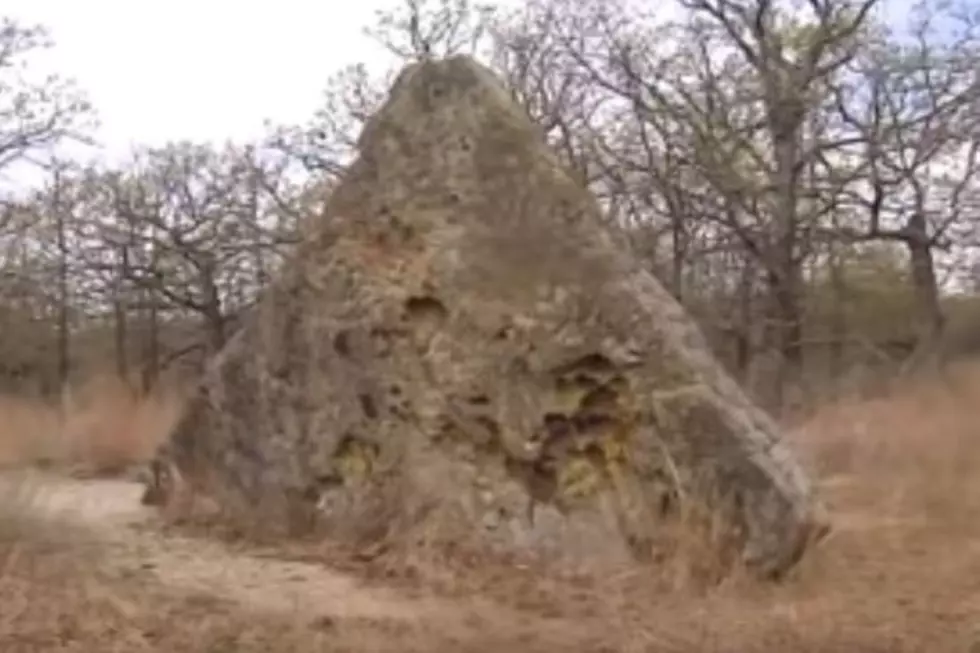 Visit the Mystical 'Healing Rock' of Oklahoma
YouTube.com- DiscoverOklahoma
There's a strange and mystical rock formation in N.W. Oklahoma that for well over a hundred years has been rumored to heal the sick and injured. People travel from all over the state and Nation to visit 'Healing Rock.'
SCROLL DOWN FOR MORE DETAILS ABOUT OKLAHOMA'S 'HEALING ROCK'
You'll find this unusual rock formation in Skiatook, OK. which is about 20 miles or so outside of Tulsa in Osage and Tulsa County. Healing Rock also known as TeePee Rock is a very popular site at Skiatook Lake.
Watch the video below to learn more about the 'Healing Rock' in Skiatook, OK.
TeePee Rock or Healing Rock was believed to have healing powers by the Osage and Quapaw Indians. With its distinctive triangular shape, it definitely stands out and it's easy to see why people are drawn to it.
HEALING ROCK OR TEEPEE ROCK IS RUMORED TO HAVE HEALING ELEMENTS
Originally it was thought to be man-made due to its shape. However, it's been confirmed that the rock is natural and wasn't cut or altered. Its unique shape was brought about by erosion, the elements, and time.
Hit play on the video below for more details on the 'Healing Rock' of Skiatook, OK.
Even today there are people who swear that the rock does indeed possess healing powers and visit the site often to be healed of various ailments and conditions. Real or not it's a fascinating sight to see and beautiful.
YOU'LL FIND 'HEALING ROCK' ALONG THE WALKING TRAILS AT SKIATOOK LAKE
It's just a short hike to get to Healing Rock at Skiatook Lake. The path or trail is clearly marked with permanent gravel walking paths that will take you directly to it. If you're ever at Skiatook Lake check it out.
25 hilarious Oklahoma personalized tags DENIED by the DMV
A great way to personalize your vehicle is with a custom license plate. There are some pretty creative and funny tags running around the Sooner State. Some are easy to get, others will have you scratching your head trying to figure it out what it says. Personalized plates are very popular and we're seeing more of them on the road every day. However, there are some rules and restrictions when it comes to what you can and can't put on your plate. If it's considered obscene, vulgar, demeaning, or includes any mention of drugs, alcohol, or illegal activities it will be DENIED. Check out the photo gallery below of some of the most hilarious tags that were rejected by the Oklahoma Department of Motor Vehicles. WARNING: some of these could be considered offensive so if you're easily offended proceed with caution. You have been officially warned.
Oklahoma's Sooner-Six Skyscrapers
When it comes to the topic of skyscrapers and Oklahoma, the details are a little muddy. If you were to search "Oklahoma skyscrapers" online, it'll likely return a list of thirty tall Sooner State buildings, but while all skyscrapers are high-rises, not all high-rises are skyscrapers.
The modern-day definition of a skyscraper is based almost entirely on height. To be considered, a building must be at least 492 feet tall above ground level... Oklahoma has plenty of tall buildings around the state, but only the Sooner-Six qualifies by definition.
Take a virtual tour of this massive 7.5 million dollar Oklahoma mansion
Take a look inside this massive Oklahoma mansion that's up for sale. This epic estate is one of the most impressive and expensive houses currently for sale in the Sooner State with a price tag of
$7,500,000
. This one-of-a-kind property is located at
6907 Avondale Drive, Nichols Hills in Oklahoma City, OK.
It's one of the most incredible and luxurious homes on
Zillow.com
and is listed by
Cole Strickland
of
Metro Mark Realtors
. This 6 bedroom, 9 bathroom 11,412 square foot multi-story home boasts all the very best in features and amenities. It sits on 1.7 acres and even has its own tennis court and swimming pool. That's just the beginning.
Scroll through the pictures below to take a virtual tour of this EPIC MEGA-MANSION in OKC.
Weird and Wild Pets You Can Have In Oklahoma
When it comes to the topic of exotic and wild animals in Oklahoma, there is a very short list of things you can't own as a pet... but there are ways around almost all the red tape in the Sooner State.