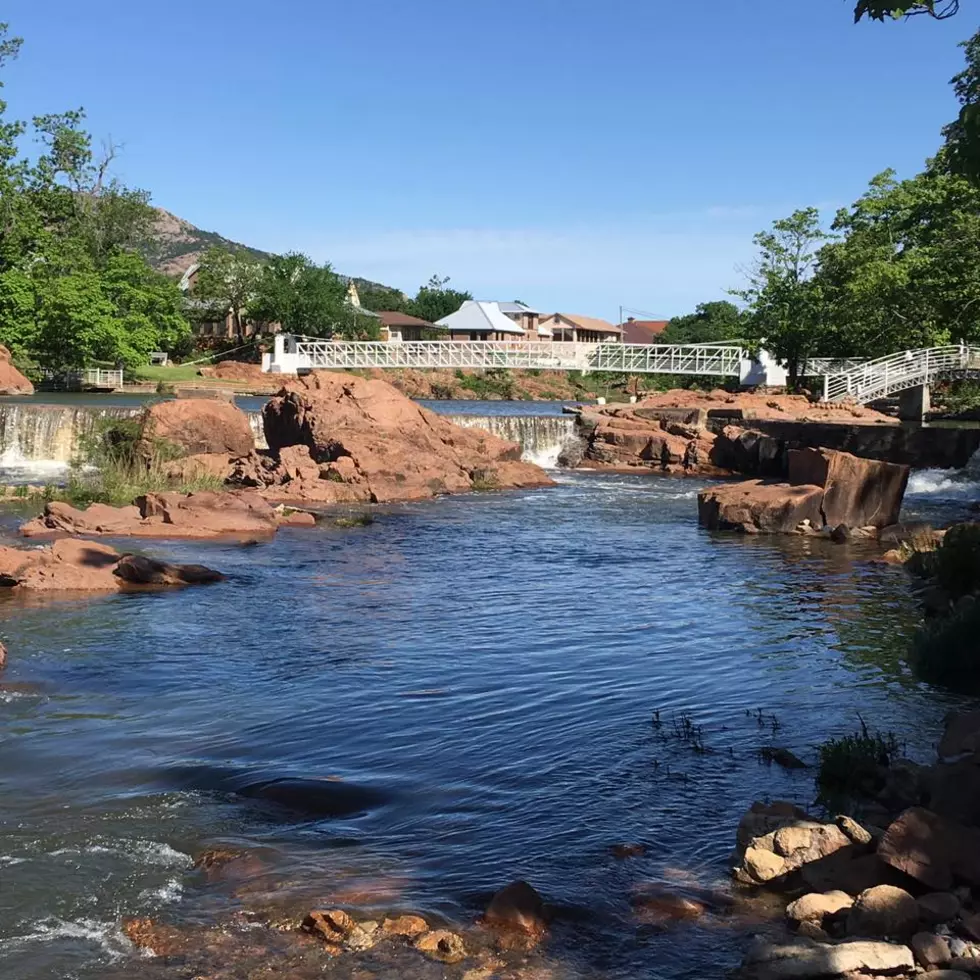 This Oklahoma Small Town Has Been Ranked 'Most Charming' in the State by HGTV Network
Michelle Anders
HGTV (Home and Garden Television) just recently released their "Top 50 Best Small Towns to Visit in America" list and declared this Oklahoma small town as the "most charming" in the state. We 100% agree with their pick, It's an Oklahoma oasis and hidden gem with amazing amenities and breathtaking views.
SEE WHICH OKLAHOMA TOWN WAS NAMED "MOST CHARMING" BY HGTV BELOW
This place has charm and friendliness to spare. So where exactly can you find HGTV's pick for the "most charming" town in Oklahoma? It's located in the Wichita Mountains right outside of Lawton, Fort Sill. It's the town of Medicine Park, OK. If you've been there before then I'm sure you agree with HGTV's choice.
Medicine Park has been named the most charming town in Oklahoma by HGTV
Medicine Park, OK. is the absolute perfect place to visit for a quick day trip, weekend getaway, vacation, or staycation. There are TONS of things to see and do, plus you're right there in the historic Wichita Mountains.
SCROLL DOWN TO WATCH A VIDEO ABOUT OKLAHOMA'S MOST CHARMING TOWN
It's a great place to kick back, relax and unwind. You'll experience the first-class charm and second-to-none hospitality that Medicine Park is known for Nationwide. If you've never been before, you're really missing out.
It's one of the most picturesque places in the Sooner State. Medicine Park, OK.
Everything about Medicine Park is scenic. You'll see some of the most beautiful views and picturesque scenery that can be found anywhere in the Sooner State or Nation. It's a hidden gem and oasis for sure.
MEDICINE PARK IS KNOWN FOR ITS BEAUTY, UNIQUE SHOPS & RESTAURANTS
As well known as Medicine Park, OK. is for its scenery and beauty it's also as well known for its shops and restaurants. Some of the most unique shopping opportunities and delicious places to grab a bite to eat.
Hit play on the video below to learn more about the charming town of Medicine Park, OK.
Not only is Medicine Park, OK. a great place to relax and get away from it all, it's also a great place for recreation. You can go sightseeing, fishing, swimming, hiking, and picnicking, and don't forget the Aquarium.
KEEP SCROLLING FOR MORE GREAT PLACES TO VISIT IN OKLAHOMA BELOW
You could take a scenic drive through the Wichita Mountains Wildlife Refuge while you're there. That's the best part, you can be as active or lazy as you'd like. One thing's for sure, don't miss out on any of the food!
No trip no matter how short or long to Medicine Park is complete without visiting the Old Plantation Restaurant. Known across the Sooner State and Nation for having some of the best home cooking around.
SEE BELOW TO BOOK A STAY AT OKLAHOMA'S RETRO 1950S-STYLE RESORT
Medicine Park has some of the best restaurants and snack shacks to be found anywhere in the state, maybe the even Nation. While I love all the shops, and all the events and festivals, the food is my all-time favorite.
This hidden gem in S.W. Oklahoma is a beautiful oasis of waterfalls & scenery 
In all the years I've gone to Medicine Park I can honestly say I've never run across a rude or unfriendly person, not one. Everyone is always so welcoming, super friendly, and helpful. This town loves visitors and travelers from all across the state and the world for that matter and it's right here in S.W. Oklahoma. It's worth the trip.
GET MORE GREAT SOONER STATE VACATION DESTINATIONS BELOW
So if you're looking for the perfect day trip, vacation, weekend getaway, or staycation destination head to Medicine Park, OK. for an amazing and unforgettable good time. To get all the details and plan your trip, click here to visit the official Medicine Park website. You can also check them out on Facebook by clicking here.
Check out Oklahoma's retro 1950s themed hotel
If you're looking to make your accommodations more than just a place to stay, but rather a part of the vacation experience itself then this is for you. There's a 1950s-themed hotel in Oklahoma that's the ultimate retro getaway for the entire family. The
Happy Days Hotel in McAlester, OK.
is like traveling back in time to the 1950s. It's the perfect place to relive or visit the greatest era of music, movies, and television. When rock n' roll was king and the King himself, Elvis Presley ruled! The entire hotel is decked out floor to ceiling in 50s memorabilia, even the rooms. It's more than a great place to stay, it's a vacation destination, Right next door is the
Great Balls of Fire Family Entertainment Center
a 50s-themed bowling alley. There's also a 50s diner on-site as well called
Angel's Diner
. It's your one-stop shop for 1950s-style retro rest and relaxation in OK.
16 Incredible Places You Have Experience At Least Once In Oklahoma
From mountains to lakes, caves to dunes, here are the most incredible places in Oklahoma you have to visit and experience at least once.
Take a look inside this epic 1960s retro motel in Oklahoma!
It's the ultimate retro vintage motel stay in the Sooner State! If you've ever wanted to step back in time and experience the "good old days" once again, or maybe for the very first time, you're in luck. Take a break from the usual, boring, and mundane hotel room by booking a stay at this 60s-style motel in Oklahoma City, OK.
The Classen Inn
is one of the most unique and colorful motels in the state, if not the entire nation. It was originally built back in 1963 and has been completely remodeled, refurbished, and reimagined. If you're looking for a place to stay while on vacation, staycation, or on a weekend getaway why not make your accommodations a part of the vacation fun by staying at the Classen Inn in OKC.
You can click here to book your stay.
Scroll through the photo gallery below to take a virtual tour of this EPIC 1960s retro motel!
Take a virtual tour of the top 5 most luxurious & expensive Airbnb rentals in and around Lawton, Fort Sill
If you're looking for a place to stay for your next staycation. Or maybe you're considering coming to the Lawton, Fort Sill for vacation, military graduation, business, reunion, or family get-together you'll definitely want to check out these incredible Airbnbs. You could make your accommodations a part of the experience itself! Even if you're in town on business instead of pleasure staying at any of these homes would be a welcomed break from the same old, same old. These are some of the most luxurious and expensive Airbnbs in and around Lawton, Fort Sill. Some are in town others are in the mountains, Medicine Park, and Elgin, OK.