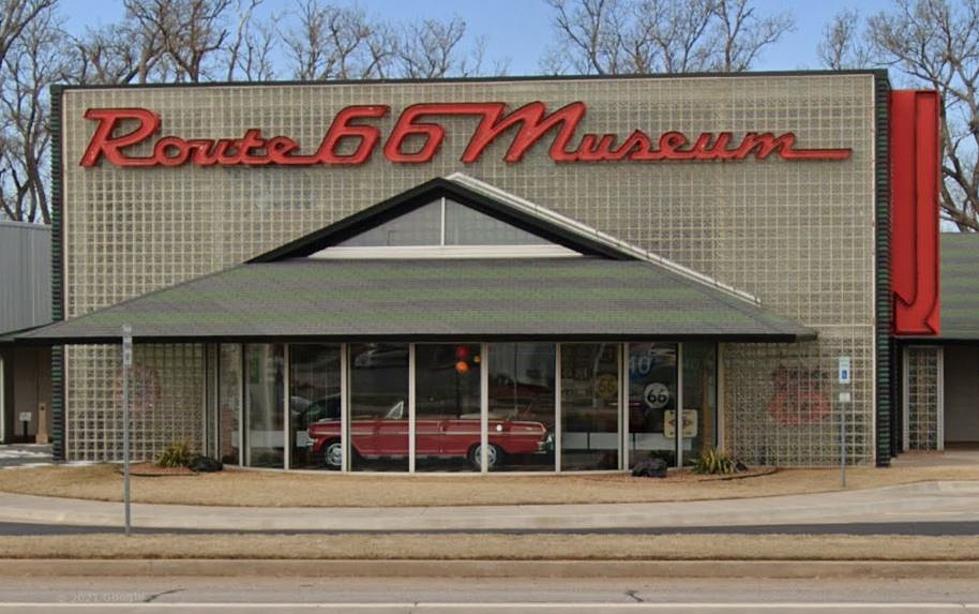 Get Your Kicks at the Oklahoma Route 66 Museum
Google Maps
Oklahoma is home to the longest stretch of the "Mother Road" with a little under 400 miles of Route 66 AKA "Will Rogers Highway" in the Sooner State. While the interstate and other forms of travel have eclipsed the once-popular roadway it still remains iconic and people still enjoy driving and vacationing along Route 66 to this day. There's a ton of history on Route 66 and it's the most known and celebrated roadway in the U.S.
Originally Route 66 ran a total of 2,448 miles and went through several states. Starting in Chicago, Illinois, and making its way through Missouri, Kansas, Oklahoma, Texas, New Mexico, and Arizona then ending in Santa Monica California. Out of all the states that have miles of Route 66 running through it, Oklahoma has the most. Not only that we also have some of the most popular attractions and sights along U.S. Highway 66.
HIT PLAY TO LEARN MORE ABOUT THE ROUTE 66 MUSEUM IN CLINTON, OKLAHOMA
The Route 66 Museum in Clinton, OK. is run by the Oklahoma Historical Society. It's open Monday through Saturday from 9:00-am to 5:00-pm. Tickets are just $7.00 for adults, seniors (65+) are $5.00, students (6-18) are $4.00, and kids, veterans, active-duty military, and Oklahoma Historical Society members are FREE! They also offer discounts for groups as well. Click here to visit the official Route 66 Museum website for details.
THERE ARE ALL KINDS OF ICONIC & HISTORIC STOPS IN OKLAHOMA ON ROUTE 66
There's a ton of great food, stops, and shops along Route 66 in Oklahoma. I'm thinking this Spring/Summer the family and I will pile into the car and take the trip. I've driven several miles of the U.S. 66 but never the entire thing from one side to the other. It would be an awesome family vacation and we'll get to see parts of the state we've never visited before. Sure it'll cost a few bucks with gas prices what they are, but it's only 400 miles or so. And can you really put a price tag on taking a historic road trip with the family? I think not!
Check out Oklahoma's retro 1950s themed hotel
If you're looking to make your accommodations more than just a place to stay, but rather a part of the vacation experience itself then this is for you. There's a 1950s-themed hotel in Oklahoma that's the ultimate retro getaway for the entire family. The
Happy Days Hotel in McAlester, OK.
is like traveling back in time to the 1950s. It's the perfect place to relive or visit the greatest era of music, movies, and television. When rock n' roll was king and the King himself, Elvis Presley ruled! The entire hotel is decked out floor to ceiling in 50s memorabilia, even the rooms. It's more than a great place to stay, it's a vacation destination, Right next door is the
Great Balls of Fire Family Entertainment Center
a 50s-themed bowling alley. There's also a 50s diner on-site as well called
Angel's Diner
. It's your one-stop shop for 1950s-style retro rest and relaxation in OK.
25 hilarious Oklahoma personalized tags DENIED by the DMV
A great way to personalize your vehicle is with a custom license plate. There are some pretty creative and funny tags running around the Sooner State. Some are easy to get, others will have you scratching your head trying to figure it out what it says. Personalized plates are very popular and we're seeing more of them on the road every day. However, there are some rules and restrictions when it comes to what you can and can't put on your plate. If it's considered obscene, vulgar, demeaning, or includes any mention of drugs, alcohol, or illegal activities it will be DENIED. Check out the photo gallery below of some of the most hilarious tags that were rejected by the Oklahoma Department of Motor Vehicles. WARNING: some of these could be considered offensive so if you're easily offended proceed with caution. You have been officially warned.
Take a look inside this epic 1960s retro motel in Oklahoma!
It's the ultimate retro vintage motel stay in the Sooner State! If you've ever wanted to step back in time and experience the "good old days" once again, or maybe for the very first time, you're in luck. Take a break from the usual, boring, and mundane hotel room by booking a stay at this 60s-style motel in Oklahoma City, OK.
The Classen Inn
is one of the most unique and colorful motels in the state, if not the entire nation. It was originally built back in 1963 and has been completely remodeled, refurbished, and reimagined. If you're looking for a place to stay while on vacation, staycation, or on a weekend getaway why not make your accommodations a part of the vacation fun by staying at the Classen Inn in OKC.
You can click here to book your stay.
Scroll through the photo gallery below to take a virtual tour of this EPIC 1960s retro motel!
See the Most Epic & Unusual Oklahoma Airbnb Rentals!
Take a break from the boring and ordinary and make your next overnight stay more spectacular and memorable. These rentals are a lot more than just a place to stay, all of them could easily be a vacation destination and experience all on their own! If you're planning a staycation or vacation in Oklahoma you should definitely check out these epic and unusual
Airbnb
rentals versus booking just a plain old room at a hotel or motel. You could make your accommodations a part of the experience itself by staying at any of these amazing places in the Sooner State.
Scroll through the photo gallery below to check them out.