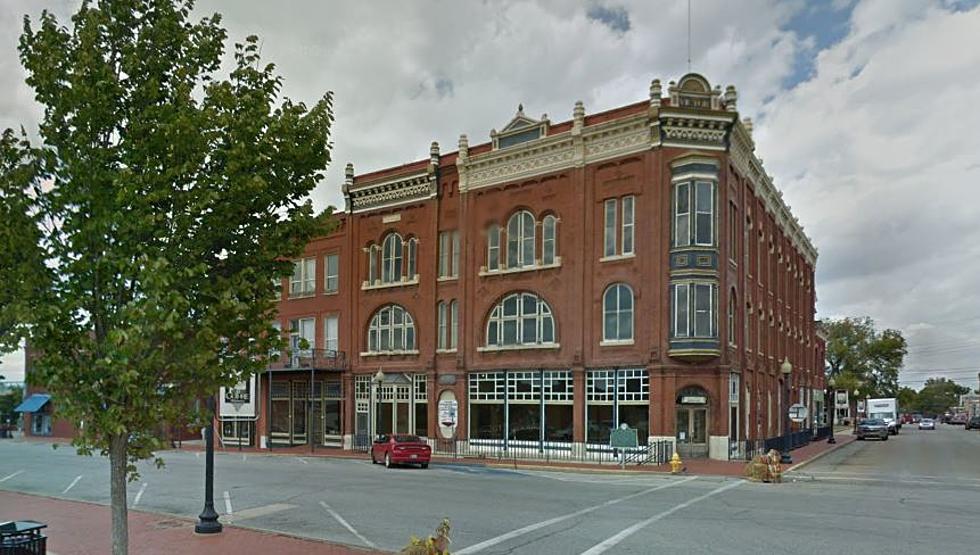 Take a Terrifying Tour of the Most Haunted Town in Oklahoma!
Google Maps
At first glance, this picturesque and friendly small town in Oklahoma appears to be just that and nothing more. But if you look below the surface you'll quickly learn that it's the most haunted town in the entire Sooner State. It has more ghost stories, urban legends, and haunted locations than any other town, city, or place in all of Oklahoma. It's been featured on several TV shows and documentaries throughout the years. People from all over the state, nation, and world come to tour and visit this beautiful yet truly terrifying town.
So what town are we talking about and where is it? It's Guthrie, OK. If you've never been there it's an amazing place and it's filled with all kinds of great stores, restaurants, bars, incredible houses, buildings and lots of interesting history. It's a great place to visit and it's only an hour and 45 minutes away from Lawton, Fort Sill. It's the perfect daycation or staycation destination for the entire family no matter the season.
While most towns have one, maybe two hauntings worth mentioning, Guthrie has like five or six, and those are just the well-known ones! They have everything from haunted houses and mansions to ghost-filled taverns, saloons, cemeteries, tunnels, train tracks, and more. If you're into the paranormal Guthrie, OK. is one of the most active places to go ghost hunting and experience the supernatural up close and personal. Hit play on the video below to learn more about Guthrie, OK. the most haunted town in all of Oklahoma. 
If you've lived in Oklahoma a while you've probably heard a story or two about Guthrie and its famous haunts. So what are some of the ghost stories and urban legends that are being told? One of the most popular is The Blue Belle Saloon. It's one of the most talked-about hauntings in the state. The Blue Belle Saloon was just that a saloon and it was also a brothel back in the day. There are tons of stories that involve murder and all kinds of other bloody tales throughout its long history.  People have reported seeing the former Madame Lizzy along with ghostly apparitions of her working girls. Some were rumored to be murdered and even buried in or near the saloon. Not just ghosts, there are all kinds of unexplained noises, voices, and cries that are heard as well. Even objects are being moved about on their own according to those who have visited.
Learn more about the hauntings of the Blue Belle Saloon in Guthrie, OK.
Another great ghost story or haunting in Guthrie is the Stone Lion Inn. This scary story has ghosts, mummies, witchcraft, devil worshipers, and all kinds of nightmare fuel. It was originally built back in 1907 and at one time was used as a funeral home. Some of the stories revolve around the current owner Becky Luker who's been accused of doing witchcraft and performing satanic rituals at the local cemetery with guests who are staying at the Stone Lion Inn. One of the strangest stories is about a man named Elmer McCurdy who was turned into a mummy. He was put on display and people would pay to see his mummified corpse. You can actually stay at the Inn it's a bed and breakfast. They even do murder mysteries!
Learn more about the hauntings of the Stone Lion Inn in Guthrie, OK.
What more frights? The Masonic Children's Home is yet another famous haunt in Guthrie, OK. Today it's called the Dominion House a luxury hotel and getaway. It was originally built back in 1923 and up until the mid-1970s served as a children's home. There are stories of bodies being found on the property and of a headmistress who would do terrible things to the children who were living there. Another tale is of a maintenance man who hung himself inside. Those who have visited the location have reported hearing voices and seeing ghosts wandering the hallways and rooms throughout the building. It's beautiful both inside and out but certainly has a creepy feel to it. Most people use it for weddings, receptions, and other events. It's a happy place now but its past was dark and horrible.
Learn more about the old Masonic Children's home in Guthrie, OK. start video at (8:15)

So if you're looking for a frightfully good time Guthrie, OK. is the place to go. They even have organized ghost hunting tours you can take if you're brave enough! Whether you believe in the supernatural or not this town is a great place to visit and features tons of unique shops, eateries, history, and things to do. It really is a beautiful town, at least during the daylight hours. So if you're looking for a place to go to wrap up your Springbreak you can head to Guthrie, OK. for an unforgettable family staycation!
The Dreadful Downtown Hauntings of Lawton, OK.
When it comes to ghost tales and hauntings Lawton, Fort Sill has more than a few scary stories to tell. The most active hauntings and paranormal/supernatural occurrences that have been reported seem to be centered around downtown Lawton. If you've lived here a while I'm sure you've heard a few of these terrifying tales yourself. If not check out the photo gallery below of the dreadful downtown hauntings of Lawton, OK.
Top 10 most terrifying towns & scary cities in Oklahoma
While Oklahoma is well known for its beauty and friendly people there are a few places in the Sooner State you'll want to avoid. These are the most terrifying towns and scary cities in the state. It's not that they're bad places, or plagued with crime and other negative factors. The towns and cities below have one single thing in common. They all have active paranormal and supernatural phenomenons. From ghost stories to urban legends and tragic tales. A lot of these places are well known to those who live in Oklahoma and even all over the nation. If you're looking to get scared or do a little ghost hunting you can start with the list below.
Funny, Crazy & Unusual Street Names Found in Oklahoma
One thing's for sure, Oklahoma has a ton of funny, unusual, and downright crazy street names. Across the Sooner State in every town, city, and rural community you'll find hilarious streets and roads with some of the most bizarre names you can think of. When they were named, more than likely years ago, I'm sure no one thought they would be considered crazy or funny at the time. Well, times have changed! Now some of these street names had to be deliberately named by someone with a great sense of humor. At least in my opinion anyway. Scroll through the photo gallery to check out some of Oklahoma's funniest and craziest street names. If you know of a funny or crazy street or road name in Oklahoma take a quick photo of the sign and submit it to critter@townsquaremedia.com and we'll include it in the photo gallery below.
See How The Ten Most Dangerous Cities In Oklahoma Rank
While some of Oklahoma's most dangerous cities may not be a total shocker, there are some real surprises on this Top Ten list.