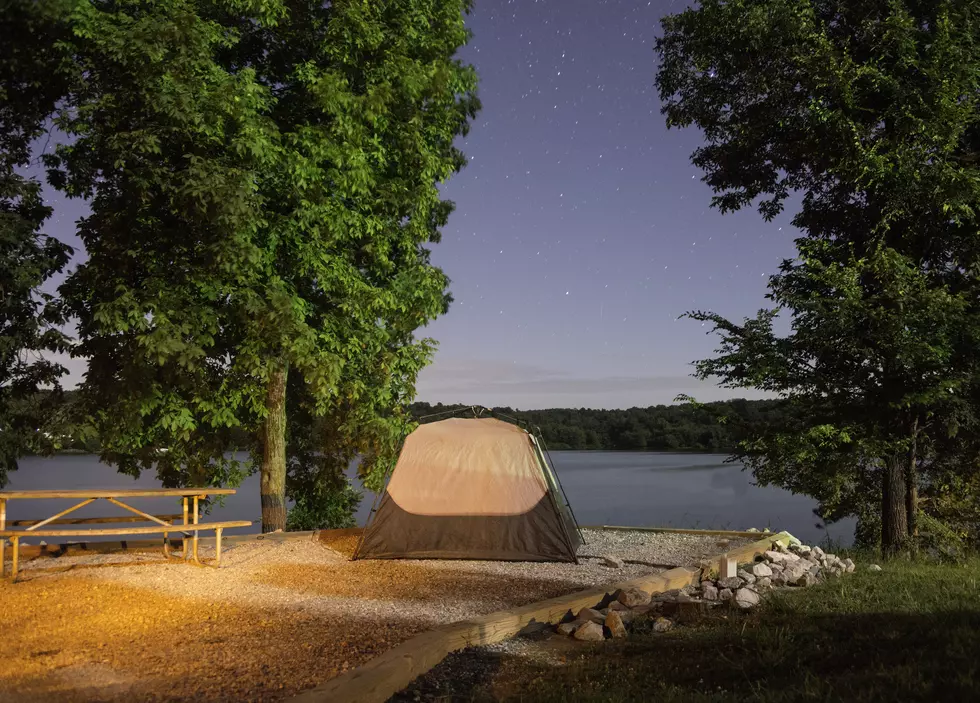 The Top Places To Pitch A Tent In Oklahoma
dosecreative
If you've spent enough time in the Wichita Mountains, some say the "new" wears off. While I never get bored fishing my favorite spots out there, some do get tired of the same old trails and campsites. It's human nature I suppose.
Last night the discussion around the fit pit was "Which campsites across Oklahoma were the best?" and we came up with three solid options.
Luckily for everyone, you don't need to have a bunch of camping gear to enjoy the outdoors and there are options for housing and tons of fun and entertainment near each for the kids.
Quartz Mountain State Park
It's about an hour and a half drive to Quartz Mountain State Park from Lawton, but it's so worth the drive, especially if you're having a weekend on a budget. This state park is home to one of Oklahoma's most infamous lakes, Lake Lugert. Named for a town the lake drowned. When the water is low enough you can still walk around the old foundations.
In addition to occasional hot fishing in the clear but tea-stained water, QMSP offers accommodations to any level of budget. You can camp in a tent if you want below the dam but this time of year the weather is brutally hot and humid. While there are plenty of shade trees, it's still just too dang hot to lay in a tent.
What I've always done is rent one of the small cabins above the dam and lake adjacent. They're small, but comfortable for up to six people. One pro-tip is to turn the hot water heater up to high when you get there so nobody has to take a cold shower.
If you have unlimited funds, there is the revered Quartz Mountain Lodge, offering high-end stays and dining. It's a little further up the mountain road, but an incredible place to spend a few days.
The kids will love staying here too because there's plenty for them to do. Miniature golf, go-karts, a sandy swimming beach, etc... so it's the best of both worlds for both adults and kids.
The Chickasaw National Recreation Area
It's about a two-hour drive to get to Sulpher, but the national park on the city limit border there is next to none. The campgrounds there are like something you'd see in a documentary about Yellowstone or Yosemite. Big trees frame the road, there are low water crossings and bright blue swimming springs throughout. The visitor center is always staffed with park rangers that make the learning a lot of fun for the kids.
It's an amazing place to spend a weekend, but there's a catch... You must brings your own camping stuff if you want to stay in the prettiest area of the park. Hotels are nearby, within a few miles, but that defeats the purpose of staying in such a beautiful place.
Alternatively, there are a ton of cabins available elsewhere around the park's crown jewel, Lake of the Arbuckles. If you have the means to get on a lake, this is a very beautiful body of water than produces massive bass.
I'm not exactly sure what there is for kids to do in this place, but it would be an adult playground with the casino and fine dining literally across the street from the park.
Yogi Bear's Jellystone Park
If the kids are your priority when it comes to summer fun, you can't beat Keystone Lake's kid-themed Yogi Bear's Jellystone Park. It offers fantastic camping along the lake's edge and tons of things for kids to do.
The water park there is second to none in the state. It has the little wading pools, a splash pad, big pools, lazy rivers, and even two massive water slides your kids will love. There's a giant floating challenge course there for the kids too... it's like another water park, but it's on the lake.
Speaking of the lake, the fishing at Keystone Lake is generally good, especially if you're looking for those big hard-fighting hybrid bass. They're easy enough to hook from shore but best found by boat. Like most resort-type places, you can rent just about anything on the lake too. Boats, kayaks, paddleboards, etc...
There's plenty of dry fun as well with an off-road park close by if you have outdoor powersports stuff like ATV/UTV's, motorcycles, Jeep's, etc...
Even though gas and inflation are spiraling out of control, it doesn't mean you have to live an unfun life. You might just try simplifying the expectations of summer fun. Stay a little closer to home. Save on the hotel and camp out. Rent a cabin or AirBnB on the cheap. Life's a garden, you have to dig it.
Getaway, Relax, Unplug & Unwind at Oklahoma's Premier & Most Luxurious "Glampgrounds" Located in Lawton, OK.
Top Mispronounced Towns That Show You're Not From Oklahoma
Just for funs, try to pronounce these town names before hopping to the phonetics...
The EV Models From Oklahoma's Automaker Canoo
Just about the time you suspect you're living in the final future of any vehicle design, someone comes along and tosses a wrench into the general expectations. In the same way that everyone almost universally hates the looks when GM pushes out a new redesign, acceptance has been pretty hot/cold with Canoo. Initial plans are to offer three different vehicles for now, with others to follow.