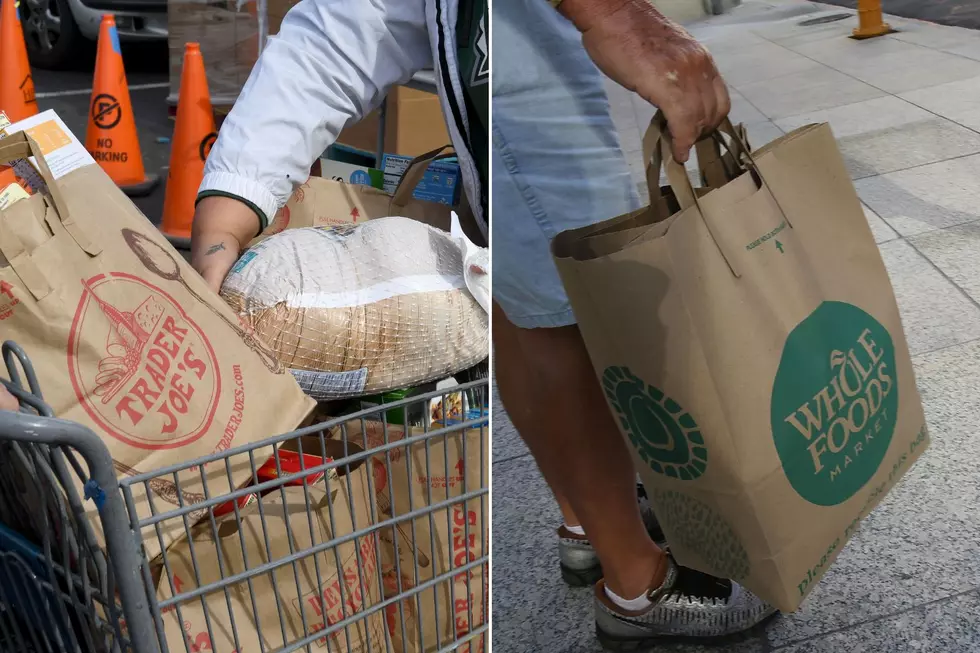 Don't Expect Trader Joe's or Whole Foods in Lawton Anytime Soon
Canva
In all the talks last week about stores that are or have closed in Lawton's mall, the topic ignited a debate on local social media about rumors and wishful thinking.
The big story being the last of the mall "anchor" stores that are rumored to be leaving for greener, more affordable and convenient pastures, the wish list of future Lawton businesses quickly grew beyond any chance of seeing those prayers answered.
While businesses like Chipotle are showing interest to towns like ours, under 100k population, a handful of premium brands won't likely even consider SWOK.
Who actually wants to pay more for groceries?
The top of the Lawton new business wish list was made up of grocery retailers Trader Joe's and Whole Foods... Two premium retail brands that L-town couldn't qualify for in the next century even if the Army handed out 50% raises to every person on the federal payroll.
Simply put, there's just not enough money in Lawton to attract those specific businesses, according to their own metrics.
Whole Foods
According to rumors and internet lore, Whole Foods is very picky when it comes to expanding its organic empire. From the official website, communities that qualify for a Whole Foods Market offer:
200,000 people within 20 minutes of a location.
Higher than the national average median pay.
A large number of college-educated residents.
Other websites break down the unofficial metrics Whole Foods uses to apply to the decision-making process, including political affiliation, but until that appears on the official site, it's just rumor.
On the face of the first of the three basic metrics, Lawton doesn't qualify... Looking at the other two, we likely won't make the shortlist anytime soon.
What about Trader Joe's?
If there's a silver lining to the saga of upscaling Lawton's grocery landscape, this isn't it either.
Trader Joe's doesn't place an iron gate on its website when it comes to expanding their 560-store empire, but every publication that has addressed it arrives at the same conclusion.
200,000 people within 20 minutes of a location.
Higher than the national average median pay.
A large number of college-educated residents.
While they don't say "you have to earn more money" on the site, looking at the Oklahoma locations tells the tale.
The closest Trader Joe's location to Lawton is in Nichols Hills - AKA - the richest community in the state of Oklahoma.
While less than 4,000 people call the suburb home, the metro area of OKC is 1.4-ish million. The average income in Nichols Hills is a staggering $337k per year and nearly half of all residents have at least a bachelor's degree from a university.
The demographics point to the obvious, Nichols Hills can afford fancy.
Will Lawton ever qualify for big-city fancy grocers?
Not likely.
As we've talked about in the past, there's a reason some businesses don't come to Lawton, and it almost always comes down to our low average income. With a history of electing prominent business owners to local political positions, you'd expect growth in this particular area, but looking out for the few almost always takes precedence over the needs of the many.
Add in that bigger retailers like Walmart and Target seem to be capitalizing on fancy trends, now including organic and premium options on store shelves. That impact alone may be enough to keep niche retailers away.
Trader Joe's and Whole Foods would rather move in to sell prime-grade steaks and plant-based alternatives at twice the price... not continually sell out their own versions of cheap mac and cheese. As Lawton is a blue-box O.G. community, it ain't happening.
Take a virtual tour of this massive 7.5 million dollar Oklahoma mansion
Take a look inside this massive Oklahoma mansion that's up for sale. This epic estate is one of the most impressive and expensive houses currently for sale in the Sooner State with a price tag of
$7,500,000
. This one-of-a-kind property is located at
6907 Avondale Drive, Nichols Hills in Oklahoma City, OK.
It's one of the most incredible and luxurious homes on
Zillow.com
and is listed by
Cole Strickland
of
Metro Mark Realtors
. This 6 bedroom, 9 bathroom 11,412 square foot multi-story home boasts all the very best in features and amenities. It sits on 1.7 acres and even has its own tennis court and swimming pool. That's just the beginning.
Scroll through the pictures below to take a virtual tour of this EPIC MEGA-MANSION in OKC.
Oklahoma's Richest Billionaires
From goods & services to oil & gas, these Oklahoma billionaires have figured out what hard work and dedication can do for the family finances.
The Highest Rated Local 'Cheap Eats' Restaurants In Lawton
Sometimes you just cannot eat another bite of chain-restaurant food. There's a bit of comfort in the fact you can visit any location in the country and have the same meal, but it grows tired on the taste buds. Sometimes you just need something uniquely local and preferably within your budget.
While there are higher-rated restaurants in town, they come at a steep price. Paying $12 for a lime-washed beer or glass of wine crosses the border between eating a meal and paying extra for entertainment. Here are the highest-rated local cheap eats in Lawton according to
Trip Advisor
.