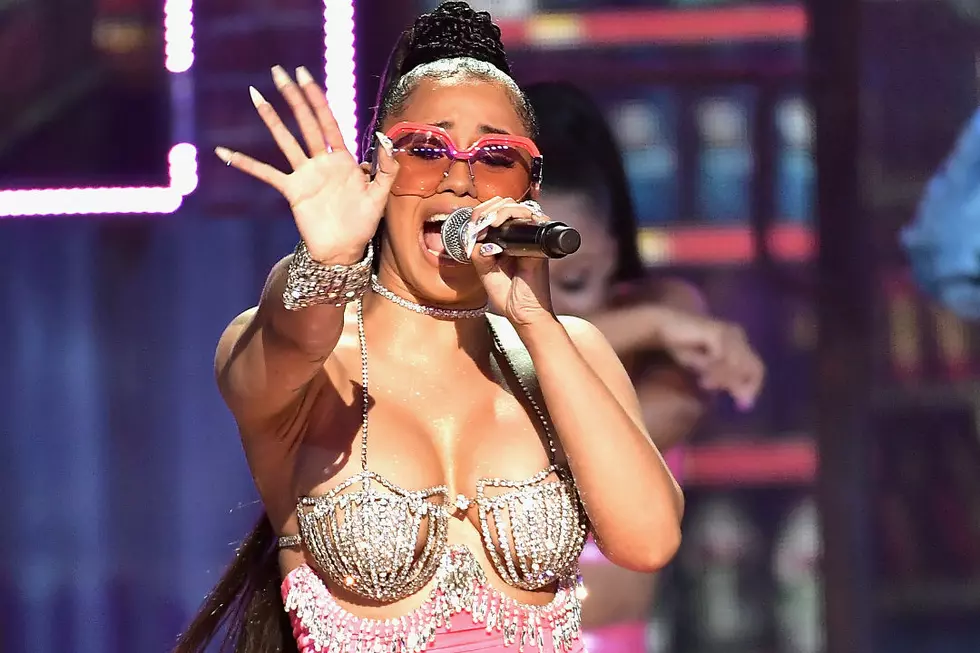 10 Great Cardi B Tracks That Aren't 'Bodak Yellow'
Gustavo Caballero, Getty Images
Cardi B is pretty much the only thing that didn't suck about 2017.
The story of her street single "Bodak Yellow" and its progression to the top of the charts—and its two Grammy nominations—was inspiring as it felt representative of how millions of music fans actually looked and felt during this really weird year. ("They can't f--- with me if they wanted to," indeed.)
But if Cardi B's ascent seemed fast, it's because she was in a hurry. "At the end of the day, you need to be with what sells," she pragmatically told FADER earlier this year, sounding somewhat like a reincarnated Jay-Z fresh off his Reasonable Doubt hustle. Behind the crystal clear flow of "Bodak Yellow" was a self-powered rap machine, one that didn't need the cosign of any man or label to break through the SoundCloud and YouTube noise. Atlantic signed her right before "Bodak Yellow" was about to drop (good move) and fellow Atlantic artist Offset, fresh from a No. 1 hit with his own group, recently popped the question, solidifying a fairy tale year for the rap princess.
Instagram and reality TV stars burn bright and fast, but Cardi's pivot to the rap world was as obvious as it was a savvy move to keep her in the center of the pop conversion. Her moment in the limelight on VH1's Love & Hip Hop: New York wasn't just a place for her to strut viral sass; she used her time in the studio seriously: recording two acclaimed mixtapes while the cameras were still rolling, and touring the country with her posse, which got the label reps calling.
But in the event "Bodak Yellow" is all you know of Cardi, we're happy to offer an education while you wait for that debut album. Here's a look Cardi B's rise to the top though ten of her best non-"Bodak Yellow" tracks.
"Trick"
Where else can begin other than the freshest cut off Gangsta Bitch Music Vol 1? First, it's where Cardi lays down her ground rules in a style that pays necessary debts to Biggie Smalls (some versions of this early track are actually called "Ten Trick Commandments"). Second, it's an aggressive assertion of sexual prowess (think Young M.A.'s moment last year). But Cardi is always down for some old school hip hop fun, preceding the track with a skit in which Haitian V, a Haitian-American YouTube comedian based in Brooklyn, plays a suitor who who takes too many liberties with Cardi. (She sets him straight, needless to say.)
"Foreva"
"When there's a word that is catchy to me, I might use it in my music," Cardi told FADER about the genesis behind her taunting flex that was first a viral moment and then the main verse of her first music video, "Foreva." Over fellow Love & Hip Hop: New York-cast member SwiftOnDemand's menacing trap-lite production, Cardi turns her first brush with web fame into ear candy. By the time the track dropped, Gangsta Bitch Music Vol. 1 was already being celebrated as "easily the most enjoyable body of music" to come out of the entire VH1 franchise.
"Everything"
If her brash, canny exterior had anyone thinking Cardi couldn't let her defenses down to bare a little soul, then her debut mixtape's closer may have come as a surprise. Over a sample of the Mary J. Blige song of the same name, Cardi retraces her story in the style of a soul anthem. "This song is low key what everyone goes through, she just admit it," one YouTube user comments on the song, and therein lies the appeal of early Cardi B, back when she was "just a young hood girl tryna win."
"Bronx Season"
"Everything" may have had Cardi B plotting that Fort Lee life across the river but "Bronx Season" keeps her roots straight. A dark club anthem, "Bronx Season" details how Cardi does the business ("I hit the mic / I kill the show / I get my dough") and dishes on the haters at the same time. Originally released on a tour mixtape that was distributed on her sold-out Underestimated Tour last summer, the track also appeared on her second official mixtape, this year's Gangsta Bitch Music Vol 2.
"Sick 16 (Freestyle)"
On this solo freestyle tucked away as a bonus track on Underestimated, Cardi begins with a vocal play indebted to Nicki Minaj's flow on "Roman's Revenge," complete with that horrific snarl. But when Cardi turns to address "some b---hes in the Bronx that wanna be me a little," she does a 180 and suddenly delivers a stirring message about not selling yourself short.
"Hectic"
"Hectic' is the ultimate New York word," Cardi B told Genius earlier this year. The confident standout from Gangsta Bitch Music, Vol. 2 turns that word into an unapologetic NYC anthem: "Keep it litty for my city, NYC," she raps. For Cardi, this means proudly repping the culture, from talking about her "tetas" to referencing one the most famous lines of her career thus far. It also means keeping those standards high: "Yeah, you cute but you gon' have to pull ya pants up," she advises.
"Lick," Ft. Offset
By the start of the summer, Cardi was more than a reality TV star and hip hop Twitter meme. After the release of her second mixtape, singles like "Bronx Season" were racking up streams in the hundreds of thousands, and the rap world suddenly needed her more than she needed it. But Cardi was still playing by her rules: Her first major collaboration was with future fiancé Offset, of rap trio Migos. Another pure NYC street banger, "Lick" felt aimed at anyone ready to swerve out of traffic to get their due.
"Cute" (Remix)," D.R.A.M. Ft. Cardi B
One of Cardi's first appearances as a featured artist also happened this summer, on a remix of one of the singles from D.R.A.M.'s debut. It felt like a strange place to find her rapid-fire assault on fragile male egos—D.R.A.M.'s biggest hit is a collaboration with Lil Yachty about ditching women at parties to get baked. On "Cute," D.R.A.M. is no less mellow, assuring his girl that he "choose you like a Pokémon." Cardi doesn't mince words, though, quipping, "You think I'm cute, but I think you ugly."
"Kamasutra," Juicy J Ft. Cardi B
Punched together by a sample from Juicy J's older Three Six Mafia hit, this collaboration offers a version of Cardi that we can expect to hear skittering across dance floors for years to come. Her snarl tightened to a percussive, four-by-four thump, she transforms phrases like, "Boy, you better f--- me all night" into a menacing kick drum. This is Cardi B as a pure dance queen, turning her street-smart sass into a club anthem.
"MotorSport," Migos Ft. Cardi B & Nicki Minaj
Her second collaboration with Offset ended up the lead single for his group's hotly-anticipated followup to their commercial breakthrough. Putting aside all the real or imagined drama between her and Nicki Minaj, Cardi's bars feel effortless here, building up to a power-cackle read of "I'm the trap Selena / ¡Dame más gasolina!" "MotorSport" is Cardi's version of the culture, as connected to the Bronx heat as to the trap beats that echo down from the Top 100.
Cardi B Slays at the MTV VMAs: