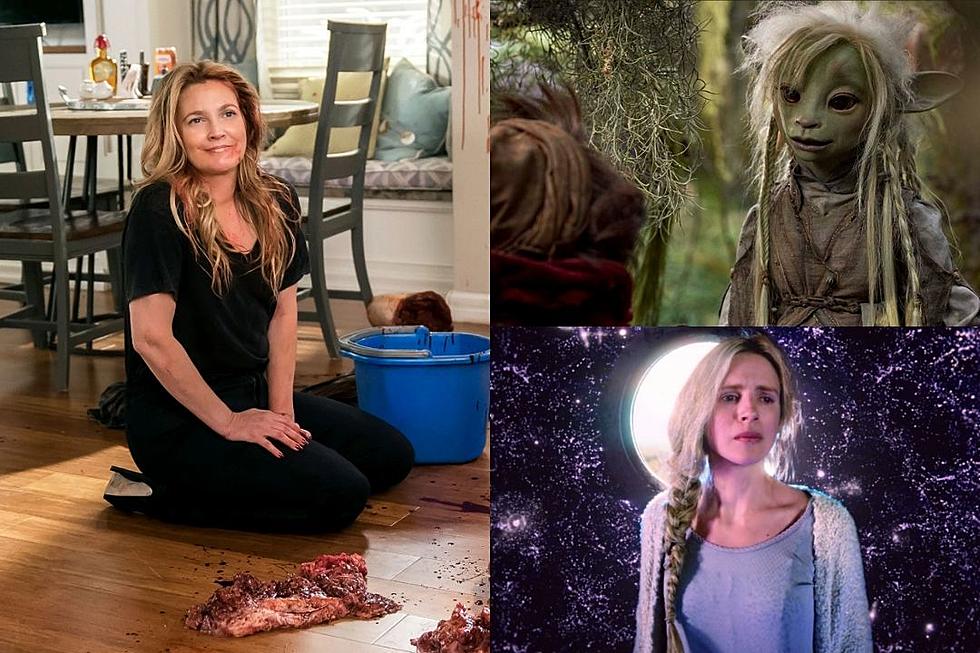 11 Netflix Shows That Were Canceled Too Soon
Netflix
There's nothing worse than discovering a new show, binge-watching the whole thing, falling in love with it... and then finding out it's been canceled.
Actually, scratch that. There is something worse: when said show ends on a cliffhanger. And unfortunately, when it comes to Netflix, that's happened a lot over the years.
Of course, not every Netflix show can last forever, but for every Orange Is the New Black, The Crown and Stranger Things, there's a litany of unsung shows that the streamer ends far too soon. That's right, we're talking The OA, Sense8, GLOW and more.
Below, we've rounded up our list of 11 series we think Netflix canceled too soon. Read on for a spoiler-free rundown of shows we wish had gotten a second chance at life.
1

As it was originally conceived, The OA was meant to be a sweeping, supernatural sci-fi mystery told across five seasons. Which makes it all the more painful that the heady, dimension-jumping series starring Brit Marling was cut short after getting the chance to unfurl just two of those five parts. Since its cancellation, The OA has rightfully become regarded as a cult classic — but that cliffhanger ending (no spoilers!) still haunts the show's loyal cadre of fans.

2

You know what really sucks? That Everything Sucks! never got a second season. Set in the 1990s, the half-hour series expertly and sweetly lampooned teen culture of the 1990s while exploring topics such as questioning sexuality, learning disabilities and the ever-universal theme of what it feels like to be a misfit in the halls of your small-town high school. Think Freaks and Geeks for the 21st century — all the way down to its status as an under-appreciated one season wonder. And while we were robbed of seeing more of Sydney Sweeney's magnetic performance as Emaline, thank goodness we still got The White Lotus. 

3

Santa Clarita Diet deserved a hundred more seasons if only for the joy of watching Drew Barrymore and Timothy Olyphant on screen together. However, the absurdist zombie comedy only got three turns around the proverbial streaming sun, which was a huge bummer considering that Season 3 ended on a cliffhanger that would've brought a whole new dimension to the pair's relationship as zombie wife Sheila and very human husband Joel Hammond.

4

Part Lord of the Flies, part The Walking Dead and part Lost, this apocalyptic teen series showed major promise when it premiered in May 2019. And Netflix thought so too, renewing it for a second season. However, one thing the teens' titular society didn't see coming was the coronavirus pandemic, which forced Netflix to retroactively cancel the series. Now we'll never find out what happened to the rest of the folks in West Ham, Connecticut…

5

GLOW's premature cancellation was one of the first tough decisions Netflix had to make at the onset of the 2020 coronavirus pandemic. Three seasons in, Alison Brie and the rest of the Gorgeous Ladies of Wrestling had a bona fide hit on their hands, including a large and passionate fan base and multiple Emmy wins for the series. However, the fourth season of the show was never to be. After initially renewing GLOW for one final showdown in the ring, the streamer reneged on its plan and gave the series the chop, leaving the last chapter of GLOW untold.

6

Another casualty of COVID-19, I Am Not OK With This was the kind of superhero show that simply doesn't exist in any of the sprawling, ever-expanding cinematic universes populated with heroes of the Marvel or DC varieties. For one thing, the comedy in the show was pitch-black, taking its inspiration from Charles Forsman's 2017 comic book of the same name. However, after being renewed for a second season, the show was cut short and canceled thanks to impossible production variables due to the pandemic. And honestly, we're still not okay with it.

7

The Dark Crystal: Age of Resistance

For fans of Jim Henson's 1982 cult fantasy film The Dark Crystal, this prequel series that arrived nearly two decades later was a dream come true. And frankly, both fans and critics loved it, heaping the show's first and only season with acclaim and accolades including a Creative Arts Emmy for Outstanding Children's Program. However, even that shining accomplishment wasn't enough to earn the series a sophomore season — and it was axed just hours after taking home the trophy. Literally.

8

Oh Girlboss, we hardly knew you. This single season gem told the story of the launch of Nasty Gal, the wildly successful fashion retailer launched by Sophia Amaruso in 2006. With Britt Robertson portraying a fictionalized version of the scrappy, prickly entrepreneur, the show was messy, inspirational and laugh-out-loud funny as it unfolded an origin story that defined the idea of "started from the bottom, now we here." Unfortunately, fans never got to see the view from the top, as Sophia's journey to becoming a bona fide girlboss was cut short just as she came up with her million-dollar idea.

9

Of all the shows on this list, the unjust cancellation of Sense8 in June 2017 caused the biggest uproar. Over two seasons, the ultra-diverse science fiction drama had developed a passionate cult following, particularly among LGBTQIA+ audiences for its nuanced, impactful storytelling and queer represention on screen. (It even took home a GLAAD Award for Outstanding Drama Series after its first season.) And when Netflix canceled the show after Season 2, fans were left on a major cliffhanger with no chance of resolution. (No spoilers, go watch it for yourself!)

10

Teenage Bounty Hunters deserved more. On paper, the 2020 series sounded like a smash: a pair of fraternal twin high school students become bounty hunters while navigating life in their ultra-religious Southern high school. In execution, it was hilarious, subversive and featured star turns by newcomers Maddie Phillips and Anjelica Bette Fellini… but not enough people watched it. Just two months after the show hit Netflix, the streamer canceled it, ending the series on a cliffhanger that would have opened up a whole new well of story for the second season.

11

Special is, well, just a special show. Created by Ryan O'Connell and adapted from his 2015 memoir, the series began with just eight 15-minute episodes which followed a fictionalized version of the multi-hyphenate as he navigated life in Los Angeles as a gay man with cerebral palsy. The story was heartfelt, touching and unlike anything seen in queer media, but for some reason Netflix ended the show after expanding its second season to full half-hour episodes.