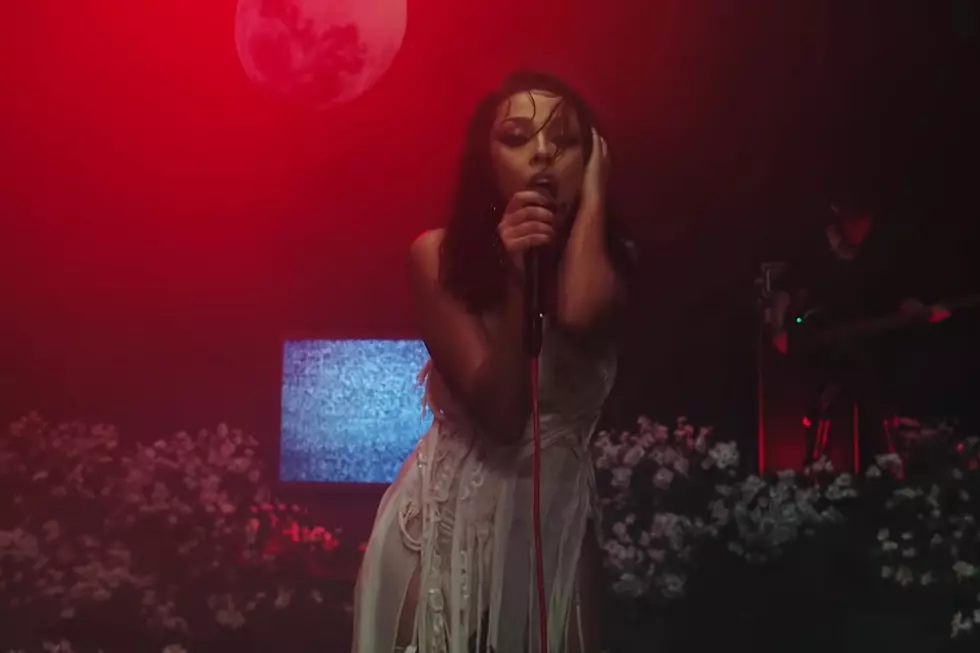 Doja Cat Conjures 'The Ring' After Crawling Out of TV for Rock Performance of 'Say So' (Yes, We're Obsessed)
MTV via YouTube
Sure, Halloween took place last month, but that didn't stop Doja Cat from living out her horror fantasy a few days late.
On Sunday night (November 8), just over "seven days..." after Halloween, the superstar rapper and pop star hit the virtual, proverbial MTV EMAs stage to deliver a rollicking live performance of her hit single, "Say So," conjuring iconic horror flick The Ring in the process.
Wearing a tattered white dress with her dark hair dangling over her face, Doja kicked off the edgy performance by crawling on stage, emerging from the sinister static void of a TV screen like a scorned ghost girl bent on spectral retribution. Then, headbanging and thrashing her way across a field of daisies and fog, the 2020 Best New Act winner gave her '70s disco-tinged pop hit (which was a viral smash on TikTok this year) a moody, more aggressive update that — as self-proclaimed Evanescence and pop-punk fans — we can only hope will hit streaming services at some point.
And, depending on whether you prefer the 2002 American adaptation or the acclaimed original 1998 Japanese film, Ringu, Samara/Sadako can likely be found shaking in her well now that she's out of a job. Watch Doja's spooky rock performance, below.
Plus, this isn't the first time Doja has dabbled in a more rock-oriented sound. In 2019, she released "Bottom Bitch," an emo-skewing trap-punk-pop single sampling Blink-182's "What's My Age Again?"
At the 2020 Billboard Music Awards in October, Doja unleashed her inner Roxie Hart with a dazzling Chicago-themed performance medley of her songs "Juicy," "Say So" and "Like That," complete with all the Broadway bells and whistles.
Clearly, she's got a flair for the dramatic and cinematic, but we're definitely not complaining.
Super Scary Horror Films That Will Keep You Up at Night