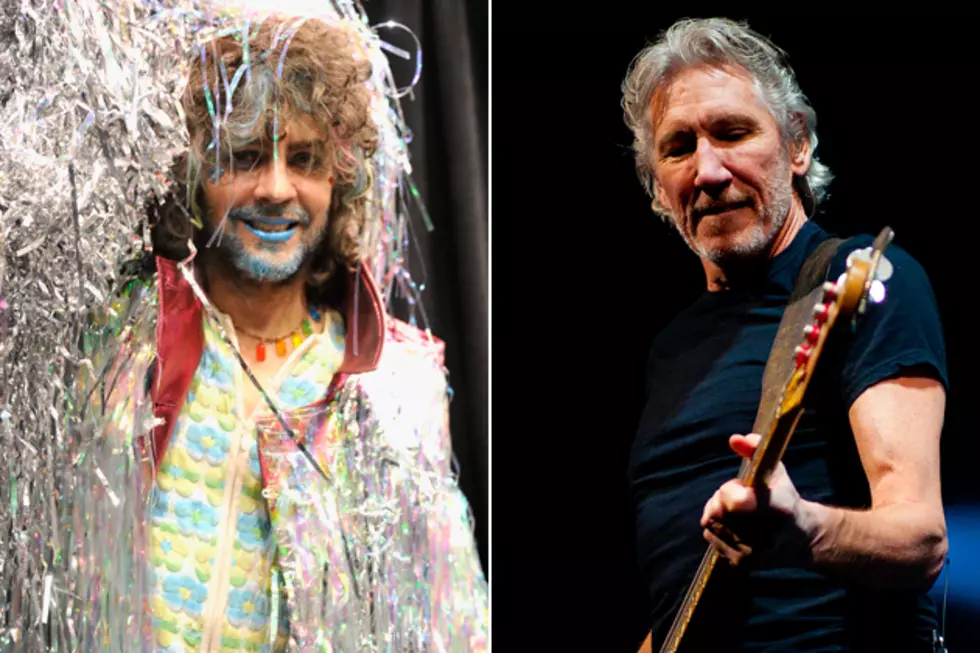 Pink Floyd Treat or April Fool's Joke? Flaming Lips Announce Another 'Dark Side of the Moon' Album
Jeff Fusco / Stephen Lovekin, Getty Images
Tomorrow, the Flaming Lips will reportedly put out 'Flaming Side of the Moon,' a digital-only release that they are describing as "an immersive companion piece" to Pink Floyd's 'The Dark Side of the Moon.' However, we're not sure if the group are serious or if this is an early April Fool's Day prank.
For starters, the press release we received today (but dated March 31) does not offer any further details about the album. There's no tracklisting, list of personnel, or quotes from band members, for example. Plus the artwork doesn't match up with the bold colorful styles and fonts the group has used on their dozens of singles and album releases in recent years.
On top of that, if this is a cover of 'Dark Side,' the Flaming Lips have already gone down that road. In 2009, they released, 'The Flaming Lips and Stardeath and White Dwarfs with Henry Rollins and Peaches Doing The Dark Side of the Moon.' And they already have a classic rock tribute album currently in the works, for the Beatles' 'Sgt. Pepper's Lonely Hearts Club Band.'
Here is the bulk of the text of the press release, so that you can decide for yourself:
Designed as an immersive companion piece to the original 1973 album, 'Dark Side of the Moon,' listeners are encouraged to listen to the new Lips album while listening to 'Dark Side of the Moon' at the same time. 'Flaming Side of the Moon,' was also carefully crafted to sync up perfectly with the 1939 film, 'The Wizard of Oz.' For ideal listening conditions, fans are encouraged to seek out the original Alan Parsons' engineered quadraphonic LP mix of 'Dark Side,' but it will work with the album on any format. Available now through all participating digital outlets.
And yet, a check at the major digital music outlets reveal no such product. However, if this is real, the press release also states that 100 vinyl copies of the album will be given to the band's friends and family. Again, our experience suggests that this isn't something normally put into press releases, and could be in there only to tease gullible hipsters.
Don't get us wrong -- this sounds like fun, some of us hope this is real. Guess we'll find out soon!