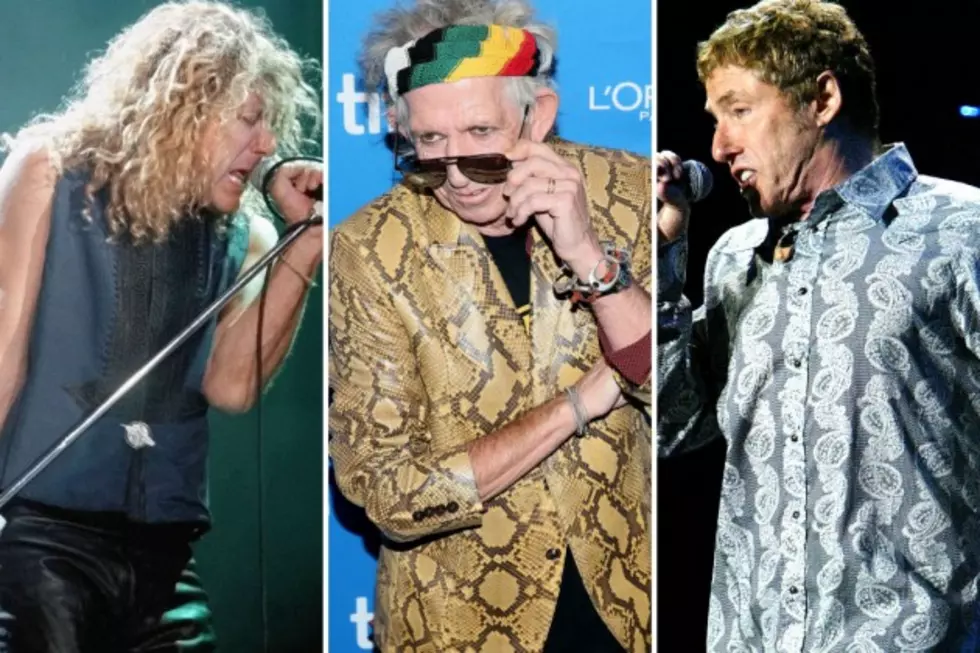 Keith Richards Dismisses Led Zeppelin as 'Hollow,' Calls the Who 'All Flash'
Hulton Archive / Jemal Countess / Paul Hawthorne, Getty Images
It remains to be seen whether Keith Richards' new solo album wins him any new fans. His publicity tour on behalf of the record, on the other hand, seems certain to decrease his standing with some of his peers.
Weeks after calling Black Sabbath and Metallica "great jokes" and describing the Grateful Dead as "boring s---," Richards was asked to offer his thoughts on Led Zeppelin and the Who — and it went about as poorly as you might have already guessed.
"I love Jimmy Page, but as a band, no," said Richards on the subject of Led Zeppelin. "With John Bonham thundering down the highway in an uncontrolled 18-wheeler ... He had cornered the market there. Jimmy is a brilliant player. But I always felt there was something a little hollow about it, you know?"
As far as the Who are concerned, Richards is unimpressed with singer Roger Daltrey, whom he dismissed as "all flash." And while he has a somewhat kinder opinion of drummer Keith Moon, he was something of a one-trick pony in Richards' eyes.
"[Moon] could play to [Pete Townshend] like nobody else in the world. But if somebody threw him into a session with somebody else, it was a disaster," argued Richards. "There's nothing wrong with that; sometimes you've got that one paintbrush, and you rock it."
Ultimately, the surviving members of many of the bands Richards has slagged in recent months — including the Beatles, whose landmark Sgt. Pepper's record he waved off as "rubbish" — can take comfort in knowing that not only are they in pretty good company, but they may have just been born in the wrong place to hit his ear the right way. As he put it, "I just was never really interested in that many English rock 'n' roll bands actually, at all."
Rolling Stones Live Albums Ranked Worst to Best
You Think You Know Led Zeppelin?