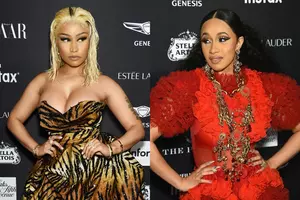 Nicki Minaj Claims Her Friend Beat Up Cardi B
Dimitrios Kambouris, Getty Images
The latest update in the Nicki Minaj and Cardi B battle comes shortly after Cardi filmed an Instagram Live video calling out her haters. She was fueled by her anger at Minaj for allegedly involving her sister, Hennessy Carolina, in their ongoing feud.
On Monday (October 29), Minaj went after Cardi on her Beats 1 Queen Radio show on Apple Music, reports Entertainment Tonight. Not only did she deny the claim that she leaked Cardi's private phone number, but she also alleged that her friend, Rah Ali, went to literal blows with Cardi. Apparently there is "surveillance footage" that proves it. Rah and Hennessy exchanged rude tweets over the weekend in a social media battle of their own.
"Rah really beat Cardi's a-- bad," Minaj claimed on her radio show. "Rah beat you so bad, I was mad at Rah. The punches was so hard in your head, I was like mad at Rah… but Rah didn't like her attitude, the way she came at me. Rah said it looked like she was going to put her hand on me. I swear to God on my life, Rah held her head and punched her, like, eight, 10 times. The hardest punches you've ever heard in your life."
In reference to the allegations that she leaked Cardi's number, the "Barbie Dreams" rapper said: "And then you have your sister calling me a crackhead and leak numbers?...You can't control your sister, but you want me to control millions of fans? I've never leaked a number in my life and y'all continue to lie on me to make me look like a bad person."
And, in what may have been an effort to finally call for a ceasefire, she also said: "There's so many things I can say but I don't. I love where I am in my life. I was fine with leaving everything good. We can just be happy. There's nothing that really makes me not like you like that, you know what I'm saying?"
"I'm perfectly fine with never talking about this again, and me never bringing you up again and you never bringing me up again. I hear the shots you taking, but I'm a rapper, remember that," Minaj concluded.
We'll see what happens if and when Cardi responds.
50 Shade of Celebrity Feuds