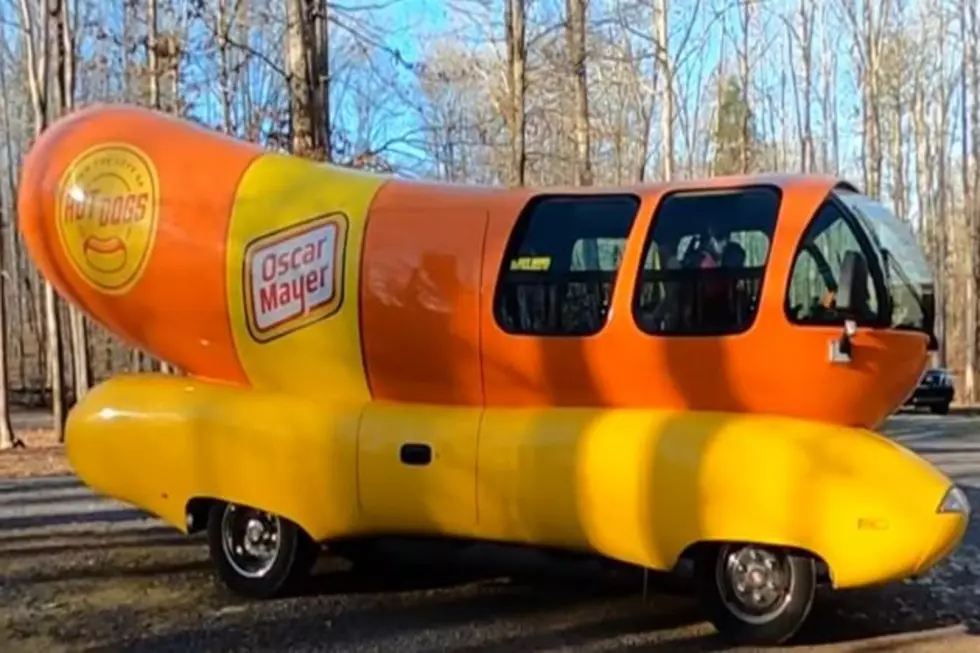 Oscar Mayer is Hiring Wienermobile Drivers Apply Today
YouTube.com- Saabkyle04
It's one of the most recognizable, celebrated, and iconic vehicles on the road, the legendary Oscar Mayer Wienermobile. It's been on the road and a BIG PART of Americana since 1936 and still going strong today.
SCROLL DOWN & APPLY TO BECOME AN OSCAR MAYER WIENERMOBILE DRIVER
I've been fortunate to see the Oscar Mayer Wienermobile a few times throughout the years. Once at a car show and once while I was on vacation and driving the open road. It'll definitely get your attention, for sure.
As cool as it is seeing it out and about, imagine how cool it would be to actually drive it. Good news, it was just announced that Oscar Mayer is looking to hire drivers AKA hotdoggers in 2023. So here's your chance!
Hit play on the video below for an in Depth look into the iconic Oscar Mayer Wienermobile
If you're interested in becoming an Oscar Mayer Wienermoblie driver or hotdogger you can click here to visit the official website. The posted position is full-time and a one-year assignment. Get all the details and apply here. It sounds like the perfect job, benefits include an unlimited supply of Oscar Mayer wiener whistles.
The job posting is seeking college graduates preferably with a BA or BS in public relations, journalism, communications, advertising, or marketing. Although the position is open to everyone and all are welcome to apply. You can get all the information and the full job description along with contacts by clicking here.
If you were considering a career change in 2023 or are looking for more than just a job, this could be it. Of course, if you're hired you'll have to come to Lawton, OK. for a big cookout and community picnic at Elmer Thomas Park. I could use a replacement Oscar Mayer Wiener Whistle and a quick ride around the block.
16 Annoying Things Oklahoma Drivers Do
I can't even begin to tell you how often the conversation turns to bad driving in my circle. Now I've lived in a bunch of different states, and driven in many more as my family's safe vacation driver, I can tell you some of the most common driver complaints are universal... but as Oklahoma drivers seem to swear they're the best, here are some of the things that annoy the rest of us.
Look inside this EPIC $5,495,000 Oklahoma Estate
It's being called the premier luxury listing in all of Oklahoma on
Zillow.com
. This massive mansion in
Arcadia, OK. at 400 Deep Fork Circle
is listed by
Ty Burnett of Engel & Voelkers Edmond
. It currently has an asking price of
$5,495,000
making it one of the most expensive houses for sale in the Sooner State. This epic 12,020 square foot estate sits on over 2.5 acres and features 7 bedrooms and 9 bathrooms. It comes with its own guest house, resort infinity pool, cabana, and gym. The chef-inspired kitchen features all professional, commercial-grade appliances. There's a THX theater room and entertainment suite complete with its own bar. The master bedroom has a see-through fireplace, huge celebrity-style closets a garden room, and heated marble floors in the master bath. It has a basement a wine cellar and tons of outdoor patio and sitting areas.
Scroll through the pictures below and take a virtual tour of this epic estate in Arcadia, OK.
9 Chain Restaurants Founded In Oklahoma
While some Oklahoma original restaurants are obvious and common knowledge, there are a few that will likely surprise you having a start in the Sooner State. At least, they were shockers to me. Whether you want burgers, BBQ, pizza, breakfast, or Tex-Mex, the tastes of Oklahoma stretch far beyond our border.
Look inside this historic 8.5 million dollar OK. mansion
This incredible property is located at
1414 Galveston Ave. in Tulsa, OK.
This isn't just any old manor either, it's the historic
McBirney Mansion
which is listed in the
National Historic Record
. If you have a spare
8.5 million dollars
you could be the proud new owner of this epic estate. Interested? It's listed by
Curtis Roberts
of
McGraw Realtors
. The McBirney Mansion features around 15,900 square feet with 7 bedrooms, 10 bathrooms, and more living space both formal and family across 3 stories. Actually, 4 if you count the basement. This estate sits on 2.9 acres with breathtaking views of the Arkansas River and some of the most magnificent natural landscaping and outdoor spaces you'll ever see. You could own a piece of OK. history!