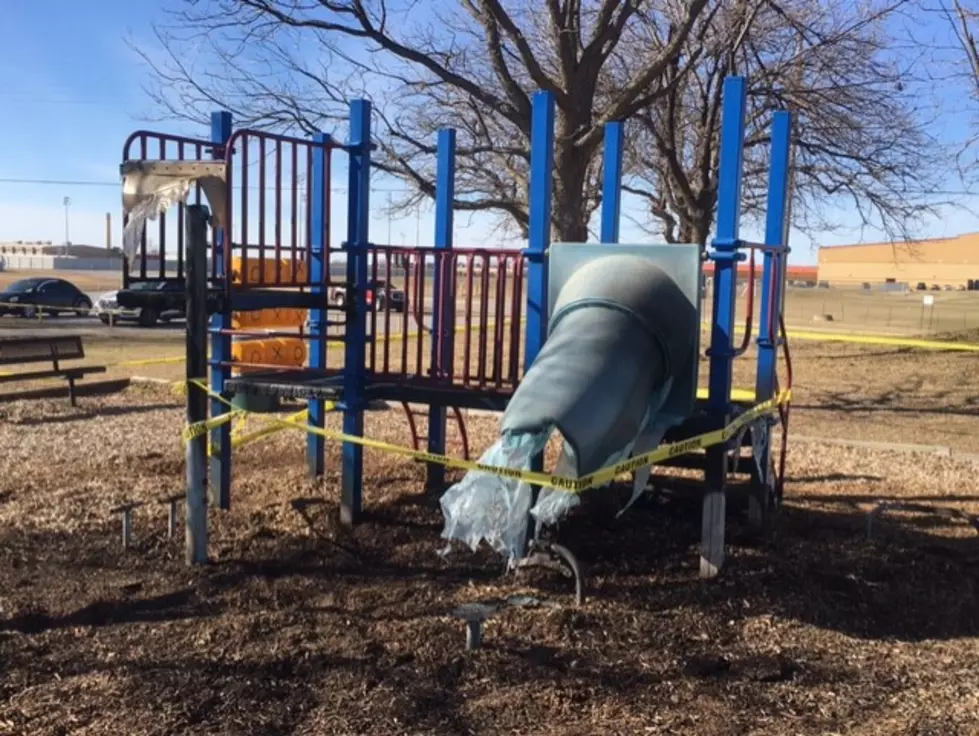 Vandals Destroy Playground at Elmer Thomas Park in Lawton, OK.
TSM Lawton: Critter
Earlier this morning the news broke that vandals had destroyed one of the playgrounds at Elmer Thomas Park in Lawton. It was the playground next to Miracle League Field near the old National Guard Armory.
At this time LPD (Lawton Police Department) is still investigating and I'm sure LFD (Lawton Fire Department) is too. So far we haven't seen or heard any updates about the vandalism and arson, or if they have any leads.
Vandals, more like arsonists, destroyed this playground at Elmer Thomas Park in Lawton, OK.
We went by there this morning to check it out and get pictures. You could still smell the smoke and burnt plastic. Sadly most of the playground equipment will have to be replaced. It was all burnt up and melted.
It was all taped off with caution tape but you could get close enough to see all the damage. The slide was completely melted and all the metal, even the steps and benches looked like they had been torched.
Most if not all of the playground and structures will have to be replaced due to the damage
Hopefully, they catch whoever is responsible for this. If you know anything or have any tips contact LPD. You can give them a call at (580) 581-3270 or visit their official website by clicking here to submit a message.
You can also contact the LPD on Facebook by clicking here. Between LPD and the LFD they'll get to the bottom of all this. As punishment, whoever did it should have to repair and replace everything they destroyed.
See How The Ten Most Dangerous Cities In Oklahoma Rank
While some of Oklahoma's most dangerous cities may not be a total shocker, there are some real surprises on this Top Ten list.
Top 10 safest towns & cities in Oklahoma
These 10 Oklahoma towns and cities have been ranked and named as the safest in the entire Sooner State. If you're looking for someplace to move, retire or visit and are worried about crime, these are the safest places. They have some of the lowest crime rates in the state, some have the lowest in the Nation according to
FBI crime statistics
and the most recent survey report from
safewise.com
. Most of the cities and towns that made the top 10 safest places this year are located in the southwest central portion of the state.
One town made it to the very top of the list at #1 for its 4th consecutive year, that's quite an accomplishment!
Things To Do In Lawton - Fort Sill
Odds are, if you live here long enough, you'll simply forget how much awesomeness surrounds this community. It's like getting tired of an old toy, the new simply wears off... but, no matter what time of year it is, here are some things to do when you come to Lawton - Fort Sill
Where to Find the many murals by Justin Hackney's Spreading PAINT in Lawton, Fort Sill.
If you've driven around town you've probably seen all the murals we have in Lawton, Fort Sill. If you take the time to look you'll notice that they're everywhere. We're lucky to have so many talented artists that share their work with us regularly by painting murals. One name you've probably heard before is Justin Hackney and
Spreading PAINT
. His work of masterful murals can be found all over town. He's done some of the very best and has painted everything from rock stars to celebrities and everything in between. He has a style all his own and has painted murals in full color, vivid transposed negative style, and in black and white. Be on the lookout for his latest mural masterpiece he's going to keep painting them so long as people want them and there's wall space. Looking forward to seeing his next one! Check out the gallery below of Justin Hackney's Spreading PAINT murals and where to find them. We'll continue to add to the gallery as he paints them.