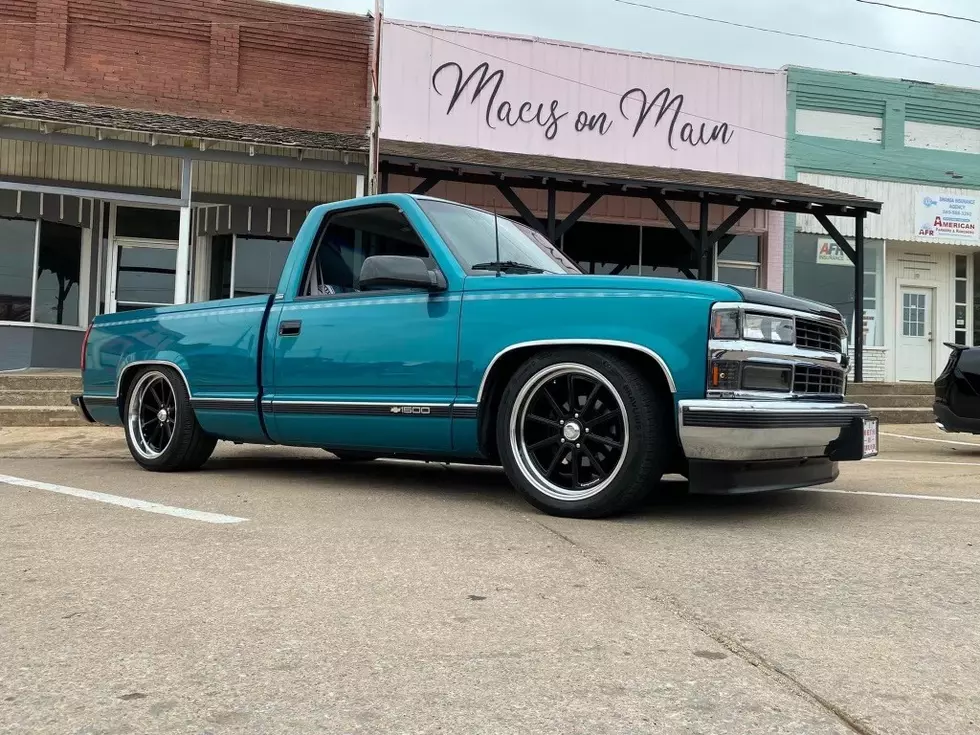 Apache Oklahoma's Caffeine and Chrome Hosts First Ever Car Cruise
Dakota Woods
Apache Oklahoma's Caffeine & Chrome just celebrated its one-year anniversary!  Caffeine and Chrome is the brainchild of a group of car enthusiasts who want people from Southwest Oklahoma to visit Apache for more than the annual Rattlesnake Festival.
Apache, Oklahoma is a quiet place save for the one weekend in April when it swells more than 25 times its population.  Movers and shakers in Apache believe (I do too) that there is so much more to this town than just snakes.  It's a great place to visit.  That's how they came up with the idea to host a car show on the first Saturday of the month during the Spring and invite people to show their cars for free.
But, Caffeine & Chrome is even more than a car show.  It's a family-friendly event with a farmers market, kids bounce houses, food trucks, and specials from the merchants on Main Street.  Each month, Apache has seen this event grow.
Dakota Woods, one of the founders of Caffeine & Chrome says,
We couldn't do what we do each month with the support of the community, and the sponsorship from the Apache Casino & Hotel, who help us with food trucks and bounce houses expense.  Because we don't charge a fee, their sponsorship is invaluable to the success of this event!
The social for the month of August will be different. For the first time ever, Caffeine & Chrome along with Entourage Car & Truck Club are hosting a Car Cruise! For those that would normally show their cars, it's a fun change-up, and for folks who haven't been able to participate so far, it'll be a fun new venture.
Caffeine and Chrome
On August 6, Cruising the Wichitas will begin in Apache with food trucks serving breakfast and registration, (again, no fee) then will start the 100-mile 2-hour drive through the Wichitas. You'll take the scenic tour through the mountains, top Mount Scott, then wind your way back to Apache where you'll have lunch available with food trucks.
This will be the last social event for Caffeine & Chrome this year. They will resume the Car Shows in the Spring of 2023. Make plans now to enjoy Crusing the Wichitas on August 6! For more information, contact Dakota Woods at 405-638-2708.
Lawton's Worst Roads As Voted By You
Roads have always been a hot topic in Lawton. The local government always promises to fix them when elections are at stake, but the improvements never come. It's more of the same crumbling roads and bandaid patches due to what the city describes as "too little funding," even though we continually vote for bonds to satisfy these issues.
Here are the worst commonly used roads in Lawton as voted by you.
Look Inside This EPIC $6,950,000 Oklahoma mansion!
Take a tour of this incredible mansion in Oklahoma City, OK that's for sale. If you have
$6,950,000
you could be the proud new owner of this one-of-a-kind estate. It's located at
9200 N. Sooner Road in Oklahoma City, OK.
and is listed by
Kermit Brown
of
Chinowth & Cohen Realtors
.Can you imagine actually living here?
Scroll through all the pictures for a look inside and take a virtual tour of this one-of-a-kind OKC mansion.
Getaway, Relax, Unplug & Unwind at Oklahoma's Premier & Most Luxurious "Glampgrounds" Located in Lawton, OK.
How To Save More $$$ During PSO's Power Hours
When you sign up for PSO's Power Hours program, you're basically making a bet with PSO that you can consume less power during the peak load times, opting instead for the much cheaper off-peak times. While it sounds easy enough to do, it's quite the challenge, especially on the hottest days of the year. If you're up for it, here's how to really cut that energy usage during peak hours.