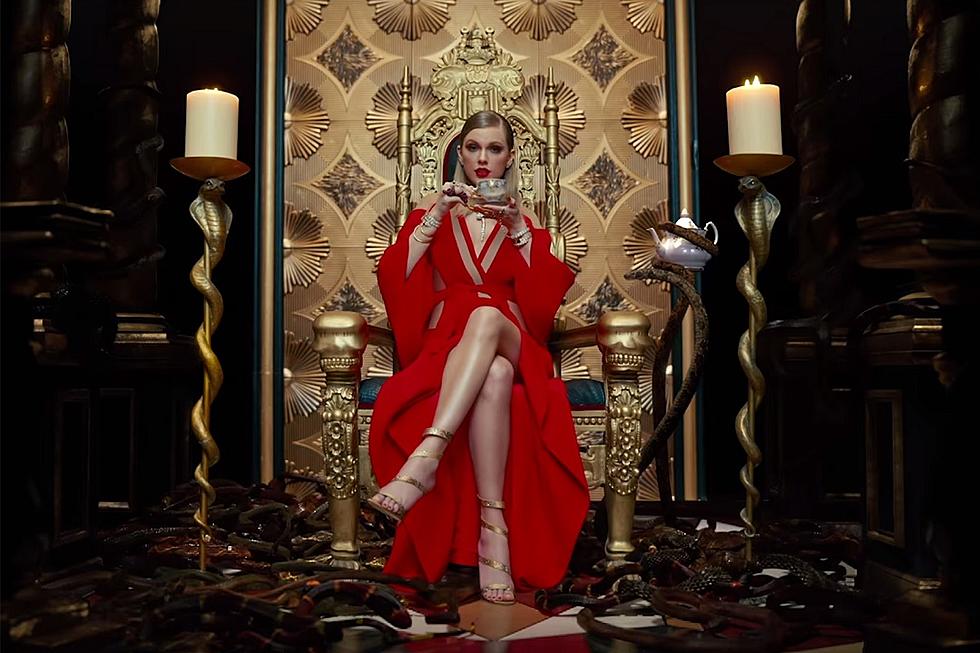 The 17 Best Music Videos of 2017: Miley Cyrus, Taylor Swift, Charli XCX + More
Big Machine Records
Before you set your sights on New Year's Eve and 2018, take a moment to look back at the year's best in pop music videos.
In 2017, a mix of sure-thing artists (Taylor Swift, "Look What You Made Me Do") and newcomers to the genre (Dua Lipa, "New Rules") commanded the YouTube stage, fleshing out clips that touched on flashy celeb feuds, boy-crazy girls (the wonder of Charli XCX), and, on a much more serious note, the horrors of sexual assault (Kesha's stunning "Praying"). Our favorite videos traveled from slumber parties to the peak of Salvation Mountain, and provided some stunning vistas along the way.
From Miley Cyrus' "Younger Now" to Kendrick Lamar's "Loyalty," 2017's best videos put tired tropes and gimmicks to rest, and offered a new outlook for pop. Check out PopCrush's favorites, below in no particular order.
1. Miley Cyrus, "Younger Now"
Miley Cyrus returned to her natural born country roots this year with the release of Younger Now, a collection of glossy, down-home giddy-up pop gems nestled amid Nashville riffs and bluesy ballads. The crown jewel of the record, however, remains its title track, "Younger Now," the video for which finds the pop star in a kitschy, retro-Americana day dream (think Dolly Parton meets John Waters). Rhinestone Elvis suits, pastel carnival aesthetics and poodle skirts abound. It's joyful noise. — Erica Russell
---
2. Kesha, "Praying"
The first scene from Kesha's Rainbow-opener — a black-and-white still of the singer biblically awash on dried-out driftwood — will likely evoke memories of Beyonce's Lemonade. And that's no fluke: "Praying" is as good as the rest of the 2016 visual album, spelling out the savagery of sexual assault with the finesse of of a fine-toothed comb. Filmed at Salvation Mountain (the tourist destination should thank Kesha for its visitor-influx), the video finds its heroine destroying vicious propaganda with a baseball bat, fleeing from six-foot-tall pigs and carrying a two-ton flag — her burdensome torch — across a barren coastline. Director Jonas Åkerlund, who dreamed up Madonna's "Ray of Light," Christina Aguilera's "Beautiful" and Gaga's "Telephone," may never have delivered something so arresting. — Matthew Donnelly
---
3. Pale Waves, "Television Romance"
Breakup or breakdown, front woman Heather Baron-Gracie sounds (and looks) like she could be headed for the verge of either in the visualization for Pale Waves' electro pop jam "Television Romance." Fighting off the facade of a fabricated love story, Heather croons over the band's amped-up drum and guitar riffs until she catches herself in a mid-verse epiphany. With Heather's lyrical likeness to Avril Lavigne and the collective's overall Paramore-esque attitude, this vid put Pale Waves on the map as the cool new kids on the bop block. — Paris Close
---
4. Charli XCX, "Boys"
Subverting the media's obsession with how women look, Charli XCX spins a few heads with her male-drenched thirst trap. From Joe Jonas to Diplo and G-Eazy, to Brendon Urie and Aminé, the visual blends transparently sexual metaphors, boosted by shirtless hunks playing with puppies, squeezing syrup and hitting other provocative poses. Well, the lyrics do kinda give it away, too: "I was busy thinkin' 'bout boys," Charli XCX loops dreamily. — Jason Scott
---
5. Taylor Swift, "Look What You Made Me Do"
The video for the first single off of Reputation finds Taylor Swift exacting a familiar role: martyr in the thick of esoteric social warfare that she, herself, engineered. But where the song's brash tinge of vanity makes the song insufferable, it makes the video incredible — from start to finish, "Look What You Made Me Do" is egregious pop lavishness at its fat-cat finest, finding Swift literally bathing in jewels before she trashes a jetplane and sets piles of cash on fire. There's a reason its premiere was the most talked-about moment at the 2017 Video Music Awards — still, that it's delivered without an identifiable wink is... troubling. — Matthew Donnelly
---
6. Kendrick Lamar Ft. Rihanna, "LOYALTY"
Kendrick Lamar officially became the king of hip-hop this year, releasing arguably the best rap album of 2017 with DAMN. And though the record's singles all came with breathtaking visuals, the video for "LOYALTY" featuring Rihanna takes the cake. The clip includes outstanding special effects, like a road made of shark-infested asphalt quicksand, a car crash and a stunning showing of loyalty where Rihanna hangs off the edge of a skyscraper, holding nothing but Kendrick's hand. The video also features a confrontation between Kendrick Lamar and… Kendrick Lamar that ends in a way similar to the Weeknd's "Starboy" video. We won't spoil it for you, though. — Katrina Nattress
---
7. Rina Sawayama, "Cyber Stockholm Syndrome"
London's rising indie pop princess Rina Sawayama is an early 2000s cyber-babe in the high-octane video for "Cyber Stockholm Syndrome," a smooth, glossy electro-R&B ballad about online identities and digital anxiety. (The track wouldn't sound out of place on Grimes' Art Angels or Utada's Exodus.) Featuring choreo and rhinestone chokers straight out of any late '90s Britney Spears or Jessica Simpson music video, the neon-bathed visual for "CSS" finds the ordinary superstar cruising and dancing in a Technicolor fantasy. — Erica Russell
---
8. Gorillaz, "Saturnz Barz"
Gorillaz returned with this year's star-studded Humanz, proving their virtual band is still very much alive (and animated in much better quality!) with their video for "Saturnz Barz." The clip shows 2-D, Murdoc Niccals, Russel Hobbs and Noodle venturing into an old, abandoned house with some peculiar residents that materialize after Noodle puts on a record. The monsters terrorize everyone but Murdoc, who, thanks to a murky old bathtub, transports himself into space to float around Saturn's bars. The trippy adventure and spoken word intro and outro make this another spectacular addition to Damon Albarn and Jamie Hewlett's Gorillaz universe. — Katrina Nattress
---
9. Dua Lipa, "New Rules"
In terms of newcomers shaking up the status quo, Dua Lipa is in a class of her own. The video for breakout hit "New Rules" redefines the playbook of heartbreak, curing the ache with sizzling choreography in the hallways (and poolside) of The Confidante in Miami Beach. Joined by her trusty girlfriends, she learns to protect herself and ditch her good-for-nothing ex before he breaks her heart all over again. — Jason Scott
---
10. Grimes Ft. Janelle Monae, "Venus Fly"
Grimes and Janelle Monae (what a team-up!) are futuristic warriors in the unbelievably fierce video for "Venus Fly," off Art Angels. Directed and edited by the Canadian sound wizard herself, the clip is a seven-minute fantasy of surreal, cinematic cybergoth drama, all dripping with Technicolor opulence. Together, the two ferocious, genre- and boundary-pushing artists achieve a very special kind of sonic and aesthetic alchemy. — Erica Russell
---
11. Katy Perry, "Bon Appetit"
Katy might be ARTPOP-ing hard during this "Purposeful Pop"-filled Witness era, in the sense that everyone is bandwagoning hard on taking her down, but — much like Gaga's own maligned era — that doesn't mean all of the output is actually all that bad. "Bon Appetit," which admittedly plays like a really good deluxe track and not a second single in a major pop campaign, served up (quite literally!) a scrumptiously sinister visual that might just as well be found in an episode of American Horror Story. Watching Katy getting baked and broiled is a gross delight (probably for her haters as well!), and that cannibalistic switch-up at the very end keeps this album's self-empowerment message going strong. — Bradley Stern
---
12. Betty Who, "Some Kinda Wonderful"
Laundry day has never had quite this level of appeal. In a limited space, Betty Who, her love interest and some casual laundromat patrons manage to create dueling worlds, each with its own resolved personality, cast of characters and mood. On one hand, she's a simple face in the crowd after a crush — in the other, she's the star of a Grease-worthy production, and decked out in a glittery mini-dress that'd send any spin cycle into overdrive. If you thought getting your whites whiter was a chore, think again. — Matthew Donnelly
---
13. Lady Gaga, "John Wayne"
Beer cans! Motorcycles! Ripped blue jeans! Lady Gaga's explosive video for "John Wayne" is a rollicking pop Western as wild and as free as her hair the hard bangin' Joanne track itself. Directed by Jonas Åkerlund, the neon-hued clip, awash in fluorescent pinks, purples, blues and greens reminiscent of the storefront signs along Route 66, is a celebration of camp Americana at its freakiest. (Plus, her gunslingin' boots totally reference Robert Rodriguez's Planet Terror femme fatale Cherry Darling — bonus!) — Erica Russell
---
14. Bleachers, "Don't Take the Money"
There's something wonderfully charming and nostalgic about Bleachers' hyper-colorful video for "Don't Take the Money." The Lena Dunham-directed visual for the anthemic '80s-inspired pop jam is as over-the-top, deliciously tacky as an Italian-American wedding cake circa 1985. The quirky, bejeweled clip — which features Jack Antonoff getting knocked out at the altar by a Russian spy during a backyard wedding in New Jersey — is an unapologetic celebration of pure suburban melodrama. (Plus, it's got Alia Shawkat in a delightfully silly cameo!) — Erica Russell
---
15. Paramore, "Hard Times"
Ripped straight from the opening credits of Saved By The Bell, the video for After Laughter's lead single is as kooky and vibrant as any General Mills cereal box. Complete with digitally electrified clouds, cartoonish spirals and enough neon overlays to light a starless sky, "Hard Times" is as fun as videos get, and succeeds for not taking itself too seriously. In an era of overly stylized "Bad Blood" narratives and the beat-you-over-the-head "Bon Appetit," it's nice to just sit back and enjoy. — Matthew Donnelly
---
16. BTS, "Spring Day"
"Not Today" might be the bigger of the bangers from BTS' repackage, You Never Walk Alone, but their "Spring Day" visual is the more beautiful offering. "The song is based on memories with old friends who we don't see anymore and we wanted to visualize the story in the video blended with additional metaphors," the group told PopCrush earlier this year. Accordingly, the aesthetically pleasing clip with its soft colors and sentimental gestures between the members is a nostalgic affair, showcasing the group's more sensitive side. — Bradley Stern
---
17. Erika Jayne, "XXPEN$IVE"
Billboard chart-topping electro princess and RHOBH breakout Erika Jayne unleashes her inner sex kitten in the titillating, colorful video for her audacious dance floor banger "XXPEN$IVE," which features the star writhing in pastel lingerie, indulging in a bubble bath—while wearing a crystal corset, no less—and getting her '80s Jane Fonda on in a bright pink leotard. It's a luxe, neon-bathed rich girl fantasy, and you're invited for free. — Erica Russell
Didn't see a video you loved on our list this year? Let us know in the comments or hit us up on Twitter!