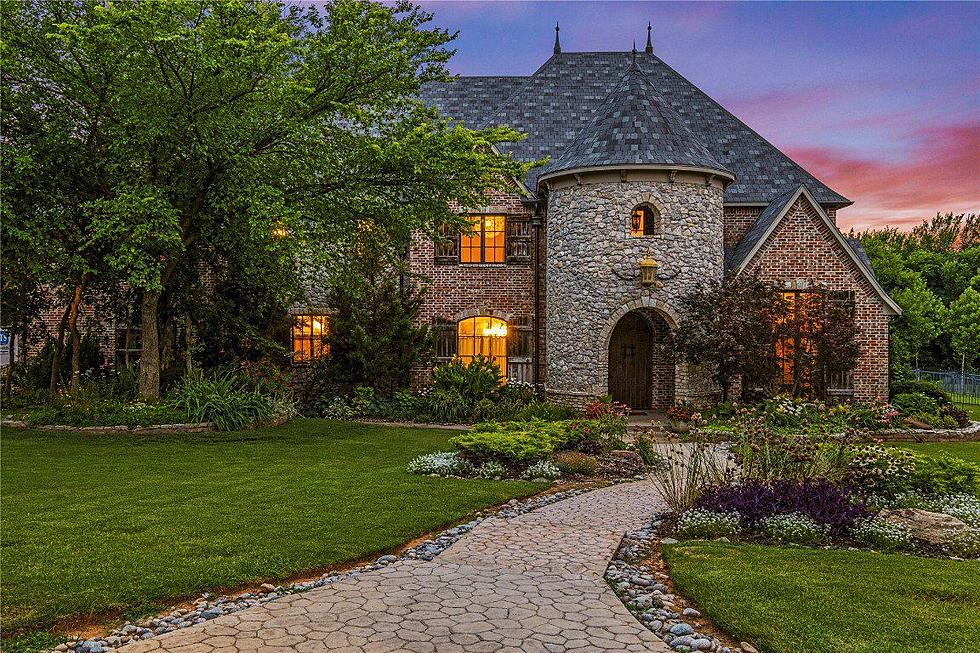 This Modern-Day Million Dollar Castle is for Sale in Oklahoma
OKCMetroGroup.com
So you've finished rewatching Game of Thrones for the tenth time and you find yourself thinking you need a castle... Well, do I have the place for you!
I stumbled across this modern-day take on a classic castle way off in the affluent sticks of Edmond. Not the Edmond you're picturing, this is way off the beaten path in a district I wouldn't have guessed was Edmond.
Listed by OKC Metro Group, they describe this home as French Country Estate. Seeing how far the builder and owners took the details, the only expense they spared was the electrician when it came to running power up the walls behind the TV's throughout the home. Other than that, it's pretty spectacular.
While it's a very modern take on a castle, there are still plenty of medieval details throughout the home.
Vaulted and beamed ceilings
Knotty alder
Stone interior walls
Extremely tall 8' doors
Wrought iron details
Hand-scraped floors
Hand-hewn beams
Stone counters throughout
Somebody really put a lot of time into designing this home and it shows. Along with all of the classic castle elements come plenty of luxurious modern conveniences--the kitchen being a bright shining star.
Beyond the aesthetics, this castle home is a little over 5,000 square feet and offers 4 big bedrooms and 4 and a half baths. Add in the massive gaming room and that outstanding back patio/outdoor living space, you'll want to double-check your bank account to see if you find an extra million dollars to buy it.
Million Dollar Castle For Sale In Edmond, Oklahoma
When people have the opportunity to build their dream home, they can sometimes bend the lines between tasteful and tacky to fit personal tastes. Some see it one way, others the complete opposite. When it came to building this Edmond home, the owners went all-in on their attempt to build a modern-day Oklahoma castle.
You have to see the game room and outdoor entertaining space. Definite standouts.
This Grand Lake Home is Straight Out of Yellowstone
If you were looking to get pretty far from the hustle and bustle and had $3.5million burning a hole in your pocket, this Yellowstone-looking
massive cabin home
might be just the place for you.
Unlike most lake homes, this one looks very lived in full-time. The stocked pantry and full workshop really scream "Retirement Home" in my mind.
With just over 5300 square feet of living space, five well-appointed bedrooms, five bathrooms, two stories, a detached shop, plenty of lakefront, and your own personal dock... this looks like a dream out in the middle of nowhere. Unlike a lot of Oklahoma's most expensive homes, this one actually looks really well put together. Everything matches, one theme, etc... It's a rare case of the wealthy having good taste.
Peek Inside this $5million Lake Texoma Mansion for Sale
People always say "If you're gonna dream, dream big." That is precisely what the builders of
this lakefront home
on Texoma did.
10,000 square feet of total living space. Six bedrooms, seven baths, walls of glass offering panoramic views of picturesque Lake Texoma. A huge beachfront on four and a half acres. Add in the gourmet kitchen, screened sunroom, legit theater, and game rooms, an 80-foot observation tower, plus an elevator to ensure everyone can catch a vista-view, this would be a fantastic place to call home or have available for a weekend or two each year.