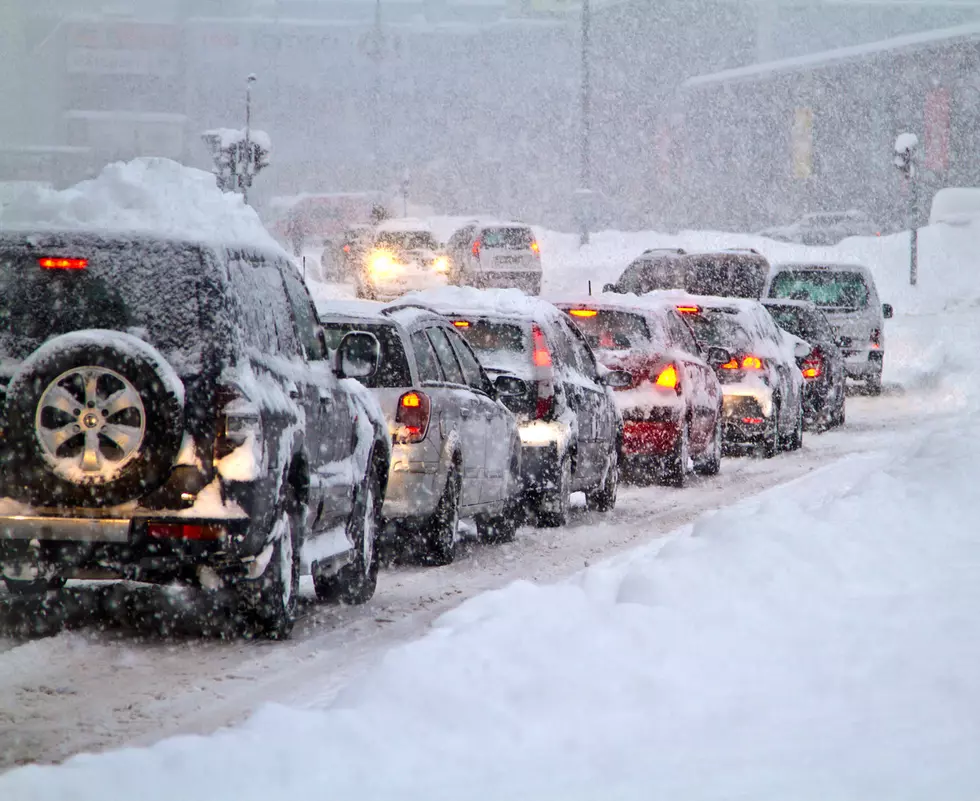 Forecast for Most of Oklahoma Calls for Snow & Ice Tomorrow
MarianVejcik
Grab the bread and milk, Snowmageddon 2023 is coming! From all the forecasts and predictions, Oklahoma is expected to get a winter storm tomorrow (01-24-23). Mother Nature will hit us with sleet, snow, and ice.
Right now the forecast is calling for well below-freezing temperatures, snow, and ice for most, if not all of the Sooner State. The NWS (National Weather Service) in Norman, OK. predicts severe winter weather Tuesday.
The forecast for tomorrow (

01-24-23

) calls for freezing temps, snow & ice
Almost all of Oklahoma is under a winter weather advisory/watch. This includes parts of central, east-central, southeast, southern, southwest, and western Oklahoma. So most of the state is in the path of this storm.
The winter storm watch from NWS will be in effect from early Tuesday morning until late afternoon or evening. We could be seeing heavy wet snowfall across the state and accumulation from 3 to 6 inches.
The good news is it looks like things will start to warm up heading towards mid to late week. Meaning if we do get some snow and ice it shouldn't stick around too long and will begin to melt off fairly quickly.
Grab the bread & milk Snowpocalypse 2023 is predicted for tomorrow (01-24-23)

You'll want to stay weather aware, especially if traveling. Road conditions are expected to become treacherous, keep a close eye on those bridges and overpasses. They always seem to freeze over first.
Keep it tuned to your local weather and news station to stay up to date with all the latest updates. Hopefully, it'll pass us by but it's not looking good right now. Better to be prepared and ready than not, for sure.
Eleven Things Oklahoman's Eat When It's Cold
When it comes to the favorite foods in Oklahoma, most of them revolve around a grill. Whether it's steak, burgers, dogs, BBQ, beer can chicken, etc... If it can be grilled, it will be an instant favorite across all palates in this state. But what do Okies survive on when it's cold enough to require the wearing of pants and a hoodie? Here's the quick list of things every Oklahoma home should be pumping out when the endless Summer finally ends.
Look inside this historic 8.5 million dollar OK. mansion
This incredible property is located at
1414 Galveston Ave. in Tulsa, OK.
This isn't just any old manor either, it's the historic
McBirney Mansion
which is listed in the
National Historic Record
. If you have a spare
8.5 million dollars
you could be the proud new owner of this epic estate. Interested? It's listed by
Curtis Roberts
of
McGraw Realtors
. The McBirney Mansion features around 15,900 square feet with 7 bedrooms, 10 bathrooms, and more living space both formal and family across 3 stories. Actually, 4 if you count the basement. This estate sits on 2.9 acres with breathtaking views of the Arkansas River and some of the most magnificent natural landscaping and outdoor spaces you'll ever see. You could own a piece of OK. history!
The Frozen Wichita Mountains
When Southwest Oklahoma gets a rare blizzard with serious snowfall, the mountains take on a fresh and stunning look. It's something we all get to experience thanks to the video and camera work of a few awesome locals with a stellar YouTube channel,
The Pemberton Boys
. They flew their drones and explored the mountains across SWOK while the views were grand, putting it online for everyone to enjoy.
Look inside this EPIC $5,495,000 Oklahoma Estate
It's being called the premier luxury listing in all of Oklahoma on
Zillow.com
. This massive mansion in
Arcadia, OK. at 400 Deep Fork Circle
is listed by
Ty Burnett of Engel & Voelkers Edmond
. It currently has an asking price of
$5,495,000
making it one of the most expensive houses for sale in the Sooner State. This epic 12,020 square foot estate sits on over 2.5 acres and features 7 bedrooms and 9 bathrooms. It comes with its own guest house, resort infinity pool, cabana, and gym. The chef-inspired kitchen features all professional, commercial-grade appliances. There's a THX theater room and entertainment suite complete with its own bar. The master bedroom has a see-through fireplace, huge celebrity-style closets a garden room, and heated marble floors in the master bath. It has a basement a wine cellar and tons of outdoor patio and sitting areas.
Scroll through the pictures below and take a virtual tour of this epic estate in Arcadia, OK.