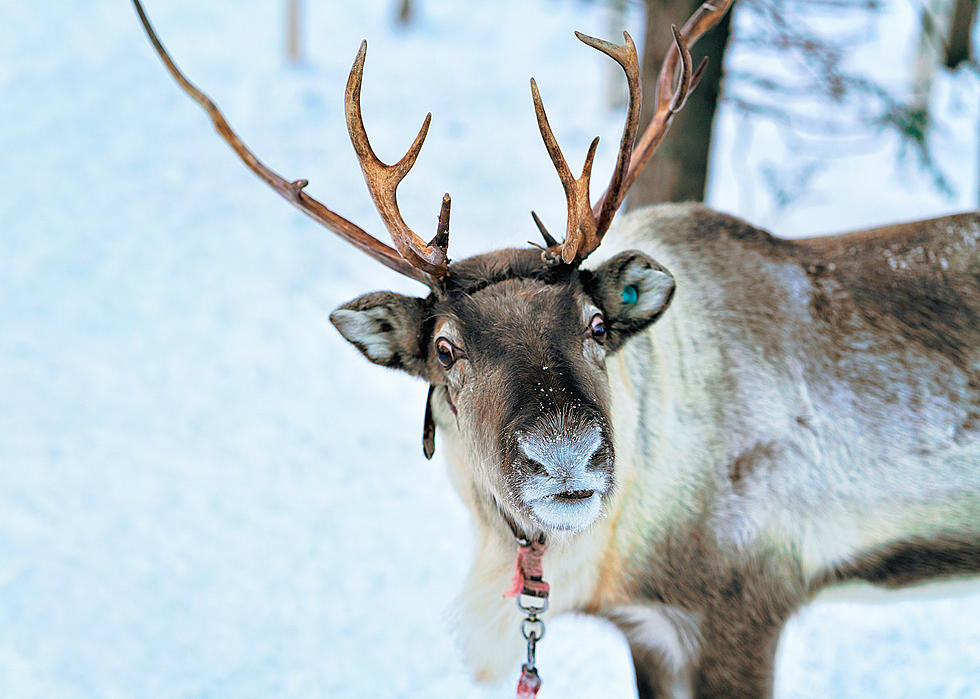 Oklahoma Ranch Invites You to Meet Santa's Reindeer
RomanBabakin
You could meet Santa's reindeer this holiday season thanks to the Oklahoma Reindeer Club. They're a private ranch that's located in Bristow, OK. that offers reindeer rentals, how cool is that?
Imagine having an actual live reindeer at your next family get-together or party. They also provide reindeer for parades, displays, and community events. Speaking of which, they will be a part of several different holiday happenings throughout the Christmas season where you could see and meet live reindeer!
You can visit their official website for all the details on reindeer rentals and see some incredible pictures. You'll also what to check out their official Facebook page for updates on scheduled appearances. They'll be making the rounds this holiday season so there's a pretty good chance that you'll get to see them.
You could meet Santa's reindeer with the Oklahoma Reindeer Club
The Oklahoma Reindeer Club is the only ranch of its type in the entire state. They keep incredibly busy, especially during the holidays as everyone, young and old wants to meet Santa's reindeer.
Maybe we can get them to come to Lawton, Fort Sill to "Holiday in the Park." How awesome would that be? If not hopefully they'll be somewhere nearby so we can see them this holiday season.
Worst case we could pull our money together and rent a few reindeer for a couple of hours. I'll be checking in on their Facebook page to see if they'll be anywhere close by. We'll keep you posted!
10 Oklahoma Hallmark holiday hometowns you can visit
Looking for someplace special to spend the holidays? The Sooner State has you covered with some of the best towns and cities to get into the Christmas spirit. If you've ever wanted to visit a place that feels like it came out of a Hallmark movie you're in luck! Check out these ten Oklahoma Hallmark holiday hometowns to experience the small-town charm and friendliness of some of Oklahoma's best-known holiday destinations. Each has its own unique traditions and holiday events that will surely get you into the spirit of the season. From amazing lights and displays to performances and festive family fun you'll find in the Sooner State.
Look inside this historic 8.5 million dollar OK. mansion
This incredible property is located at
1414 Galveston Ave. in Tulsa, OK.
This isn't just any old manor either, it's the historic
McBirney Mansion
which is listed in the
National Historic Record
. If you have a spare
8.5 million dollars
you could be the proud new owner of this epic estate. Interested? It's listed by
Curtis Roberts
of
McGraw Realtors
. The McBirney Mansion features around 15,900 square feet with 7 bedrooms, 10 bathrooms, and more living space both formal and family across 3 stories. Actually, 4 if you count the basement. This estate sits on 2.9 acres with breathtaking views of the Arkansas River and some of the most magnificent natural landscaping and outdoor spaces you'll ever see. You could own a piece of OK. history!
Top 10 Best Christmas Towns In Oklahoma
While Christmas may not always feel like Christmas in Oklahoma, we put on that holiday spirit all over the Sooner State. Here are the top destinations to find a little holiday cheer.
Top 10 safest towns & cities in Oklahoma
These 10 Oklahoma towns and cities have been ranked and named as the safest in the entire Sooner State. If you're looking for someplace to move, retire or visit and are worried about crime, these are the safest places. They have some of the lowest crime rates in the state, some have the lowest in the Nation according to
FBI crime statistics
and the most recent survey report from
safewise.com
. Most of the cities and towns that made the top 10 safest places this year are located in the southwest central portion of the state.
One town made it to the very top of the list at #1 for its 4th consecutive year, that's quite an accomplishment!