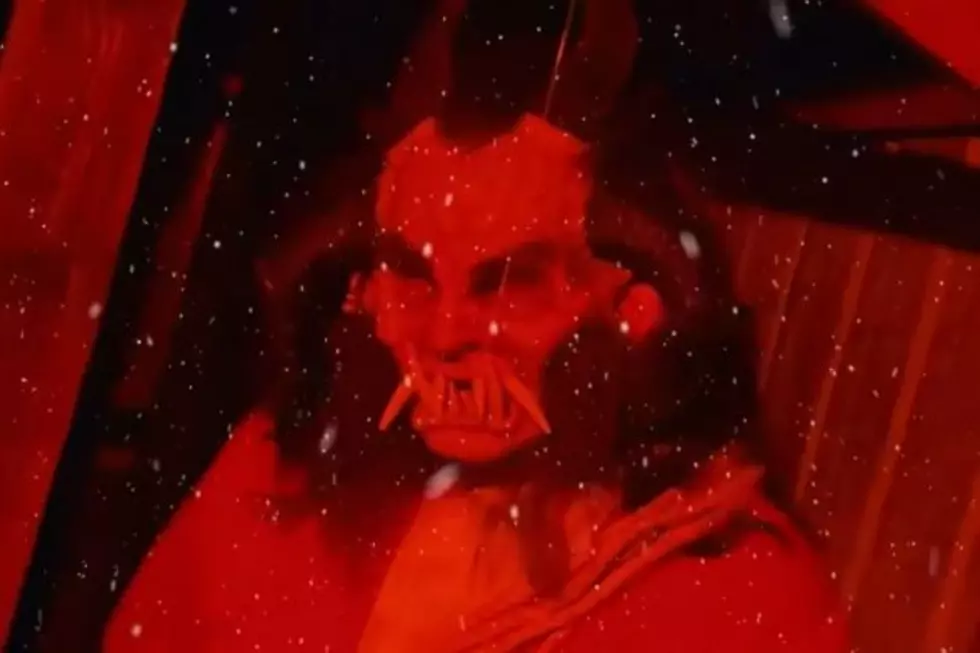 Experience 'Night of the Krampus' at This Oklahoma Scream Park for a Horror Holiday
Facebook.com- Trail of Fear Scream Park
If you're looking for a horrifying holiday experience to help get you into the "Christmas spirit" check out the Trail of Fear Scream Park in Lawton, OK. and their 'Night of the Krampus' haunted holiday horror attraction.
After Halloween Lawton's Trail of Fear turns into the Trail of Cheer. It switches from Halloween to Christmas and from horror to holiday. There are all kinds of festive family fun, activities, and attractions to experience.
If you're looking for a horrifying holiday experience check out Lawton, OK's Trail of Fear
The Trail of Cheer is a great place to take the family and for kids of all ages. The midway is filled with games, events, performances, and tasty treats and eats. But if you're looking to get scared they can hook you up.
Halloween is best known for its horror and frights, but Christmas has its fair share of terror and scares too. Take for example the ghosts from 'A Christmas Carol' and of course the dreaded tale and legend of Krampus.
Hit play on the video below for a sneak peek of Night of the Krampus at Trail of Fear
Head to the Trail of Fear Scream Park located at 11101 Southeast Lee Blvd. in Lawton, OK. and experience a holiday of horrors with 'Night of the Krampus' if you think you're brave enough. It sounds like a great time!
Time is running out you've only got through the weekend if you're wanting to check out 'Night of the Krampus.' For all the details visit the official Trail of Fear website, or you can check them out on Facebook.
10 Oklahoma Hallmark holiday hometowns you can visit
Looking for someplace special to spend the holidays? The Sooner State has you covered with some of the best towns and cities to get into the Christmas spirit. If you've ever wanted to visit a place that feels like it came out of a Hallmark movie you're in luck! Check out these ten Oklahoma Hallmark holiday hometowns to experience the small-town charm and friendliness of some of Oklahoma's best-known holiday destinations. Each has its own unique traditions and holiday events that will surely get you into the spirit of the season. From amazing lights and displays to performances and festive family fun you'll find in the Sooner State.
Top 10 terrifying towns & creepy cities in Oklahoma
While Oklahoma is well known for its beauty and friendly people there are a few places in the Sooner State you'll want to avoid. These are the most terrifying towns and scary cities in the state. It's not that they're bad places, or plagued with crime and other negative factors. The towns and cities below have one single thing in common. They all have active paranormal and supernatural phenomenons. From ghost stories to urban legends and tragic tales. A lot of these places are well known to those who live in Oklahoma and even all over the nation. If you're looking to get scared or do a little ghost hunting you can start with the list below.
Look inside this historic 8.5 million dollar OK. mansion
This incredible property is located at
1414 Galveston Ave. in Tulsa, OK.
This isn't just any old manor either, it's the historic
McBirney Mansion
which is listed in the
National Historic Record
. If you have a spare
8.5 million dollars
you could be the proud new owner of this epic estate. Interested? It's listed by
Curtis Roberts
of
McGraw Realtors
. The McBirney Mansion features around 15,900 square feet with 7 bedrooms, 10 bathrooms, and more living space both formal and family across 3 stories. Actually, 4 if you count the basement. This estate sits on 2.9 acres with breathtaking views of the Arkansas River and some of the most magnificent natural landscaping and outdoor spaces you'll ever see. You could own a piece of OK. history!
Top 10 most popular carry guns in Oklahoma
Check out the top 10 most popular carry guns in the Sooner State. While there are a wide variety of firearms and calibers to choose from for everyday carry (EDC) the handguns listed below are among the most purchased and widely used personal and home defense weapons in Oklahoma. These models and brands account for the majority of gun sales in the state and are among the most popular choices for EDC or home defense weapons (HDW). If you're looking for a quality reliable EDC/HDW these are all solid picks. Which by default makes them the most popular. WARNING: Seek proper training and instruction on firearm safety rules and the practice of safe gun handling skills prior to the loading and carrying and/or shortage of a firearm. The time to learn what to do and how to do it isn't when your safety and life depend on it. BE SAFE!