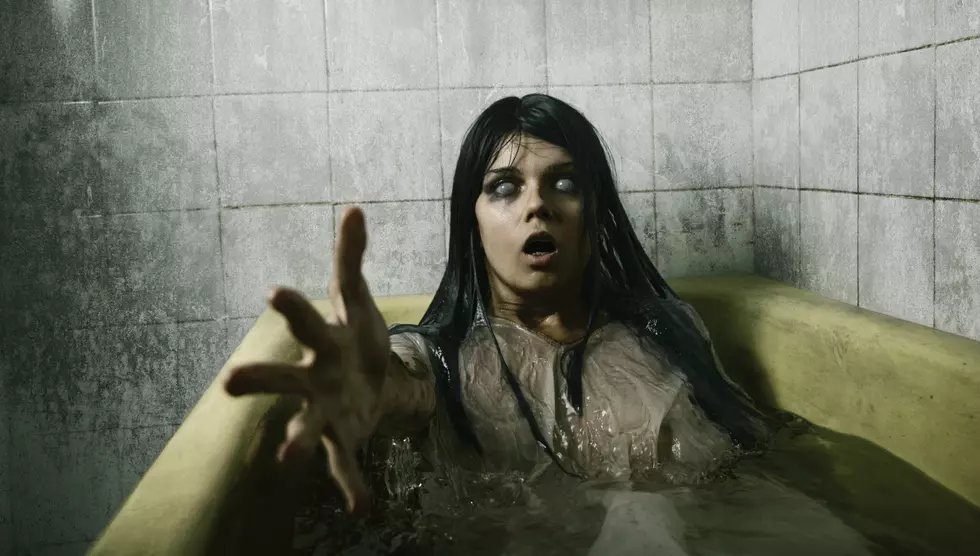 The Scariest Haunted Attraction in Oklahoma Opens This Weekend!
Elisanth_
Oklahoma's longest-running and scariest haunted attraction will return in 2022 with even more terror and frighting fun if you're brave enough to enter! The Guthrie Haunts Scaregrounds is set to open this weekend.
They may be the very first haunted attraction in Oklahoma to open for the 2022 Halloween season. Guthrie Haunts Scaregrounds opening weekend is coming up on Friday and Saturday, September 16th and 17th 2022.
Hard to believe it's almost fall and Halloween is on the way. Really looking forward to it and making the trip to Guthrie Haunts Scaregrounds. It's been voted the #1 haunted attraction by www.okhauntedhouses.com
Next weekend it will officially open and if you go during the opening weekend they have special ticket prices and discounts. Tickets are half off in September on (09-16-22 & 09-17-22) and (09-23-22 & 09-24-22). Not only that the first 100 people each weekend get a FREE T-SHIRT and blood touch upgrade. We'll see you there!
Get all the details below for the 2022 Halloween season at Guthrie Haunts Scaregrounds:
What's really cool about the Guthrie Haunts Scaregrounds is you can make it as interactive as you'd like. They offer several different packages and upgrades like the touch pass and the blood touch passes. So it all depends on you and how close and creepy you want the action to be...Go from scary to truly terrifying!
Not only is Guthrie home to one of the scariest and longest-running scream parks, but it's also home to some of the Sooner State's most well-known haunted places! There are a ton of ghost stories and haunting in Guthrie including the Stone Lion Inn, the Blue Belle Saloon, and the Masonic Children's Home. All three are very active and the people who have visited these sites have reported seeing ghosts, hearing strange noises, being touched by unseen hands, and just about every other kind of nightmare fuel you can possibly imagine.
So you could go to the Guthrie Haunts Scaregrounds then stick around and do some actual ghost hunting and paranormal investigating while you're there. Guthrie has been named the most haunted town in all of Oklahoma with more ghost stories, urban legends, and haunted locations than any other town in the state.
Get all the details and start planning your trip today. Visit the Guthrie Haunts Scaregrounds official website for all the information and to purchase advance tickets online. You can get all the days and hours of operation and coupons too! You'll also want to check them out on Facebook for updates and discounts.
Top 10 most terrifying towns & scary cities in Oklahoma
While Oklahoma is well known for its beauty and friendly people there are a few places in the Sooner State you'll want to avoid. These are the most terrifying towns and scary cities in the state. It's not that they're bad places, or plagued with crime and other negative factors. The towns and cities below have one single thing in common. They all have active paranormal and supernatural phenomenons. From ghost stories to urban legends and tragic tales. A lot of these places are well known to those who live in Oklahoma and even all over the nation. If you're looking to get scared or do a little ghost hunting you can start with the list below.
Spirit Halloween Lawton, Oklahoma
Spirit Halloween utilized all the space at their location on NW Cache Road in Lawton, Oklahoma. The spooky establishment is housed in the old Wichita Furniture building. Check out the pics below from our recent visit!
The Dreadful Downtown Hauntings of Lawton, OK.
When it comes to ghost tales and hauntings Lawton, Fort Sill has more than a few scary stories to tell. The most active hauntings and paranormal/supernatural occurrences that have been reported seem to be centered around downtown Lawton. If you've lived here a while I'm sure you've heard a few of these terrifying tales yourself. If not check out the photo gallery below of the dreadful downtown hauntings of Lawton, OK.
2022's Most Popular Halloween Costumes
It's not hard to guess which Halloween costumes will be the most likely to win you contest gold, you just have to look at the last year of entertainment out of Hollywood. With massive hits like Stranger Things, Top Gun, and whatever Jurassic Park their on now, 2022's Halloween costume offerings are a breeze.