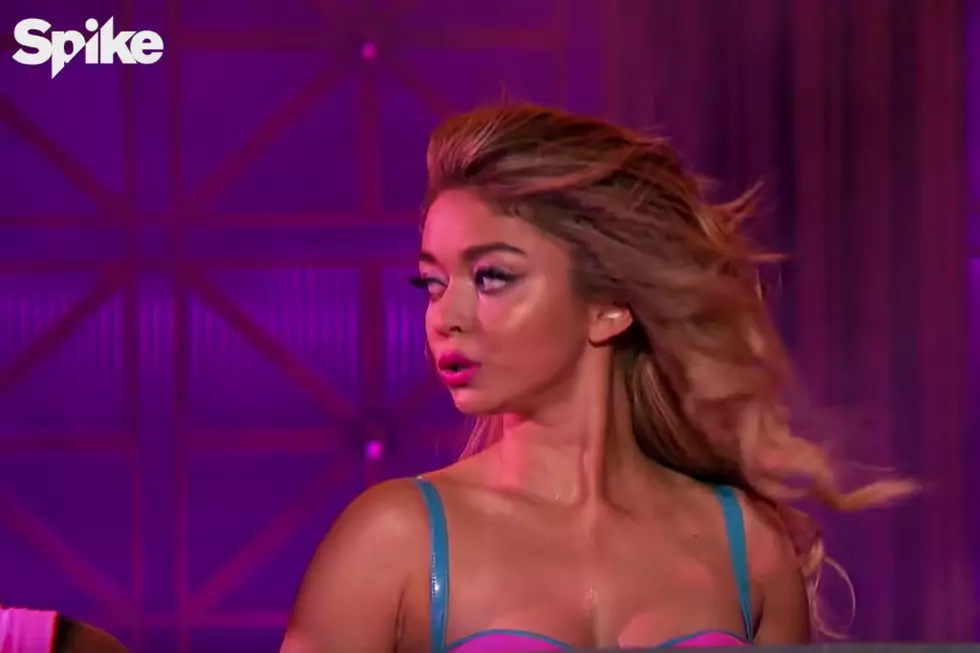 Sarah Hyland Brings Out Pussycat Doll Nicole Scherzinger For 'Lip Sync Battle' Win
YouTube, Lip Sync Battle on Spike
UPDATE: Sarah Hyland brought out a hot girlfriend to assist her Barbie-hued, winning performance of the Pussycat Dolls' "Don't Cha" on Lip Sync Battle last night (February 9): none other than head Doll herself, Nicole Scherzinger.
Watch below:
Modern Family actress Sarah Hyland faces off against Los Angeles Clippers center DeAndre Jordan on Spike's Lip Sync Battle this week, and she's channeling her strongest Nicole Scherzinger in her mouthed take on the Pussycat Dolls' "Don't Cha."
Hyland's done some singing of her own — most recently working with pop-rock trio Boyce Avenue on a couple of songs including a cover of The Chainsmokers and Halsey's "Closer". But despite the song's hit status, "Closer" would make for a low energy LSB round, and selling the hell out of "Don't Cha" is a wise choice.
Hyland and her backup dancer Dolls even roll onto the stage in a pink prop Jeep. The Pussycat Dolls rode in an array of vehicles in the 2005 music video, though the pink ATV on the song's cover art is the most iconic in our book (Guess an ATV is a rougher translation into cardboard?).
Watch the preview of Sarah Hyland's Lip Sync Battle entry below, and watch it on Spike this Thursday (February 9) at 10/9c. 
Do You See the Resemblance? Celebrity Lookalikes