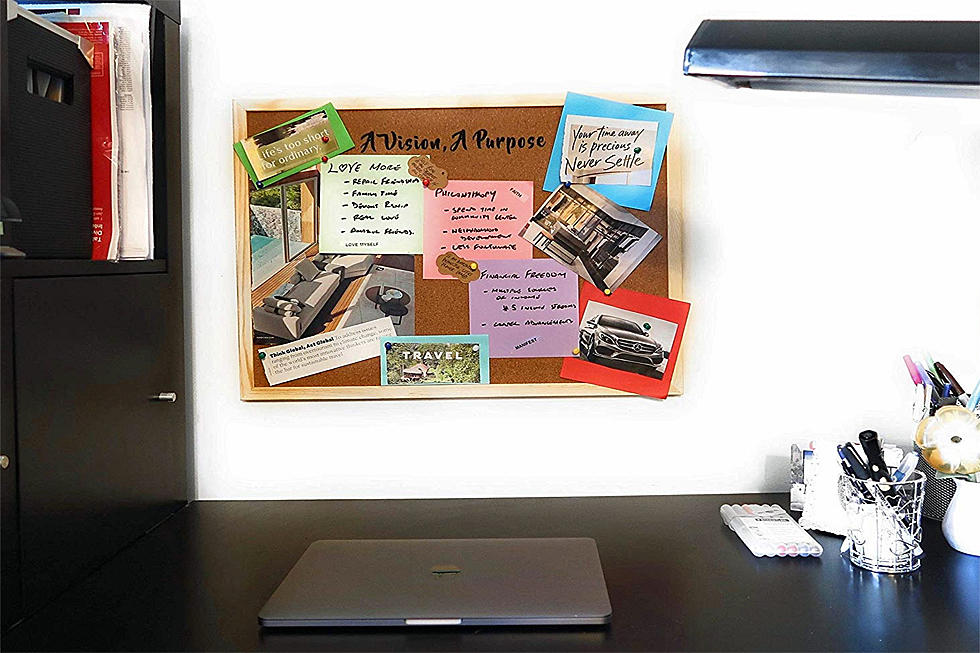 Tools & Accessories for Your 2020 Vision Board
Amazon
As Amazon Associates, we earn on qualifying purchases.
National Vision Board Day falls on the 2nd Saturday of January (that's today!) and I really appreciate how that scheduling allows for some procrastination just after the new year starts. and the first step toward tackling some goals. But, now that we're two weeks in, it's time to buckle down and creating a vision board is a great way to set some goals and have them stare you down the rest of the year. Prepare to rile up your inspiration and plot your goals for 2020 with the help of these great finds.
This is the perfect place to start if you are completely new to the vision board concept, and would also make a great gift for any little dreamer in your life. This cute little kit includes everything you need to create, assemble and hang an inspirational vision board that is uniquely you. It even has all the tools to incorporate art techniques like painting and decoupage! Simply add in your own personal photos, decorations or keepsakes that bring your dream to life. 
Buy It: https://amzn.to/306BcLl
---
A larger starter kit with a more mature feel, this vision board essentials pack has everything you need to get started on manifesting your dreams including a corkboard, push pins, craft paper and markers - just add in your own personal touch and get to visualizing and affirming your goals. The framed 18x24" corkboard is the perfect size to fill up a bit of open wall space and it's lightweight and easy to mount (or move) so you can always have it in front of you, keeping you accountable.
Buy It: https://amzn.to/2QzgvVd
---
If you're a vision board aficionado or just looking to really pour yourself and your energy into this year's vision via some DIY action there are a bunch of books and audiobooks available out there to help you hone in on what you really want. The Complete Guide to Vision Boards is a remarkable no-nonsense, how-to guide for people looking to create big outcomes in their lives.
Buy It: https://amzn.to/2QzihFR
---
Some people are happy with a simple sheet of poster board for manifesting their intentions but many prefer a corkboard. I love this pack of 12x12 tiles because it allows you to use as many as you'd like whether you start out with a few or add on more as your dreams get bigger throughout the year. I also really, really love these adhesive hexagon cork boards (but I'm also hoping to rekindle my interest in beekeeping by the end of the year).
Buy It: https://amzn.to/2NmHWQn
---
Not everyone uses pictures and phrases from magazines on their vision boards but I think it's safe to say that about 75% do. Whether you plan to peruse periodicals or not, you're going to benefit from a pair of precision scissors to help you create collages to decorate your board.
Buy It: https://amzn.to/2tEUawE
---
I had no idea that a set of pushpins could get me to "aww!" but these guys sure did! With seven different styles including polka dot hearts, daisies, roses, map flags and more, you'll love picking out the perfect pin for whatever intention you're attaching to your vision board. The set even comes with a carrying case and tweezers so you don't prick yourself digging for the perfect pin! Aww!
Buy It: https://amzn.to/2QyyJq0
---
Starbursts cutouts are the perfect way to add some pizzazz to pictures or intentions you may be displaying on your vision board. I love the eye-catching neon colors of this particular set (perfect for layering!) but there are other options available if you're looking for a wider variety of designs, shapes and sizes.
Buy It: https://amzn.to/2FyTHPf
---
Time to sticker it up! With 12 sheets of vibrantly colored "stickers with attitude" full of empowering quotes, sayings and words plus borders, arrows, fill-in stickers and other customizable designs this essential kit has got your vision board covered. The world of inspirational stickers doesn't stop here, though. There are tons of other options available so be sure to pick your favorite. After all, this vision board is all about you!
Buy It: https://amzn.to/2N59jhG
---
It makes a whole lot of sense to use a permanent marker while sketching out your dreams and Sharpie has the permanent marker market on lockdown. I am partial to this Electro Pop series but also love these sparkly metallics and their classic Color Burst collection. Don't forget to grab some fine tip Sharpies for thoughts, doodles and ideas that could use some extra precision.
Buy It: https://amzn.to/2sYpYMT