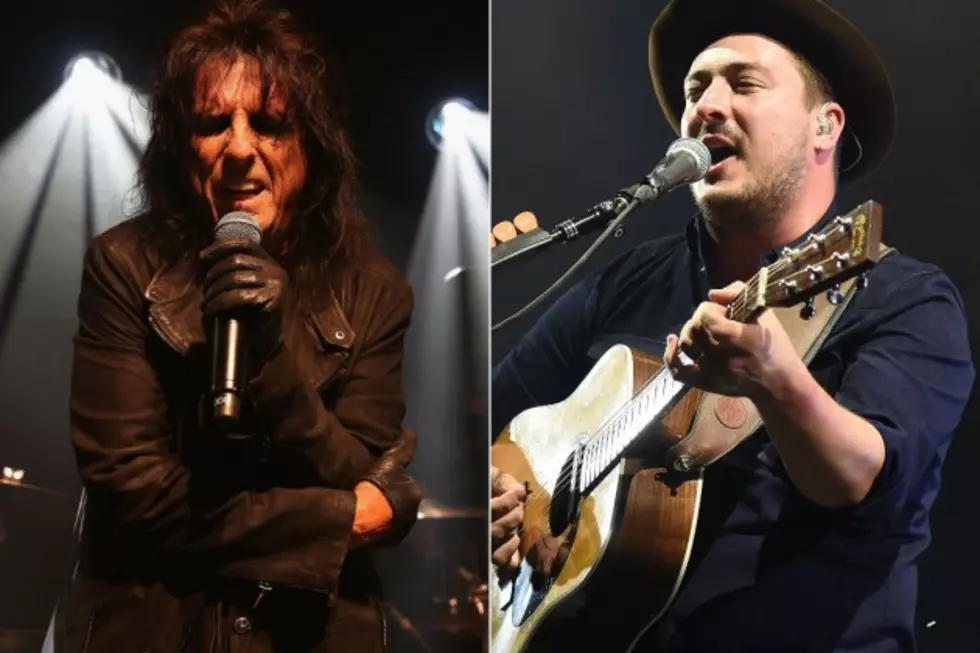 Alice Cooper Says the New Mumford and Sons Record 'Rocks'
Tasos Katopodis / Jason Merritt, Getty Images
It wasn't that long ago that Alice Cooper singled out Mumford & Sons as purveyors of "wimpy rock" that's "boring as hell," but the band's latest album has changed his mind in a big way.
"You hear the new album? It rocks!" Cooper told NME. "Absolutely electric rock 'n' roll. They came up with a rock 'n' roll album and kinda proved me wrong."
Cooper's admission comes after a 2013 interview in which he dismissed bands like Mumford & Sons as "not rock 'n' roll." As he said, "There's just so many young bands out there that are so introspective that they're boring as hell. I want to hear bands that play from their groin, not from their brain. I come from a different era where every band was exciting. You'd go to see Deep Purple or you'd go to see Thin Lizzy or Jimi Hendrix or Cream ... Those bands were just great rock monsters, and you just can't find those guys anymore."
Even though Cooper's a fan of the new Mumford record, he isn't taking back his earlier quote. "I'm not taking anything back," he insists. "When I heard them [originally], they were playing folk music. Now, I'm really impressed with them. That's the kind of band I'd go to see."
He may not have a chance anytime soon. Cooper's always-busy touring schedule is bound to heat up again once he releases his long-in-the-works covers album, which he says is now "done, mixed, ready to go."
See Alice Cooper and Other Rockers in the Top 100 Albums of the '70s
Rock's Most Hated Albums