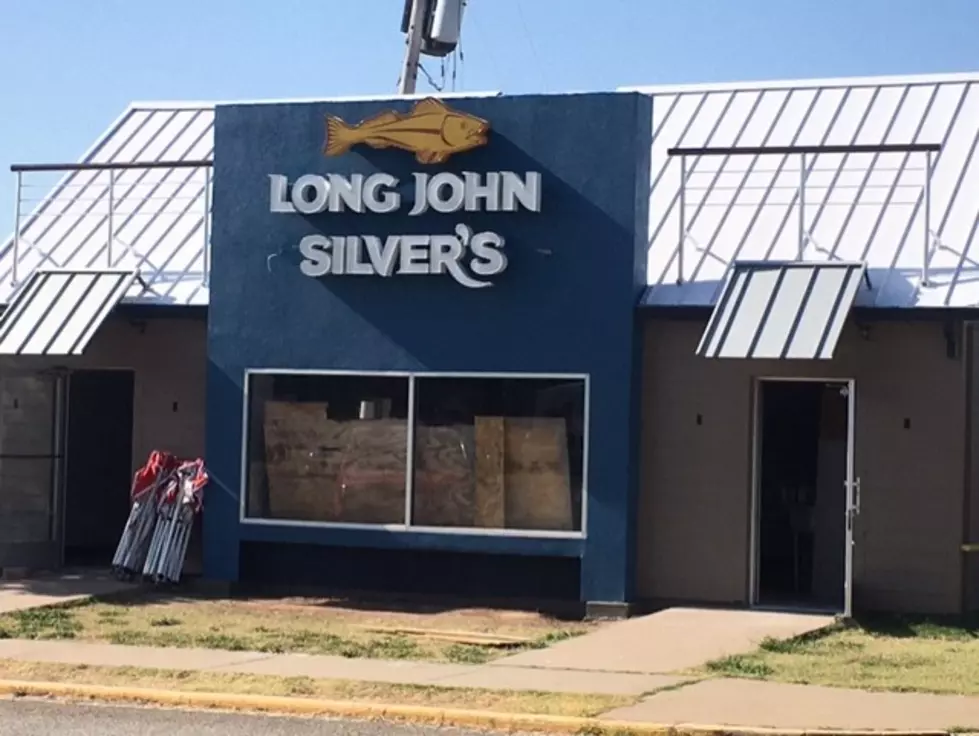 Long John Silver's in Lawton, OK. Will Reopen Soon!
TSM Lawton: Critter
Glorious news, the Long John Silver's on N.W. Cache Road in Lawton, OK. will be reopening soon! If you've been near the corner of 26th Street and Cache Road lately you've probably seen all the construction.
It's been 2 long years in the making, but the wait is almost over for us to have Long John Silver's back in Lawton, Fort Sill. No official word yet as to when the grand opening will be but from the looks of it and as fast as they're getting it done, it'll be sometime this Summer! We're hoping so anyway. *Fingers Crossed*
In February 2020 a fire broke out that severely damaged the property and almost burned it to the ground. You can click here to read the story from KSWO. Ever since that time, it's sat empty and most thought it would never return. Now construction crews are completely rebuilding and remodeling the old Long John Silver's.
While it sat abandoned for the past couple of years, YouTuber WallieB26 did a video about the Lawton Long John Silver's. It shows the state of the building and how a few items, tables, and chairs were left behind. His channel and content contain creepy places and old buildings that have been shut down and shuttered up.
Hit play on the video below to from WallieB26 highlighting the Lawton Long John Silver's
The video will serve as a "Before" picture once the place is remodeled and reopened and we compare it to the "After" photo. I can hardly wait to see what the new Long John Silver's will look like. The outside is coming along nicely and the inside will be completely redone. It'll be great having Long John Silver's back in town.
When it burned in 2020 it happened right during the middle of the Covid-19 pandemic so that really messed things up. There was really no way they could rebuild or remodel, or do much about the building itself until things improved. That would explain why it was abandoned and nothing was being done to fix it up until now.
Last month when construction crews began working on the property we weren't able to get 100% confirmation that it would be Long John Silver's. A lot of people kept saying it was going to be yet another dispensary, not a restaurant. Well, the sign is up and it's officially confirmed...LJS is back in Lawton, Fort Sill!
We'll keep you posted on the progress and as soon as we hear when the grand opening will be we'll pass it along. Also, if you're looking for a job they'll be hiring. You can all the details by visiting the official website. Once they're closer to reopening, the "Now Hiring"  section on the site will update to allow applications.
See the Most Epic & Unusual Oklahoma Airbnb Rentals!
Take a break from the boring and ordinary and make your next overnight stay more spectacular and memorable. These rentals are a lot more than just a place to stay, all of them could easily be a vacation destination and experience all on their own! If you're planning a staycation or vacation in Oklahoma you should definitely check out these epic and unusual
Airbnb
rentals versus booking just a plain old room at a hotel or motel. You could make your accommodations a part of the experience itself by staying at any of these amazing places in the Sooner State.
Scroll through the photo gallery below to check them out.
Oklahoma Diner's, Drive-In's, and Dive's Guy Fieri Raved About On TV
We all know Guy Fieri is the self-proclaimed Mayor of Flavortown, and as such, we generally trust his discerning palate to guide us to the best food any place has to offer. At least the places he tends to go often offer up some really good eats, and in looking at this list, having eaten at most of these places a handful of times, he's not wrong. Here are the Oklahoma original restaurants that have been featured on Triple-D.
Funny, Crazy & Unusual Street Names Found in Oklahoma
One thing's for sure, Oklahoma has a ton of funny, unusual, and downright crazy street names. Across the Sooner State in every town, city, and rural community you'll find hilarious streets and roads with some of the most bizarre names you can think of. When they were named, more than likely years ago, I'm sure no one thought they would be considered crazy or funny at the time. Well, times have changed! Now some of these street names had to be deliberately named by someone with a great sense of humor. At least in my opinion anyway. Scroll through the photo gallery to check out some of Oklahoma's funniest and craziest street names. If you know of a funny or crazy street or road name in Oklahoma take a quick photo of the sign and submit it to critter@townsquaremedia.com and we'll include it in the photo gallery below.
Look Inside Lawton's most luxurious & beautiful Airbnb!
This amazing
French-style lakeside chateau
costs
$500.00 a night.
It's one of the most beautiful and luxurious
Airbnb rentals
in all of Lawton, Fort Sill.
It's a 4 bedroom 4.5 bath home
that can comfortably
accommodate 10 guests.
The home sits right on the waterfront of a lake with the backyard and patio facing the water. The entire home inside and out has an incredible atmosphere and breathtaking views. The outside spaces are as beautiful as the inside.
Check out the photo gallery to see what $500 a night will get you!