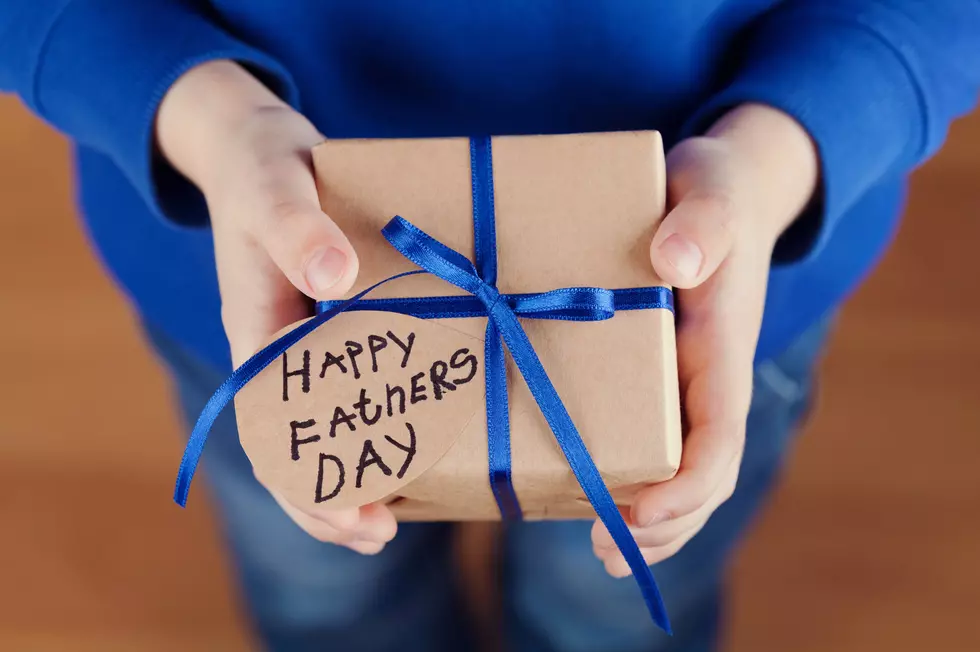 Great Gift Ideals for Oklahoma Dads This Father's Day!
Julia_Sudnitskaya
Don't forget about dear old dad, this Sunday (06-19-22) is Father's Day! So what are you giving dad this year? If you're struggling to find the right gift, we're here for you. Check out the ultimate Father's Day gift guide for Oklahoma dads featuring some great last-minute gift ideas that can fit just about any budget. Whatever you give him, especially if it's off the list, is sure to bring a smile to dad's face! He'll be happy no matter what.
This year why not take a break from all the usual stuff and get dad something he'll actually use and appreciate. I mean don't get me wrong I still use my "World's Greatest Dad" coffee mug, but I don't need an entire collection. And yes I do have the t-shirt as well, so we're good to go there. I prefer practical gifts.
SCROLL DOWN TO SEE THE TOP 5 GIFTS FOR OKLAHOMA DADS THIS FATHER'S DAY
Most dads are happy regardless and it can be difficult to find the perfect gift since most dads are pretty reserved when it comes to their wants and needs. If you pay even a little attention you should get some good ideas just by seeing what he's working on, watching, spending his time on and interests are. Or just ask him.
I've been asked several times by friends, family, and co-workers what they should get their dad for Father's Day so I decided to do a little gift guide. Now some of these your dad may not be into, but I tried to include various gifts and things most dads would enjoy. Plus there are gift ideas that will work for every budget.
Basically, these are the things I've gotten over the years or would like to get on Father's Dad. I'm lucky in that the wife and kids always get me something I can use and want. To be honest, it's more about being together than anything else, but a gift is nice too. I hope you're able to spend some time with your dad this weekend.
THE TOP 5 FATHER'S DAY GIFT IDEAS FOR OKLAHOMA DADS
1

Firearms, Ammo & Accessories

Of course, this one's at the top of my list every year. Being a BIG gun guy I enjoy all types of firearms. Every type, kind, color, and caliber...I like them all. If it bangs I'm a BIG FAN! Now good guns aren't cheap and cheap guns aren't good. With that being said you don't have to drop a bunch of money on dad. I know what you're thinking "I can't afford a gun." Dad will be happy, or at least I'm happy with anything firearm related from guns, gear, accessories, cleaning solvents and tools, oils, and gunsmithing items. These are all things that get used up so getting replacement supplies is epic!

2

I'm almost as big a fan of tools as I am of guns. I love tools and all kinds from hand tools to power tools and anything and everything in between. Dad could always use some more tools. Like guns, if he uses power tools at all he'll need more blades, bits, and drivers these things are used up and after time and use need to be replaced. If you're brave enough you could always take a peek at dad's toolbox, chest, or power tools to see what he's needing, or that needs replacing. I say brave enough because if you are caught he's probably going to tell you to stay away from his tools. At least I do, that and the thermostat and grill. Hands off!

3

Grill, Accessories & Meats

What dad wouldn't like a new grill or some meats and grilling tools? No dad that's who! All dads love the grill, if not, then I'm completely lost here and can offer you no help. I haven't met a dad yet who doesn't like putting flame to the flesh! So anything grill related would be a fantastic gift for Father's Day. From actual grills to grilling tools, spices, rubs, marinades, grilling tools, and meats! He's sure to love it and you get the benefit of having a meal prepared for you so it's the gift that gives back and then some.

4

Sandwiches, Food & T.V. Remote

That's right, the humble yet ever so delicious and not to mention thoughtful sandwich! Dad would love to have a sandwich, his favorite beverage, and the remote all at the same time. Speaking for myself I love this and it's perfect for any budget. I prefer the sandwich, but really any meal or dad's favorite food will work. It can be homemade or takeout from one of his favorite restaurants. Serve it to him in the living room while he's camped out in front of the T.V. hand him the remote and leave. Give him a few hours to enjoy the meal and movie, show, or sports he's watching. You can come back later, but give him some time to just relax without any interruptions or distractions. After his break then you can resume the Father's Day celebration and spend time together.

5

Cold Hard Cash & Project Funds

Most would say giving cash or gift cards isn't a thoughtful gift that it takes zero effort or time to do. Well, that may be true but if you're truly stuck in the "I have no idea what to get Dad for Father's Day" you could always go this route. All dads have a project or something they're working on that they could use some extra cash for, or a gift card to help offset expenses. He's probably been talking about it or is in the middle of a project right now. From home to auto repairs there's always something a dad's working on. If you aren't sure about what he's up to just hand him a gift card to a hardware store or restaurant so he can take a break and grab a bite or go get something he needs.