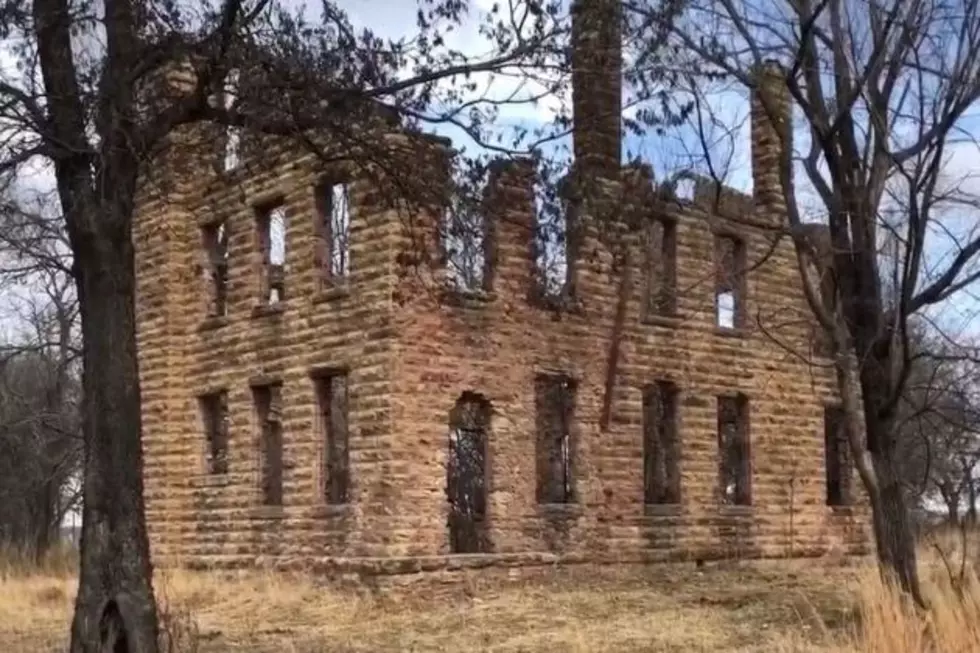 This Abandoned Oklahoma Mansion is One of the Most Paranormal Places in the State
YouTube.com- Pull Over Adventures
This 19th-century Oklahoma mansion could very well be one of the most haunted places in the Sooner State. The horrific history of this property along with the tragedies and misfortune that cursed the family who lived there is beyond haunting. The ghost stories and urban legends that surround this place are truly terrifying.
SCROLL DOWN TO LEARN MORE ABOUT THIS HAUNTED  OKLAHOMA MANSION
So where is this place and what's the story? It's the Labadie mansion located in Copan, OK. just outside the town of Bartlesville in the far Northeast part of the state. The mansion is on a hilltop just outside of town, it requires a hike and the property owner's permission to get to. It's on private property.
The old Labadie family cemetery is located on the property near the mansion
The old Labadie mansion was built around 1880 and was the family home up until 1935. Throughout those years all kinds of terrible tragedies took place from deaths to fires that ultimately destroyed the once beautiful mansion. It seemed the Labadie family was cursed with misfortune and unthinkable hardship. Now only an abandoned stone shell remains of the old home along with the family cemetery that's on the property.
CHECK OUT OKLAHOMA'S TOP 5 MOST FRIGHTENING MYTHS & MONSTERS BELOW
Frank and Samantha Labadie along with several of their children and other relatives are buried near the mansion in the Labadie family cemetery. Some died of natural causes, others from murder and even suicide according to the legend. Today there are no known Labadie living relatives or direct descendants still alive.
Hit play on the video below to watch a paranormal investigation at Labadie Mansion
The Labadie mansion at one time was ranked in the top 10 most haunted places in the U.S. and one of the most haunted and active locations in Oklahoma. There are all kinds of scary stories and ghostly tales that have been told about this place. Some are based in fact, others in fiction, but all are nightmarish and chilling.
KEEP SCROLLING TO SEE OKLAHOMA'S TOP 10 MOST TERRIFYING TOWNS
One of the most well-known stories about the Labadie family and the mansion is a murder that allegedly took place there in the early 1900s. Frank Labadie caught his wife Samantha having an affair with a servant named Enos Parsons. After trying to have children for years without any luck she became pregnant, but with Parson's child. Mr. Labadie in his rage shot and killed Parsons and when the child was born he threw it in the nearby creek killing it. Later he turned the gun on his wife, then himself. That's just one of the many stories.
The fireplace at the Labadie Mansion where people report seeing and smelling smoke
Another version of the story is that Frank Labadie went mad and ended up killing his entire family before committing suicide by jumping out of the third-story attic window. Yet another telling which is more likely to be true and based on actual fact is that both Mr. and Ms. Labanote died of carbon monoxide poisoning due to an improperly vented stove and fireplace. Sadly Frank and Samantha died the day after celebrating their 50th wedding anniversary and were found by their nephew who came to congratulate and wish them well.
CHECK OUT OKALHOMA'S TOP 10 SCARIEST HAUNTED ATTRACTIONS BELOW
No matter which version of the story you believe or have heard the haunting history of the Labadie mansion is very real. A lot of terrible and tragic things happened to this family and they certainly endured more than their fair share of heartbreak and hardship throughout the years at the mansion. Most who have visited the site say it's haunted and report experiencing all kinds of paranormal activity at the mansion and cemetery.
Watch the video below to take a daylight virtual tour of the Labadie Mansion and cemetery
Ghost hunters and paranormal investigators have seen ghosts, specifically the spirits of Frank Labadie and Enos Parsons. There are even reports of seeing and hearing the cries of the baby that was supposedly drowned in the creek. Others say the ghost of Samantha Labadie herself walks the property and attempts to scare off any unwanted and curious trespassers. A lot of people have heard voices, footsteps, and even the sound of gunshots in the nearby woods. The Labadie mansion itself, or what's left of it, is very active as well.
SCROLL DOWN FOR THE DREADFUL DOWNTOWN HAUNTINGS OF LAWTON, OK.
The fireplace at the old mansion is said to smoke with no fire lit. Some people have said they smelled and saw smoke filling the area coming from the fireplace and that shadows moved within the smoke around the mansion. Investigators also report having issues with electronics and flashlights in the area. Once near the mansion, the equipment starts to act erratically and eventually fails. And those are just some of the stories that are being told about the old Labadie mansion and cemetery. With its horrific history and ghostly urban legends, this place is easily one of the most haunted and scary places in the entire Sooner State!
The Top 5 most frightening Oklahoma myths & monsters
These five frightening Oklahoma myths and monsters will keep you up at night. We're talking about pure nightmare fuel. No matter what you believe or where you live you aren't safe from these legendary fiends of absolute terror. You can find these sinister creatures in the deep woods, lakes, and even within city limits across the Sooner State. Even your home isn't safe from these monstrous beasts. If you've lived here for a while you may have heard of some, maybe even all of these mythological and supernatural monsters below.
Top 10 terrifying towns & creepy cities in Oklahoma
While Oklahoma is well known for its beauty and friendly people there are a few places in the Sooner State you'll want to avoid. These are the most terrifying towns and scary cities in the state. It's not that they're bad places, or plagued with crime and other negative factors. The towns and cities below have one single thing in common. They all have active paranormal and supernatural phenomenons. From ghost stories to urban legends and tragic tales. A lot of these places are well known to those who live in Oklahoma and even all over the nation. If you're looking to get scared or do a little ghost hunting you can start with the list below.
The top 10 Oklahoma scream parks & haunted attractions
From truly terrifying to kid-friendly and everything in between. Oklahoma has some of the biggest, best and scariest haunted attractions and scream parks in the country. If you're looking for some fall family fun check out these amazing attractions for a frighteningly good time! If haunted houses aren't your thing you could always
hit the pumpkin patches & corn mazes by clicking here
.
In alphabetical order here are your top 10 "best" or "scariest" Oklahoma haunted attractions & scream parks to check out this Halloween if you dare:
Oklahoma's Infamous Haunted Grisso Mansion
While you've heard spooky tales of Oklahoma's haunted places, this Seminole, OK home might be THE most haunted place in the Sooner State.
Sporting four bedrooms, six bathrooms, a ballroom, and 11,000 square feet of living space, you too could have your own up-close experience with the woman and child ghosts that are rumored to still be wandering the villa today.
The top 10 Oklahoma pumpkin patches & corn mazes
If you're looking for a place to go for a little fall family fun you're in luck! Oklahoma is home to some of the biggest and best pumpkin patches and corn mazes in the U.S. People from all over travel to the Sooner State every fall to visit these incredible farms. Not only do they offer pumpkin patches along with corn and hay mazes, they also have all kinds of other activities like petting zoos, rides, arts & crafts, food, games, haunted attractions, and a whole lot more. So no matter what your idea of fall fun is, you can find it all in one place!
Lake Altus-Lugert and SWOK's Underwater Ghost Town
Like most rare things, conditions have to be just right to see one of Oklahoma's hidden gems. In years of good and average rainfall, the lost town of Lugert stays buried beneath the waves... but in dry years, especially those stricken by drought, you can walk around this pre-statehood townsite while enjoying one of Oklahoma's prettiest areas, Quartz Mountain State Park.
The Dreadful Downtown Hauntings of Lawton, OK.
When it comes to ghost tales and hauntings Lawton, Fort Sill has more than a few scary stories to tell. The most active hauntings and paranormal/supernatural occurrences that have been reported seem to be centered around downtown Lawton. If you've lived here a while I'm sure you've heard a few of these terrifying tales yourself. If not check out the photo gallery below of the dreadful downtown hauntings of Lawton, OK.
Have some fall family fun at this Lawton, OK. pumpkin patch
Did you know Lawton, Fort Sill has a real pumpkin patch that you can visit to pick a pumpkin right off the vine? Not only that you can enjoy all kinds of fall family fun like a hay maze, photo areas, corn pits, and more!
Heritage Farm & Ranch
is located at
26432 State Highway 58 in Lawton, OK.
near the Wichita Mountains Wildlife Refuge and across from Lake Lawtonka. It's the perfect place to go for a quick day trip and to pick up some amazing eats, treats, gifts, and some of the best hot sauces, salsas, jellies, and jams. For more information and to plan your visit
check them out on Facebook
or at the
Heritage Farm & Ranch website
.