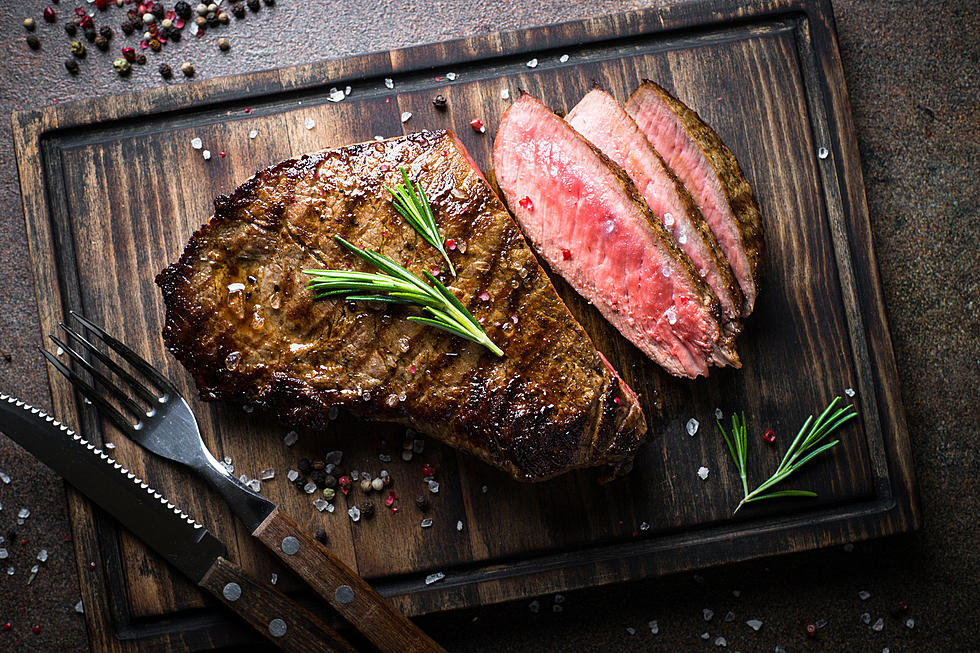 Grab a Bite at Oklahoma's Oldest Restaurant & Best Steakhouse in the Entire Sooner State
Nadianb
This legendary Oklahoma steakhouse is world-famous and has seen celebrities of all types throughout the years. It's known across the Sooner State and even the Nation for its epic steaks. Imagine enjoying the best steak you've ever eaten while sitting in a booth where the Duke himself, John Wayne once sat and ate.
SCROLL DOWN TO LEARN MORE ABOUT THIS LEGENDARY OKLAHOMA STEAKHOUSE

It's more than a legend this place is an Oklahoma landmark. It's one of, if not the oldest, restaurants in the state. It originally opened back in 1910 and has been going strong for over 113 years now. It's located in the historic Oklahoma City, OK. Stockyards, the Cattlemen's Cafe is an absolute must-try dining experience.
What makes the Cattlemen's Cafe so unusual is that it's one of the only steakhouses that are open for breakfast, lunch, and dinner. That's right you can grab a bite anytime day or night at Cattlemen's Cafe in OKC.
CHECK OUT OTHER OKLAHOMA RESTAURANTS THAT ARE WORTH THE DRIVE BELOW

They're open Monday through Thursday from 6:00 a.m. to 10:00 p.m. Friday and Saturday from 6:00 a.m. to 11:00 p.m. and Sundays from 6:00 a.m. until 10:00 p.m. Located at 1309 S Agnew Ave, Oklahoma City, OK.
Hit play on the video below to learn more about the legendary Cattlemen's Cafe in OKC
Anytime is a good time to grab a bite at Cattlemen's Cafe. While you're there check out the "Wall of Fame." All kinds of celebrities, sports figures, actors, and even presidents have visited the restaurant for a tasty steak.
SCROLL DOWN TO SEE GUY FIERI'S FAVORITE OKLAHOMA RESTAURANTS

Some of the famous faces who have eaten at Cattlemen's Cafe include Toby Keith, President Ronald Regan, Garth Brooks, Reba McEntire, President G.W. Bush, Ben Johnson, Dr. Phil, John Wayne, and many, many more.
Even the Duke himself, John Wayne ate at Cattlemen's Cafe in Oklahoma City, OK.
You never know who you might bump into at Cattlemen's Cafe in OKC. It isn't just the rich and famous who love this place, everyone who's ever eaten there is a huge fan. The food and service are second to none.
SEE HOW THE BEST STEAKHOUSES IN OKLAHOMA RANK BELOW

Throughout the years' Cattlemen's Cafe has gained a reputation for being one of the very best steakhouses in the U.S. It's won tons of awards and was even featured on the Travel Channel's "Man vs Food."
Not only is the Cattlemen's Cafe known for its incredible steaks and menu, but it's also well known for its amazing atmosphere and friendly staff. The service is awesome and when you're there, you're family.
SEE WHERE TO FIND THE BEST BBQ IN THE SOONER STATE BELOW

It's like you walked into the wild west, the atmosphere and history of Cattlemen's Cafe are as amazing as its food. It's very rustic and saloon-like, it you're a fan of westerns and western heritage you'll love this place.
Cattlemen's Cafe in OKC has been open since 1910 and is the oldest restaurant in Oklahoma

So the next time you're anywhere near the OKC Stockyards you'll definitely want to stop by Cattlemen's Cafe for breakfast, lunch, dinner, or maybe even all three. There's a lot to see and do in Stockyard City so you could easily make a day of it. I think it's the perfect quick weekend getaway or staycation destination.
SEE WHICH NATIONAL CHAIN RESTAURANTS GOT THEIR START IN OKLAHOMA BELOW

If you're looking to make the trip to Oklahoma City, OK. to the stockyards and want to visit the Cattlemen's Cafe get all the details and plan your trip at the official website here. You can also check them out on Facebook here. I know I'll be heading that way soon, I could use a short break and a good steak in my life.
Oklahoma Restaurants People Swear Are Worth The Drive
Eating out is entertainment. Sometimes it's you and your better half, other times you'll drag the family along with you. Either/or, if you've got time to kill and want to sample the best Oklahoma offers, here are the restaurants' everyone swears are worth every moment in the car to and from.
Oklahoma's Highest Rated Steakhouses
Being a Top-5 cattle producer, you might expect to find a great steak on the menu of nearly every restaurant in the state, but life is never that simple or easy. The biggest hurdle isn't a lack of steak options on menus, it's the variation of personal tastes that drives reputations and reviews, but here are the steakhouses most Oklahomans can agree on.
Oklahoma Diner's, Drive-In's, and Dive's Guy Fieri Raved About On TV
We all know Guy Fieri is the self-proclaimed Mayor of Flavortown, and as such, we generally trust his discerning palate to guide us to the best food any place has to offer. At least the places he tends to go often offer up some really good eats, and in looking at this list, having eaten at most of these places a handful of times, he's not wrong. Here are the Oklahoma original restaurants that have been featured on Triple-D.
Oklahoma's Highest-Rated Barbeque Joints, In No Particular Order...
I doubt there's a single topic debated more passionately in Oklahoma than who makes the best BBQ. While they all smoke meat, there are some huge differences in how that process is done. Type of wood, length of cook, foil vs paper wrap, and even the hot topics of seasoning and binders come into play. What you like others may not, and vice versa. Since we can't just pick a top five or ten, here are the Oklahoma barbeque joints that have the biggest fans.
More Restaurants Oklahomans Swear Are Worth The Drive
The Sooner State sure isn't short on good eats. From the best BBQ you'll find in America, to the worldly tastes of exotics with an Oklahoma spin... Here are more of the best restaurants Okies swear are worth the drive for.
Oklahoma's Most Legendary Food Challenges
While you can certainly accept social trends in eating at chain restaurants for the rest of your life, you'd at least get a show with your dinner while watching the iron stomachs of Oklahoma tackle the biggest and most legendary food challenges at the various mom & pop restaurants spread all across the Sooner State.
9 Chain Restaurants Founded In Oklahoma
While some Oklahoma original restaurants are obvious and common knowledge, there are a few that will likely surprise you having a start in the Sooner State. At least, they were shockers to me. Whether you want burgers, BBQ, pizza, breakfast, or Tex-Mex, the tastes of Oklahoma stretch far beyond our border.