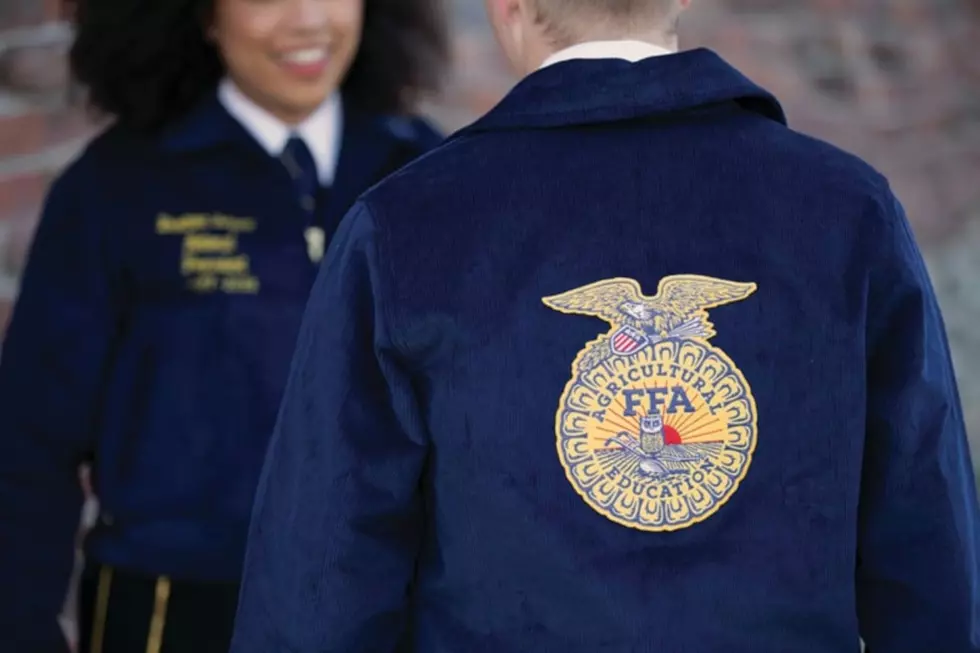 Your 'Vintage' Oklahoma FFA Jacket Might Be the Latest Fashion Trend
National FFA Organization, Facebook
Just about every Oklahoman has an old, blue corduroy FFA jacket hanging in their closet or in their childhood wardrobe at their parents' house. Or maybe it's stashed away in your parents' garage or storage unit in a deteriorating cardboard box squished by a giant, ancient, artificial Christmas tree.
No matter where your FFA jacket from your ag glory days is stored, it may now be worth something now due to a fashion trend on TikTok. Let's just hope you can find it.
If you grew up in any rural Oklahoma community, you automatically know that the colors royal blue and gold were synonymous with FFA. Members' official dress was an iconic royal blue corduroy jacket with gold stitching. The front of the jacket typically zipped and had a collar. On the left side was stitched the FFA logo, which stands for Future Farmers of America for those that don't know. And the back typically had your chapter's state stitched at the top, with the FFA logo below and then the chapter name, which was usually your town.
FFA jackets are now part of people's "fire thrift haul."
I remember back in the day that some FFA kids would complain about having to get dressed up in their black slacks, or skirts, and make sure their jacket was starch clean. But today, the students that are now in FFA are taking pride in their jackets by doing photo shoots and funny TikTok videos.
So others have started taking notice of these jackets and coveting them. When thrifters come across them in a thrift or vintage store, it's typically part of their haul and is shown off proudly in their haul videos. Now "vintage" FFA jackets are going for anywhere from $70 to $700 on eBay. We found a vintage 1940s or 1950s FFA jacket from Hugo, Oklahoma, listed at $200.
And if you search "FFA Jacket" on TikTok, you'll find several videos of people bragging about finding an FFA jacket at their local thrift.
Or showing it off as their outfit of the day (#ootd).
But really, is anyone actually wearing this out in the wild if they're not in FFA??
Whether people are actually wearing them or not, if you're looking to make a quick few hundred bucks and have your old FFA jacket collecting dust, might as well try listing it on eBay!
Best Local Shopping in Southwest Oklahoma
Southwest Oklahoma has plenty of local shopping opportunities! Here are the best local shops as submitted by our listeners. Let us know if we missed one!
Oklahoma's Highest Rated Steakhouses
Being a Top-5 cattle producer, you might expect to find a great steak on the menu of nearly every restaurant in the state, but life is never that simple or easy. The biggest hurdle isn't a lack of steak options on menus, it's the variation of personal tastes that drives reputations and reviews, but here are the steakhouses most Oklahomans can agree on.