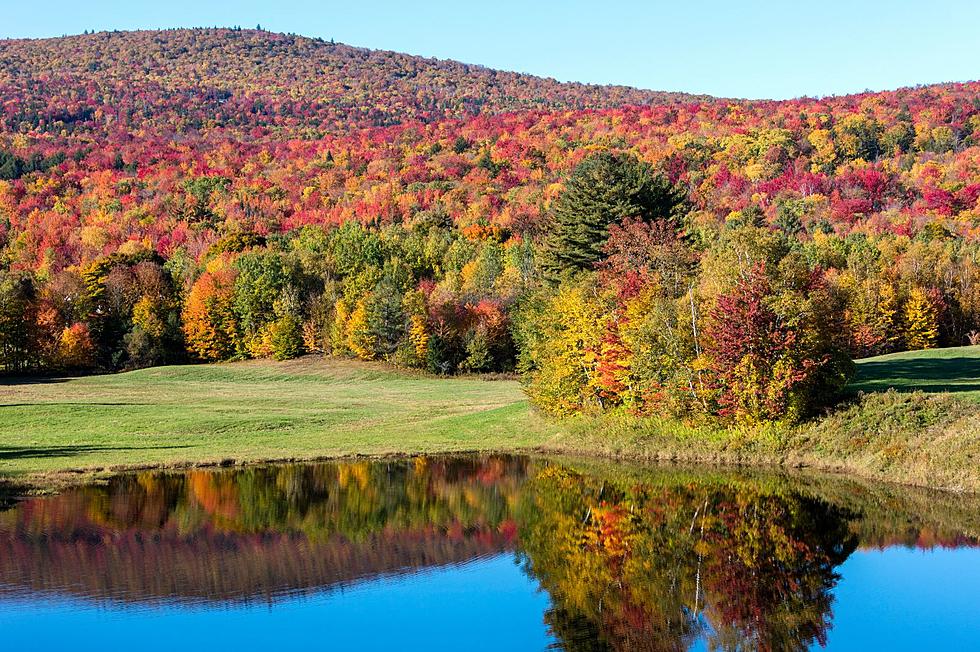 It's Last Call for Fall Foliage in Oklahoma
Canva
Every year our social media fills up with the sights of nature's glory. While it's fine to take it all in from the comfort of your couch, right now is THE best time to get out and see it.
Earlier this year experts predicted that the peak season for fall colors would arrive late and linger an extra week. A direct effect of a hot summer with enough rainfall to produce vibrancy in the forests, and they weren't wrong. Even the Wichita Mountains are abnormally full of color this year.
All the same, some of the more popular foliage areas of the state have already past their peak season, the leaves are gone, but right now is the best time to get down to Southeast Oklahoma and take in all the beauty.
Talimena National Scenic Byway
This is the gold standard route for fall foliage in the Sooner State. It's a beautifully built highway deep in the secluded woods.
It's also experiencing its peak season and fullest color-pop right now.
Foliage Update 11-13-2023 - Fall foliage along the Talimena National Scenic Byway is at its peak. Visitors to the area can expect to see leaves in several colors including red, orange, yellow, green and brown. Vines and sumac have turned a mixture of orange and red. Oak trees have turned orange and brown and bushes are primarily yellow with red-orange leaves mixed in. Leaves have started to fall and incredible fews of fall foliage can be seen along the area hiking trails.
With a forecast full of good weather, gas prices on a three-year average low, and plenty of time left to plan a day trip, you should try to experience this drive while its on display in its full glory.
If Talimena is a little too far of a drive, there are other places in peak season across the state too. You can get all the details close to where you are over at TravelOK.
Where To See Fall Colors In Oklahoma
Whether it's the feeling you get when you see falls warm colors in the trees, or the comfort of a memory you recall from a younger time in your life, there are places in Oklahoma to see the beauty of autumn.
Gallery Credit: Kelso
Ten Iconic Oklahoma Restaurants You Have To Try
I think it's fair to say that each state probably has its own legends when it comes to restaurants. Pennsylvania has cheesesteaks, New York has wings and pizza, Texas has Franklin BBQ and Tex-Mex, etc...
Oklahoma is no different.
Birthed into statehood as a cattle state, there's no shortage of beef on any menu here, but there's a little room for chicken and fries too. Here are the absolute, hands down, best restaurants, in no particular order, everyone has to try in The Sooner State.
Gallery Credit: Kelso
Oklahoma Restaurants People Swear Are Worth The Drive
Eating out is entertainment. Sometimes it's you and your better half, other times you'll drag the family along with you. Either/or, if you've got time to kill and want to sample the best Oklahoma offers, here are the restaurants' everyone swears are worth every moment in the car to and from.
Gallery Credit: Kelso
More Restaurants Oklahomans Swear Are Worth The Drive
The Sooner State sure isn't short on good eats. From the best BBQ you'll find in America, to the worldly tastes of exotics with an Oklahoma spin... Here are more of the best restaurants Okies swear are worth the drive for.
Gallery Credit: Kelso
9 Chain Restaurants Founded In Oklahoma
While some Oklahoma original restaurants are obvious and common knowledge, there are a few that will likely surprise you having a start in the Sooner State. At least, they were shockers to me. Whether you want burgers, BBQ, pizza, breakfast, or Tex-Mex, the tastes of Oklahoma stretch far beyond our border.
Gallery Credit: Kelso