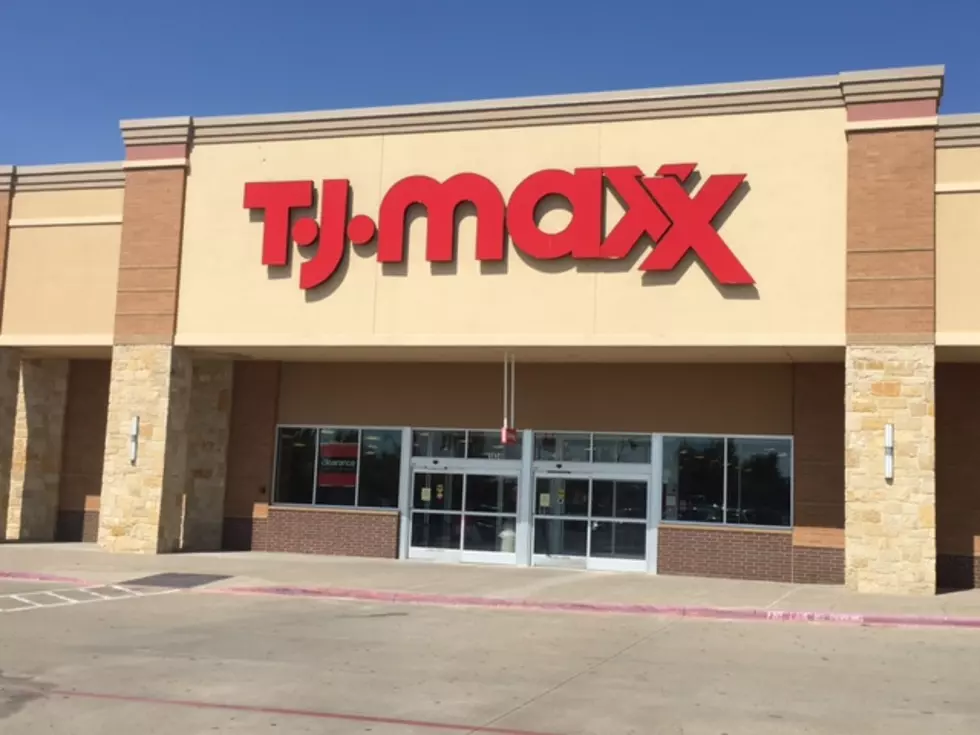 Have You Heard the Rumor That the T.J. Maxx in Lawton, OK. is Closing Down Permanently?
TSM Lawton: Critter
There's a rumor being spread around town, online and elsewhere about the T.J. Maxx in Lawton, Fort Sill closing its doors permanently. It's been all over Facebook and other social media pages over the past few weeks. So is there any truth whatsoever to all these rumors? Are we about to lose T.J. Maxx on the westside?
After hearing this rumor repeatedly over the past week weeks I headed west to hopefully get an answer. The family and I do quite a bit of shopping at T.J. Maxx so for us it would be terrible if they decided to close it down. I spoke to several employees and floor managers at the store and they all said IT'S NOT TRUE AT ALL!
They too have heard the rumors about the Lawton T.J. Maxx closing. More than a few concerned customers have asked about it and luckily the rumors are all untrue. No one really knows why the rumor is out there being spread. If you see it on Facebook or someone tells you that T.J. Maxx is closing, tell them the truth.
With it being back to school time and everyone needing new supplies, clothes and shoes I'm glad to hear that our local T.J. Maxx is open and will remain open. Hard to believe that summer is almost over, for LPS (Lawton Public Schools) the first day back will be next Thursday, August 11th (08-11-22). Time to get ready!
You can bet I'll be doing some back-to-school shopping at our T.J. Maxx. If you've never been, or if it's been a while they're located on the westside at 1824 N.W. 82nd Street. They're open Monday through Saturday from 9:00-am until 9:30-pm and Sunday from 10:00-am to 8:00-pm. Visit the official website for all the details.
Take a look inside this epic 1960s retro motel in Oklahoma!
It's the ultimate retro vintage motel stay in the Sooner State! If you've ever wanted to step back in time and experience the "good old days" once again, or maybe for the very first time, you're in luck. Take a break from the usual, boring, and mundane hotel room by booking a stay at this 60s-style motel in Oklahoma City, OK.
The Classen Inn
is one of the most unique and colorful motels in the state, if not the entire nation. It was originally built back in 1963 and has been completely remodeled, refurbished, and reimagined. If you're looking for a place to stay while on vacation, staycation, or on a weekend getaway why not make your accommodations a part of the vacation fun by staying at the Classen Inn in OKC.
You can click here to book your stay.
Scroll through the photo gallery below to take a virtual tour of this EPIC 1960s retro motel!
Top Mispronounced Towns That Show You're Not From Oklahoma
Just for funs, try to pronounce these town names before hopping to the phonetics...
See the Most Epic & Unusual Oklahoma Airbnb Rentals!
Take a break from the boring and ordinary and make your next overnight stay more spectacular and memorable. These rentals are a lot more than just a place to stay, all of them could easily be a vacation destination and experience all on their own! If you're planning a staycation or vacation in Oklahoma you should definitely check out these epic and unusual
Airbnb
rentals versus booking just a plain old room at a hotel or motel. You could make your accommodations a part of the experience itself by staying at any of these amazing places in the Sooner State.
Scroll through the photo gallery below to check them out.
How To Save More $$$ During PSO's Power Hours
When you sign up for PSO's Power Hours program, you're basically making a bet with PSO that you can consume less power during the peak load times, opting instead for the much cheaper off-peak times. While it sounds easy enough to do, it's quite the challenge, especially on the hottest days of the year. If you're up for it, here's how to really cut that energy usage during peak hours.