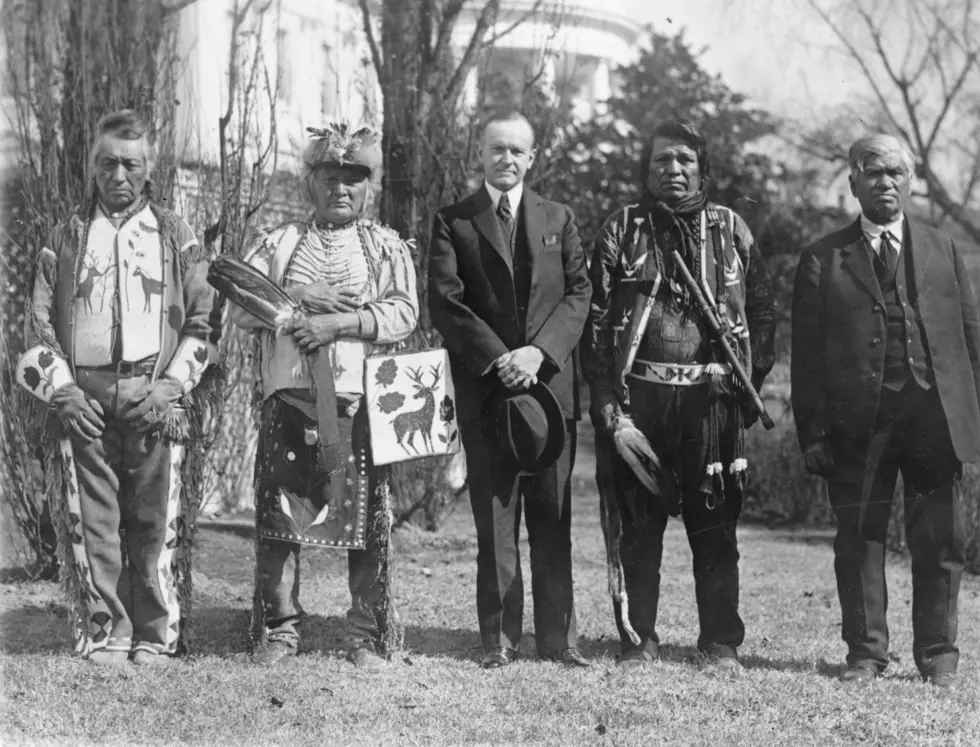 This Oklahoma Tribe Was Once the Richest People In The World
National Photo Company/Library of Congress (Public Domain)
Information has a funny way of disappearing into a knowledge void until we're once again reminded about history. This is a story about one of Oklahoma's greatest and widely unknown rags-to-riches oil stories.
While the history dates all the way back to America's ancient Mississippian era, we pick up this trail during the American Indian Removal Act.
As Native American tribes were continuously forced to relocate to modern-day Oklahoma, the Osage were the first tribe to see the writing on the wall of what would likely happen under US rule. In a time when most tribes accepted their new lands by force, the Osage were one of the very few tribes that actually purchased their new lands. As such, their reservation retained their tribal sovereignty along with land and mineral rights.
In 1894, a massive quantity of oil was discovered on Osage tribal lands. Seeing green, a man named Henry Foster petitioned the Bureau of Indian Affairs for an exclusive contract to explore oil and gas on the reservation. Although he died shortly after, the BIA approved the request and Henry's brother took control.
Not exactly a shocker, this is Oklahoma after all, they struck oil and money flowed like crude. Since this was a period of time when Native Americans were still looked down on as ruthless, wild-spirited, and untamed savages that were less-than people, a decision was made that would have anybody else handling the tribes oil money.
We're From The Government and We're Here To Help
If you were half-or-more Osage in 1921, you would be required to have a guardian handle your finances until you could prove your financial literacy.
Taking advantage of the situation, the majority of appointed guardians quickly dove into corruption, hoarding royalties and land rights away from those they were charged with protecting. More than a few lawyers managed to swindle a modern equivalent of nearly $20,000 a year from each tribal member for doing, well, nothing.
In 1923, the oil and natural gas royalties earned the tribe an equivalent of $400million alone. This made the Osage Nation the richest per capita nation of people in the world. Since the congressional guardian requirement was still intact, it provided the perfect situational atmosphere for murder.
I'll Love You To Death
Guardians found a survivorship loophole and started marrying those they were supposed to serve. In order to claim their royalties and wealth as their own, they often murdered their tribal spouses.
Of the estimated 60 tribal members killed, a vast majority of the murders have gone unsolved. This is the story told today in the book and coming movie Killers of the Flower Moon.
While the tale is tragic, it does offer a sense of closure. In 1999, the Osage Nation sued the United States over the mismanagement of their royalties and land rights. While the case lingered on for more than a decade, the US settled in 2011 for $380million. (that's just over $500million in Brandon's 2022 economic climate)
Is it justice? No... but at least it wasn't more of the government sweeping tribal injustices under the proverbial rug.
7 Oklahoma Towns Among Worst 'Small' Cities In America
A recent
study
ranked all of the smaller cities in America and 12 hometowns on the list were from here in Oklahoma. The expected nicer communities were comfortably ranked in the middle, but over half were listed as some of the worst in the country.
Oklahoma's Richest Billionaires
From goods & services to oil & gas, these Oklahoma billionaires have figured out what hard work and dedication can do for the family finances.
The Real Wild West Outlaws of Oklahoma
In the years before Oklahoma gained statehood, there was a major shift happening trying to convert the wilds of Indian Territory into a mild-mannered turn-of-the-century metropolitan place. It's amazing how many of America's famed outlaws made headlines in our state.